This year, we made the choice to travel to Saugerties, NY for the USDF Region 8 Finals.  The venue is fantastic at the HITS showgrounds and the NEDA team, as always, run a wonderful show. Jess Fay started things out in a great way with a 4th place for Beth Gildea's Elizabeth's Elan in their open Training Level test with a 68.6%. Enya's Championship class was later that same day and her 65.4% put her in the middle of the standings.  We're very happy with how well this 4-year old filly handled the big environment of the Saugerties venue.
On Friday, Michael started off the morning with a Third Level class for Faberge Blue and Sternlicht. Faberge's 69.69% put him in a strong 2nd place, just ahead of Sternlicht with a 69.09%. Next came the VERY large Prix St. Georges Championship for both Michael and Jess. Jess and her own Veraki finished in the top half of the class with a 64%. Michael rode Kaja Brix's Feuerbach to 5th place with a 67.368%, and Qredit was Reserve Champion with a 69.9%.
In Saturday's Intermediate 1 Final, Jess rode Veraki to a strong finish of 67.5 and earned a wildcard score for Nationals. Qredit was Reserve Champion in the same division with a 73.5%. In a huge Third Level Championship (the class ran all day!), Michael finished 3rd with Sternlicht and 5th with Faberge Blue. Both horses scored over 71% and earned wildcards for Nationals.
On Sunday, the freestyles wrapped up the show. Qredit finished 3rd in the Intermediate Freestyle with a 71%. What a great show he had! Lara & Mitch Mitchelson's Faberge Blue ended the show perfectly with a win in the Third Level Freestyle with a 73.367%. Congratulations to all the competitors and thank you to the massive number of volunteers who made this show such a success.
History in the Making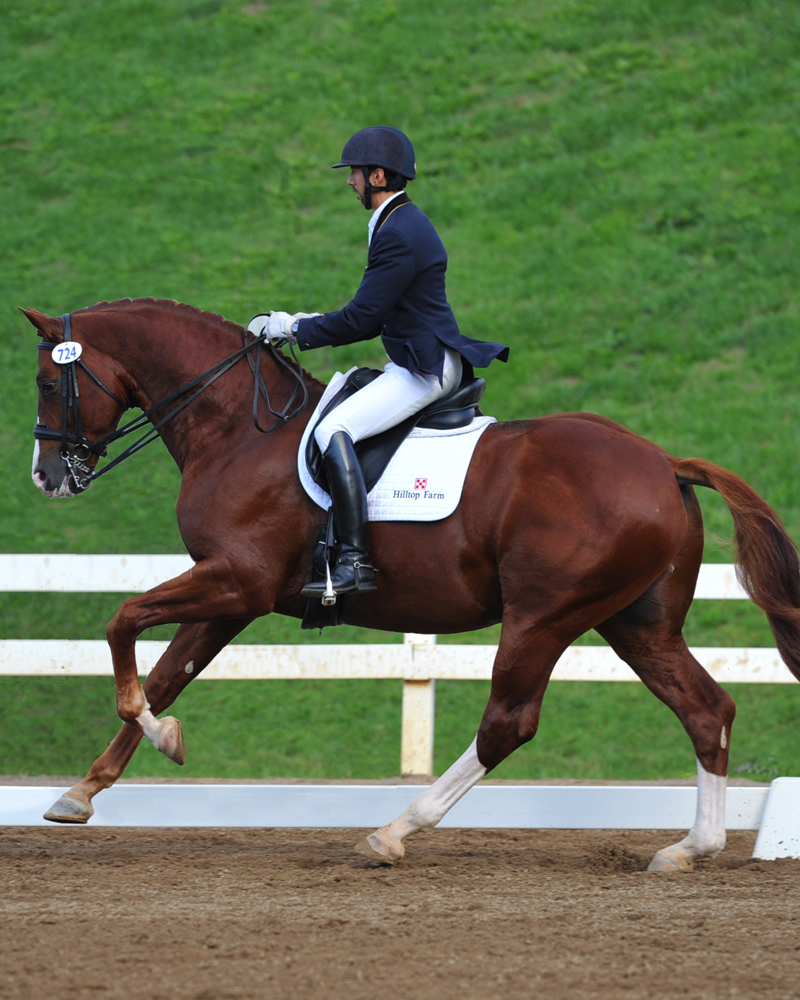 Oct, 2014
This weekend Michael Bragdell headed down to the CBLM Championships & VADA Fall Show in Lexington, VA. Balissa HTF (Bugatti-Contucci) tied for 1st in her Third Level Test 1 on Friday with a 66.184% and improved her score in Saturday's Third Level Championship with a 67%.
Jun, 2014
Hilltop Farm, Inc., unveils new 1,000+ page website. With our growing online audience and the ever-changing advancements in technology, we partnered with the team of innovators and online engineers at www.EqGraphics.com to bring you what is likely, the most comprehensive stallion website in the industry.
Click Here to View More Hilltop Milestones & Articles
Recent News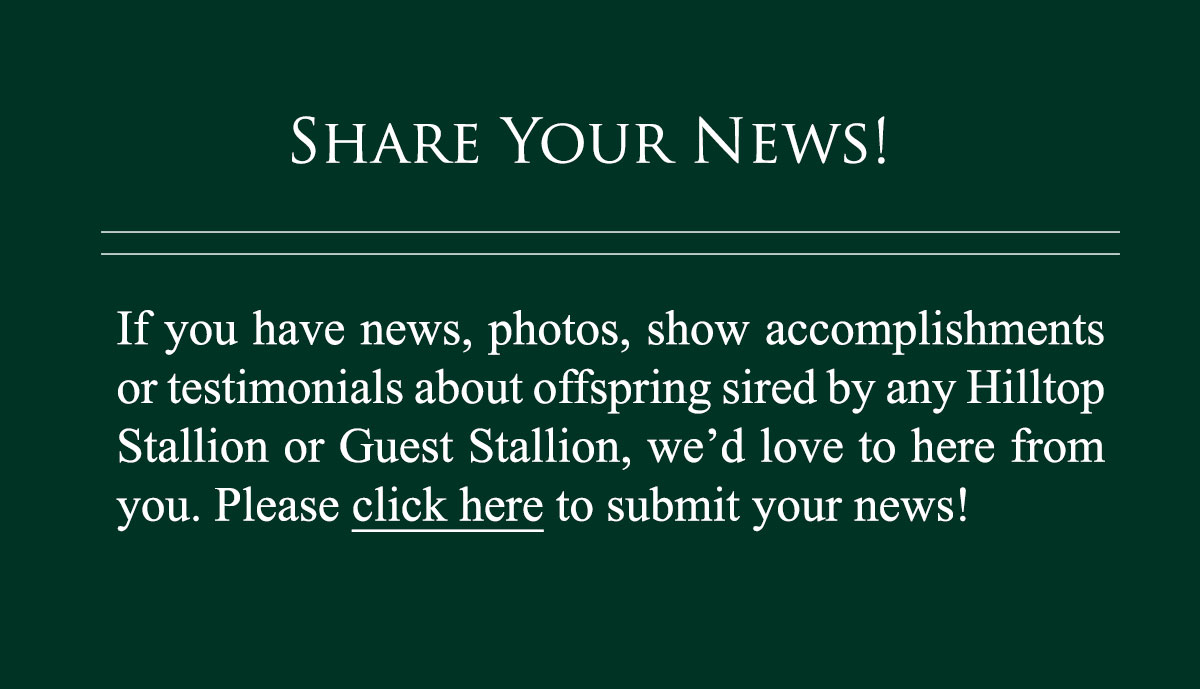 Foal Announcements