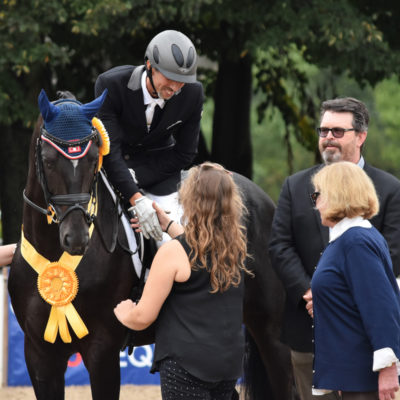 The USEF Young and Developing Horse Championships remain a highlight of our show plans every year.  With only the top 15 of each age group invited to the Finals, the competition is intense yet the sense of comradery and enthusiasm is one of the best of all the shows.  It's especially educational to see many of the horses back year-after-year and watch their development up the levels.  This year, Michael qualified an impressive SIX horses for the Finals!  The two 4-year olds started the week off well.  Carol McPhee's SenSation HW (Sunday-Dancier) has only been with Michael since the beginning of June, but is advancing well in the work.  He offered two harmonious, flowing tests which earned a 5th place in the Preliminary and a 6th place overall with a final score of 7.472.  Marydell Farm's Debonair MF (Doctor Wendell MF-Rotspon) showed a lot of composure for a young stallion.  While the connection could be a bit steadier, he remains supple and swinging in his work and the walk is a real highlight.  He placed 5th in the Preliminary test and moved up to 5th in the overall standings with a score of 7.692.  This placing will also fulfill his sport requirements for ISR/OldenburgNA. 
Competing on the same days as the 4-year olds, was the Developing Prix St. Georges division for horses ages 7 to 9 years old.  Michael's two 7-year olds have had great seasons so far and produced two solid tests each.  Sternlicht Hilltop (Soliman de Hus-Rascalino), bred by Rachel Ehrlich and owned by Hilltop Farm, finished in 12th place overall with a final tally of 66.715 and was edged out by Mitch and Lara Mitchelson's Faberge Blue (Contango-Democraat) who finished in 11th place with a 66.86%. 
Qredit Hilltop (Quaterback-Dream of Glory) competed in the Developing Grand Prix division for horses ages 8 to 10 years old.  At 9, he is just in his first season at this level but came through with a 6th place finish overall on a final score of 65.355%.  Qredit was one of two offspring in the Developing Grand Prix by Quaterback and bred in the US by Judy Yancey.  Ending the weekend on a high-note was Anne Howard's wonderful 6-year old stallion Finery (Furstenball-Diamond Hit).  While still green at this level, Finery's quality gaits were consistently evident and he stayed well focused on Michael throughout.  With an overall 7.6, he finished strongly into 3rd place for both the Preliminary and the Final tests.
Hilltop Archives
Nov, 2012
What a way to end the year! The 2012 North American Stallion Test just finished this weekend and we couldn't be more pleased with the results for Qredit when he finished as the Dressage Champion & Overall Champion at the the 2012 70-Day North American Stallion Test!
Oct, 1999
Ten weeks following a surgery that was intended to prolong and sustain the quality of life for the 19-year old Holsteiner stallion, Hilltop Farm lost their founding sire Cabaret on October 28, 1999. An arthrocentesis was performed on the right front fetlock of the stallion in order to" fuse" the fetlock and create relief for a failing suspensory apparatus.
Click Here to View More Hilltop Archives
Hilltop Articles & Interviews
Apr, 2010
Kristi Nunnink's default expression is a smile. It doesn't matter how hard she's working, what level she's riding or how the horse under her is performing -- her mouth curls faintly upward, unforced. It may just be a coincidence of facial structure, or it may be a product of years of habit. But either way, the expression fits her, because Nunnink may very well be the happiest rider at Rolex Kentucky. At 48, she's heading to her first CCI**** with her horse of a lifetime.
Jan, 2009
The phone rings at Hilltop Farm and breeding manager Natalie DiBerardinis answers. Just as she suspected, it is a mare owner looking for advice. Which stallion would be a good match for her mare, the caller asks anxiously. With scientific advances in artificial insemination, the choices for a perfect partner have never been greater, but that doesn't mean the selection process is any simpler. DiBerardinis asks the owner a few questions about her mare and suggests she complete Hilltop's online questionnaire. After reading it, she and the caller will talk again to discuss the options.
Click Here to View More Hilltop Articles & Interviews
Recent News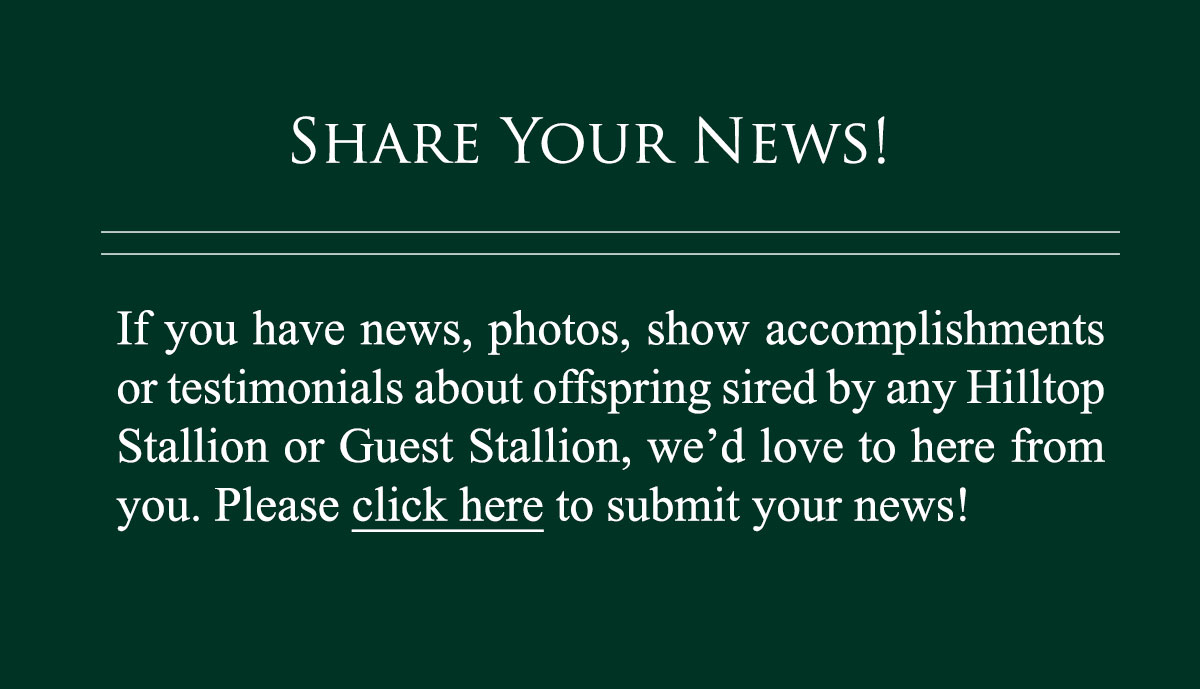 Foal Announcements