Nestled in the hills of northern Maryland, Hilltop Farm offers a tranquil setting with beautiful pastures, riding trails, and a world-renowned training center.   Owner Jane MacElree has always focused not only on the horses, but also on the people who are connected with them and it has been that team approach that has formed the groundwork of Hilltop Farm's emergence as a leader in the US sport horse industry. The dedicated, knowledgeable staff are committed to providing the very best in programs and customer service.  Hilltop Farm has three distinct departments related to the development of sport horses. Our Breeding Department focuses on Stallion Management; the Raising Department encompasses both broodmare management and the raising of young sporthorses, and our Training Department is primarily focused on dressage, but also believes in the value of cross-training and variety in the development of an elite level athlete.
The breeding stallions at Hilltop Farm have long been the central focus of the farm and we remain committed to providing exceptional stallions via cooled and frozen semen to sport horse breeders in all disciplines.  Our entire collection of stallions has been selected on the basis of character, athleticism, conformation, and pedigree.  Offering a variety of bloodlines, types, temperaments, and athletic specialties, Hilltop Farm stallions compliment a wide spectrum of mares.  In addition to the Hilltop-owned stallions, we also provide marketing and breeding management services for a select group of guest stallions that we feel add depth to our stallion collection.  We work closely with each of our breeders to determine the right match for their mares and their breeding goals and we take great pride in the achievements of the offspring bred through Hilltop Farm. We are incredibly fortunate to have Select Breeders Services operating the breeding laboratory at Hilltop Farm since 1993.  Their state-of-the-art equipment and exceptional, experienced staff ensure that our breeders are getting the best quality cooled and frozen semen to optimize their chances of breeding success. Each dose of semen is evaluated prior to distribution and complete reports, evaluated by a CASA system, are sent with each shipment.
Hilltop Farm also offers a Mare Management program that covers all aspects of the breeding process, from insemination through weaning.  Our mares generally live out, in spacious fields with large sheds and individual feed stalls.  Their nutrition and care is carefully monitored and they will move into the foaling barn approximately one month prior to their due date.   Broodmares may come for either short or long-term management and priority in space is given to mares breeding to stallions managed through Hilltop Farm. The large, rolling fields at Hilltop Farm offer an ideal setting for raising young sport horses.  A dedicated and experienced staff cares for the youngsters and broodmares residing at Hilltop.  The young horses enjoy living outside full-time in with their peer groups, while receiving daily handling, individual feeding, and the care necessary to prepare them for their future careers.  We offer opportunities to attend breed shows, including the prestigious Dressage at Devon, each season.  Space in the Raising Department is limited, not only to guarantee ample pasture, but most importantly to ensure the individual care that is a priority for the Hilltop Team.
The willingness to tailor a program to meet the needs of each individual horse continues in our Training Department. Whether it is taking young horses to their first schooling shows, or campaigning an FEI horse towards the National Championships and CDI competitions, we value each stage in the educational process and work with our clients to set achievable goals.  Hilltop's Head Trainer, Michael Bragdell, has won three US National Championships and is a USDF Certified Instructor competing at the FEI level. We are proud of our long-term relationships with our clients and take great satisfaction in the accomplishments of both Hilltop and client-owned horses. In recent years these successes have included multiple National Championships as well as regular wins at Regional Championships and numerous year-end awards with a variety of horses.  The attention to the horses' welfare is always our top priority and they enjoy ample turnout, variety in their work sessions, and hacking throughout Hilltop's beautiful property to help develop them to their fullest potential.
Every member of the team at Hilltop Farm continues on our mission to provide the very best in our programs, customer service, and strives to set a new standard of excellence in our endeavors.   Hilltop-bred and owned horses are making headlines in both the competition arena and the breeding shed and we continue to redefine our own place in the sporthorse industry. We look forward to assisting you in your breeding or training plans and your involvement with Hilltop Farm.
History in the Making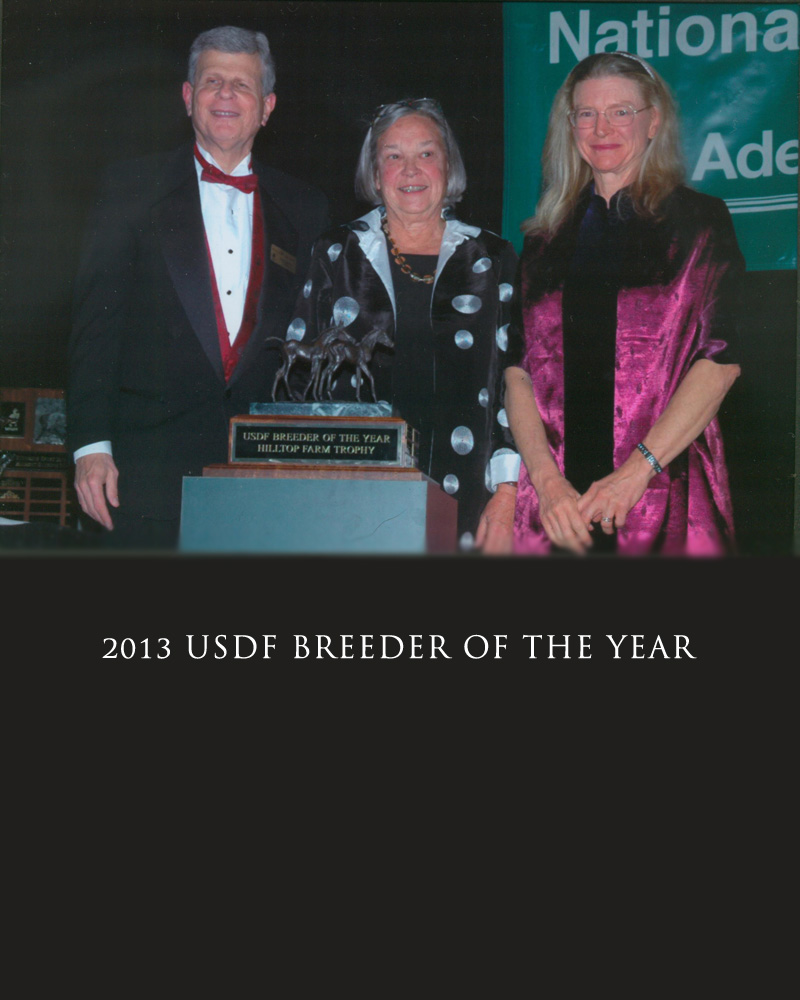 Dec, 2013
Each year the United States Dressage Federation honors one breeder as the USDF Dressage Breeder of the Year and we are very excited to share that Hilltop Farm was the recipient for this award in 2013.
Jan, 2015
It is with a broken heart that we share the news of Royal Prince's passing this week. Late in the afternoon of January 20th Royal Prince presented an acute colic and was immediately taken to New Bolton Center. Unfortunately due to complications discovered during surgery, the only humane choice was to euthanize him.
Click Here to View All Milestones & Articles