July 20-21st Hilltop Farm was pleased to host the American Hanoverian Society Inspection & Futurity.  Dr. Ludwig Christmann, Volker Ehlers, and Suzanne Quarles made an excellent judging panel and their evaluations of each horse proved extremely valuable to the audience and owners.
Three stallions were presented for licensing this year, but unfortunately none were accepted at this time.  Four mares participated in the Mare Performance Test:  First Song KF (First Dance-Sandro Hit), Shalimar GGF (Schroeder-Wolkenstein II), Rheadora CF (Royal Prince-Tantris), and Sri Lanka (Sir Donnerhall-Legendaer I).  It was Rachel Ehrlich's mare Shalimar GGF that was the High-Score of the day with a 7.44 overall and highlight scores of 8 on her walk and rideability.
Now in its third year, the Yearling & Two-Year Old Futurity continues to grow.  A total of 8 youngsters were presented.  Denver HTF (Donarweiss GGF-Royal Prince) won the Two-Year Old Colts/Geldings & Chris Preston's Hostreak CF (Hotline-Rotspon) was 2nd.  Kathy Jackson's geldings placed 1st & 2nd respectively in the Yearling Colts/Geldings with Dior KJ (Donarweiss GGF-Festrausch) earning scores of 8 on type, correctness, and his walk to place over Bugatti Royale (Bugatti-Del Piero).  Quinzy HTF (Qredit-Cordoba) was the sole participant in the Two-Year Old Fillies but we were pleased with her 8's for her head/neck and front legs especially.  Finally in the Yearling Fillies, 1st place went to Relevè HTF (Royal Prince-Cordoba) with a 78.5% and 2nd was Beth Custalow's filly Bugatti's Ballerina (Bugatti-Rohdiamant).
Studbook inspections for mares were held over the two days and a total of 7 Hanoverian and 4 Non-Hanoverian mares were presented and all were accepted for the Main Studbook.  Claudia Patrick's First Song KF was the overall High-Score Hanoverian Mare with a 7.66 including 8's for saddle position, typiness/femininity, impulsion/elasticity, and overall impression.  Her walk however was the highlight earning a 9.  She is now an Elite Mare Candidate.  Mares scoring 7 or higher for Elite Eligibility included Bahia Breeze (Benetton Dream-Banditentraum) with a 7.5 (owner Michelle Ryan-Schwartz; breeder Kareen Heineking-Shutte), Raptana High (Rapture R-Highland Ruckus) with a 7.0 (owner Tamara Doloff; breeder Alice Alley), and Rejoyce JW (Rotspon-Walt Disney) with a 7.5 (owner Janet Rae; breeder Julia Whitfield).  For the non-Hanoverian mares, all had to receive scores of 7 or higher for their acceptance into the AHS Main Studbook.  High-scoring Non-Hanoverian mare was Marne Martin-Tucker's Donatella M (Furstenball-Jazztime) who scored an overall 7.66, including a 9 for her neck and no less than five scores of 8.
A total of 18 foals were presented and the judges' commented that the quality was high overall, and especially with the colts.  Stallions represented included Bugatti, Donarweiss GGF, Doctor Wendell MF, Don Principe, Don Hill, Wamberto, Qredit, Shakespeare RSF, Sir Wanabi, Contucci, Escudo II, and Quaterback.  Six foals were called back into the ring:  Catherine Haddad's Damascus (Don Principe-Ramiro's Bube), Michelle Ryan-Schwartz's Coach (Contucci-Benetton Dream), Que (Quaterback-Rotspon) owned by Janet Rae and bred by Julia Whitfield, Tawna King's Quarter Sinclaire (Qredit-Lord Sinclair), Michelle Reilly's Quartet GSH (Qredit-Arrian), and Claudia Patrick's Duchess KF (Don Principe-Contendro).  In the end, it was Damascus and Quartet GSH that were chosen as the Top Foals of the Day.
Thank you to all of the participants and spectators who made this weekend such an enjoyable one.  We look forward to seeing you again next year!
Hilltop Archives
Jun, 2014
Hilltop Farm, Inc., unveils new 1,000+ page website. With our growing online audience and the ever-changing advancements in technology, we partnered with the team of innovators and online engineers at www.EqGraphics.com to bring you what is likely, the most comprehensive stallion website in the industry.
Nov, 2012
What a way to end the year! The 2012 North American Stallion Test just finished this weekend and we couldn't be more pleased with the results for Qredit when he finished as the Dressage Champion & Overall Champion at the the 2012 70-Day North American Stallion Test!
Click Here to View More Hilltop Milestones & Articles
Hilltop Articles & Interviews
May, 2013
The dramatic view at Hilltop Farm is as beautiful as its magnificent horses, but the facility's scenic side in a relatively rural section of Maryland is just one of the many things that make it unique, the word most often used by people describing this one-of-a-kind property.
Apr, 2010
Kristi Nunnink's default expression is a smile. It doesn't matter how hard she's working, what level she's riding or how the horse under her is performing -- her mouth curls faintly upward, unforced. It may just be a coincidence of facial structure, or it may be a product of years of habit. But either way, the expression fits her, because Nunnink may very well be the happiest rider at Rolex Kentucky. At 48, she's heading to her first CCI**** with her horse of a lifetime.
Click Here to View More Hilltop Milestones & Articles
Recent News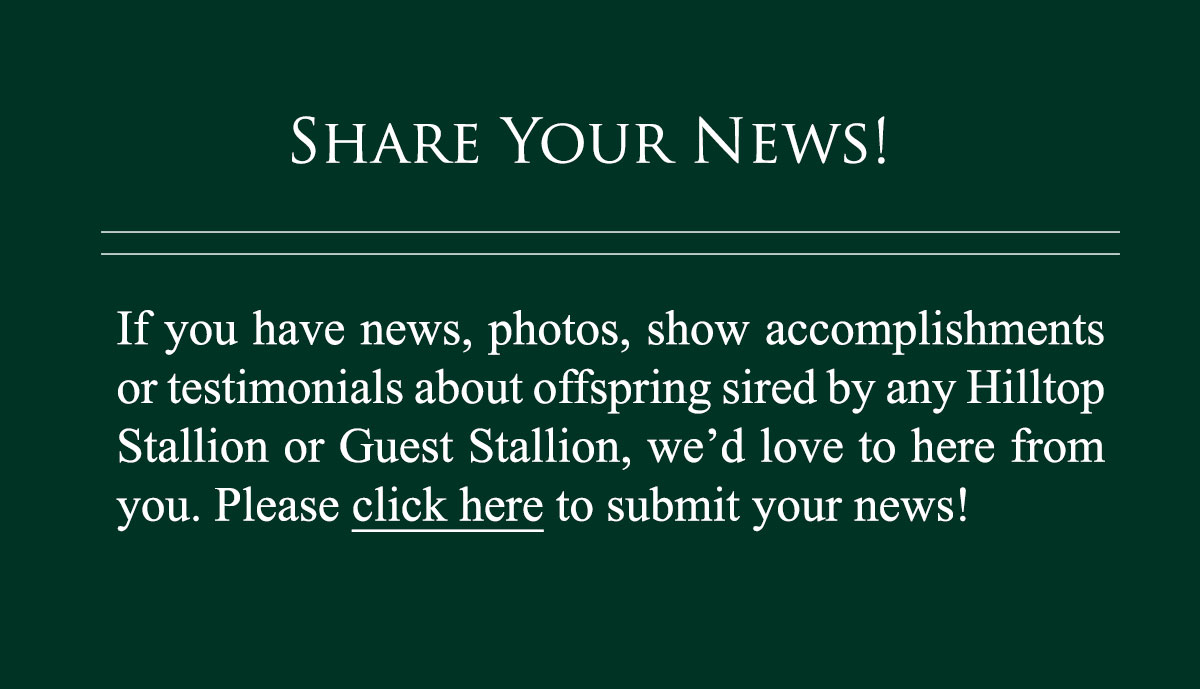 Foal Announcements