Don Principe Well Represented at Dressage At Devon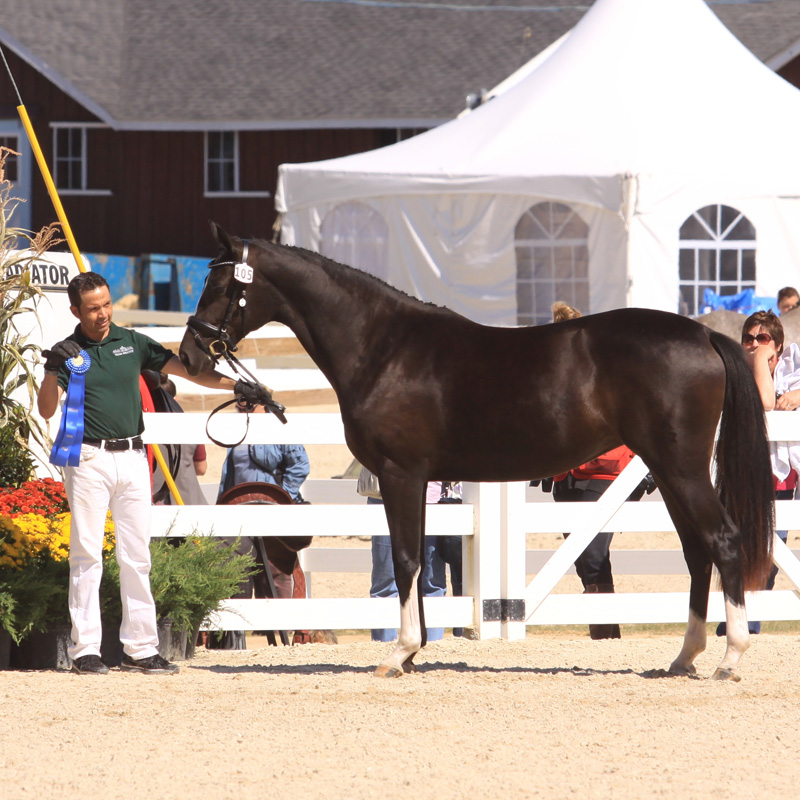 It was another spectacular year at Dressage at Devon for the Don Principe offspring.  A total of nine offspring represented Don Principe at the show, all earning top ribbons.  A particular highlight was Dansuse MF (Don Principe-Furst Heinrich).  Dansuse was winner of the 2-Year Old Fillies class with an impressive 89.2%. Dansuse went on to win the Filly Championship, finish Reserve Champion in the Young Horse Championship, and capped off her Devon experience by winning the Grand Championship for owner/breeder Maryanna and Wendell Haymon.  David Bowie MF (Don Principe-Rotspon) showed in the 2-Year Old Colts and Geldings to a 3rd place finished and went on to 10th place finish in the USDF/GAIG Colts and Geldings Final.  Three year old filly Dinah Shore MF (Don Principe-Rotspon) earned a 6th place finish and a 77%. Yearling filly Donnafaela OBX (Don Principe-Rousseau) finished 7th in the Yearling Fillies class on Tuesday and ended the week winning the Hanoverian 2 & Under IBC. 2014 foals Doxology (Don Principe-Cor Noir) and Damaskus (Don Principe-Ramiro's Bube) were also in the breed show. Doxology, owned and bred by Teri Beste, received an 8th place finish in the Fillies of 2014. The flashy Damaskus, owned and bred by Catherine Haddad, finished 3rd in the Colts of 2014 with a 79.9, qualifying for the USDF/GAIG Foal Final where he earned a 3rd place finish.
Older Don Principe offspring included Marydell Farm's Duet MF (Don Principe-Rotspon) and Doctor Wendell MF (Don Principe-Sandro Hit).  Duet MF, ridden by Brendan Curtis, started her week winning the Four Year Old and Older Mares Under Saddle. Duet and Brendan continued on to an overall 3rd place in the FEI 6-Year Olds.  Doctor Wendell finished 2nd in both FEI 6-Year Old classes for an overall 2nd place finish with rider Jim Kofford.  "Doc" was also awarded All-American Young Dressage Award for being the top placing Hanoverian in the FEI 6-Year Old Division.
---
Don Principe News