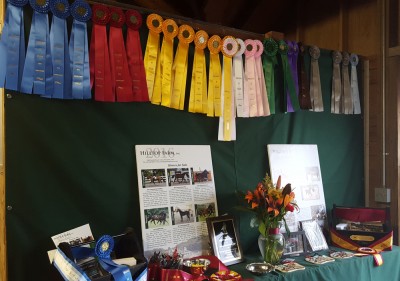 Throughout the years, Dressage at Devon has held the distinction of being one of Team Hilltop's favorite shows each season, and 2015 has proven no different. It is a wonderful opportunity to reconnect with our amazing clientele, new and old friends alike, and serves as a true showcase of the amazing horses the US industry is currently producing. Along with longtime friend King Santacruz of Wellington, FL, our resident handlers Michael Bragdell and Quinnten Alston provided another banner year within the historic Dixon Oval.
We began our week in Tuesday morning's large Yearling Colts and Geldings class. Doc Marten SPF (Doctor Wendell MF – Liberty Gold), bred by Gina Leslie and owned by Karen Schumaker, had a beautiful go with Quinnten to take 6th place with a 77.2%. Also finishing within the Top Ten were Dana Groop's LJS Wild Waldo (Wild Dance – Caesar) and Michelle Ryan-Schwartz's Coach (Contucci – Benetton Dream). King handled Marydell Farm's Debonair MF (Doctor Wendell MF – Rotspon) to a commanding win in the Two Year Colts & Geldings Class with an 83.5%. In the same class, Bob Jackson's Rock Royale RSW (Rock Solid – Archipel) was close behind in 3rd with a 78%. Debonair's stablemate David Bowie MF (Don Principe – Rotspon) brought in another blue in the Three Year Old Colts & Geldings Class, winning with an 81.8%. Wendell and Maryanna Haymon's Marydell Farm was strongly represented in the Devon Colt Championship, with Debonair and David Bowie being named Champion and Reserve Champion respectively!
Devon also serves as the first opportunity for us to get our young foals off of the farm and we could not have been more pleased with how they handled the exciting environment! In the large Colts of Current Year Class, Steinbeck HTF (Sternlicht Hilltop – Royal Prince) placed 2nd with an 80.7%. Amy Bhakhri's Qhrome HTF (Qredit Hilltop – Contucci) took 4th with a 78.1% and our own Stetson HTF (Sternlicht Hilltop – Negro) placed 9th with a solid 76%. It was especially gratifying to see Sternlicht's first foal crop received so well – we have been consistently impressed with the correct conformation, type, and good temperaments that he is passing on to his offspring! In the Fillies of Current Year Class, Kouture (Florianus II – Ampere), bred and owned by Lesley Feakins, dazzled with an 83.6% to take the win with Michael. Michelle Nightingale's Sophia FCF (Sternlicht Hilltop – Amiral) and Ashley Beheler's Kirika (Riverman – Consul) put in wonderful rounds to place in the Top Ten as well. In the Devon Foal Championship, Kouture was named Champion Foal with Steinbeck HTF as Reserve Champion Foal.
The Filly classes in the Dixon Oval were especially thrilling for Team Hilltop this year. King once again found himself in the winner's circle with the Marydell Farm bred and owned Danae MF (Doctor Wendell MF – Rotspon). This beautiful filly is a true head turner and thoroughly enjoyed showing off in the ring to an 82.5% and the win in the Yearling Fillies class. Paulette Ziegler's Royal Secret (Royal Prince – Donthelumbertrader xx) also put in a beautiful round in the same class. Danae would go on to be named Reserve Champion Filly and Champion Young Horse, clinching a spot in the Grand Championship on Wednesday night. Qindle HTF (Qredit Hilltop – Royal Prince) followed suit by winning the Two Year Old Fillies with Michael on a 79.7% and was also Born in the USA Champion for Two Year Old Fillies. In the same class, Relevé HTF (Royal Prince – Cordoba) took 3rd place and Beth Custalow's Bugatti's Ballerina (Bugatti Hilltop – Rohdiamant) a 5th place. Quinnten would take the win in the Three Year Old Fillies class with long-time friend Mo Swanson's Shcooter (Shakespeare RSF – Royal Prince). Also placing well were Quinzy HTF (Qredit Hilltop – Cordoba), Royal Olivia (Royal Prince – Chardonay) and Field of Dreams (Fielding – Rascalino). Shcooter was named Champion Filly and Reserve Champion Young Horse, earning her place alongside Danae in the Grand Champion Ring!
Wednesday morning started off with a bang seeing Quinnten take the two top spots in the Maiden Mares 4 Years & Older class. Winning the class was Nancy Radtke's big moving Welina (Wilkens – Sandro Hit) who would later go on to capture the Champion Mare and Champion Mature Horse titles. She also won the large GAIG/USDF Mare Championship with an impressive 87.3%! Mo Swanson's Shabrina (Shakespeare RSF – Widmark) took a close 2nd in the Maiden class and placed 3rd in the Mare Championship. Also placing in the Top Ten were Mo Swanson's Shtiletto (Shakespeare RSF – Fabriano) in 4th and Gaye Bergstrom's Grand Star WS (Amazing Star – San Remo) in 7th. Lesley Feakins' Glamour Girl (Ampere – Varus) placed in 7th in the Four Year & Older Broodmare class as well.
Joanna Gray Randle's Royal Tourmalet SPF (Royal Prince – Armin) took a 2nd place in the Four Year Old & Older class with an 80.7% on Wednesday afternoon and then placed 3rd in the Stallion Championship. "Artie" also finished 6th in the Four Year Old Stallions & Geldings Materiale with a 75% and was named the Born in the USA Champion for American bred stallions. It was a true delight to see Joanna's commitment and love of her horse translate to such success at Devon this year!
Represented by Qindle HTF and Steinbeck HTF in the Produce of Dam class, Raja HTF (Royal Prince – Parabol) would take the win with a 76.4%. The Hilltop Stallions had a strong influence in the Get of Sire class as well. Get of Doctor Wendell MF (Don Principe – Sandro Hit) came in 2nd with an overall score of 78.7% followed closely by the get of Sternlicht Hilltop (Soliman de Hus – Rascalino) in 3rd and Qredit Hilltop (Quaterback – Dream of Glory) in 5th. In the Breeders Group Class, Hilltop Farm took 3rd place with 76.4%.
We were delighted to be back in the Grand Championship this year in such a strong group of horses! Under the lights and with a light rain beginning to fall, it was thrilling to see Quinnten guide the impressive Welina to Dressage at Devon Grand Champion for 2015! King was also in the winner's circle for a second year in a row, showing Danae MF to Reserve Grand Champion for Marydell Farm. To top it all off, Jane was on hand to partake in the celebration of another great year at Devon!
The final day of the breed show saw a drastic drop in temperatures but the momentum from the previous days remained consistent. In the Hanoverian 2 Years & Under Class, Steinbeck HTF took the win with a 79.1%. Other Hilltop-bred and client owned horses rounded out the Top Ten, including Bugatti's Ballerina, Releve HTF, Qhrome HTF, Stetson HTF, Coach and Doc Marten SPF. In the Hanoverian 3 Years & Older Class, the Royal Prince sons Royal Tourmalet SPF and Rex Roland BHF took 4th and 5th respectively. Grand Star WS took 4th in the KWPN-NA Three Years & Older IBC for owner Gaye Bergstrom. Bob Jackson's handsome colt Rock Royale RSW finished his Devon week out with a strong finish by winning the Oldenburg 2 Years & Under Oldenburg GOV IBC as well!
In addition to the in hand classes, we were excited to see two of our homebreds excelling under saddle! With our assistant trainer Jess Fay, Quinzy HTF (Qredit Hilltop – Cordoba) placed 2nd in the Suitable to Become a Dressage Horse and won the Three Year Old Filly Materiale with an 80.2%! Quinzy is our first Qredit Hilltop to go under saddle and we are absolutely thrilled with her quiet, workmanlike attitude – both at home and at such a big show like Devon. Cha Ching HTF (Contucci – Cordoba) won the Four Year Old & Older Stallions and Geldings Under Saddle class and also placed 3rd in the Four Year Old Stallions & Geldings Materiale with a 79.4%. In the large Materiale Championship class, Cha Ching put in a beautiful round with Jess to placed 3rd overall! Cha Ching started his show career being named Champion Foal at Devon in 2011, so it is especially fun to see everything come full circle!
Congratulations and thank you to all of the owners and breeders with horses participating in the show! We always enjoy our time at Devon, and it wouldn't be possible without our great staff and past Hilltop alums who all pitch in to keep everything running smoothly behind the scenes both at the show and back at home.
And a special thank you to all of the volunteers and show management who continue to make Devon such a fun, family-like atmosphere for us each year. We're already looking forward to 2016!
History in the Making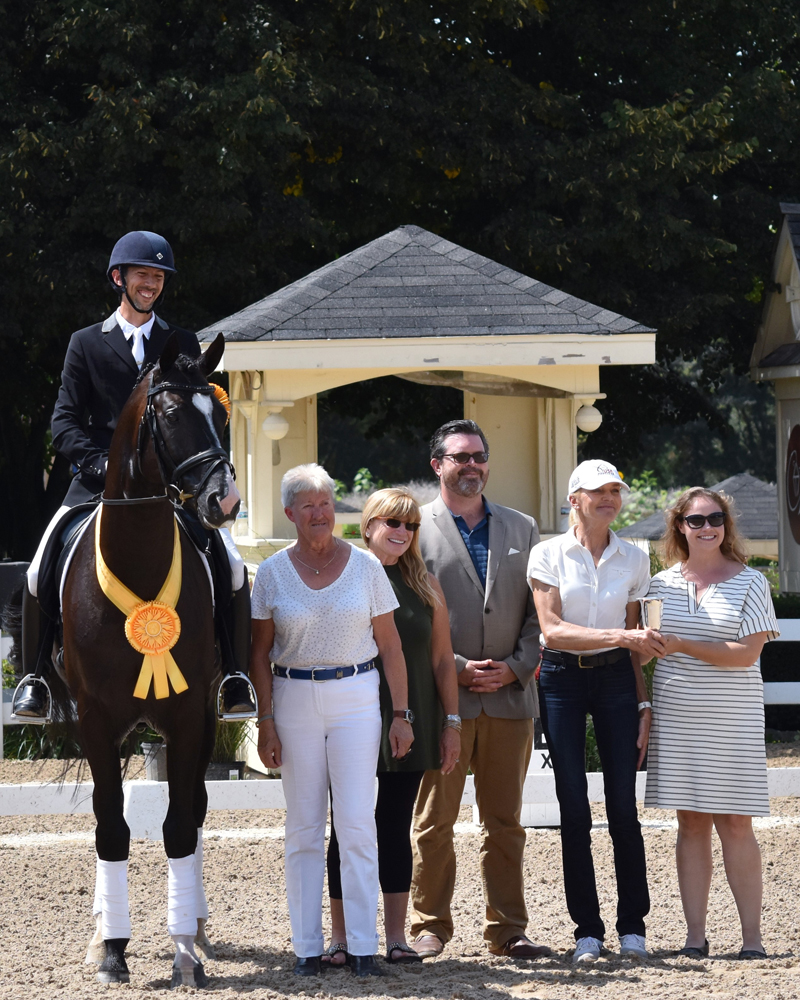 Sep, 2016
Once again we made the long drive out to the beautiful Lamplight Equestrian Center in Wayne, IL for the Markel/USEF Young Horse Championships. Michael qualified two horses for the Championships this year.
Jan, 2016
With each step in their careers, the Riverman offspring continue to impress us with the versatile athleticism that has allowed them to succeed at the highest levels of most every discipline. Over the years we've seen Riverman ranked near the top the USEF Leading Sire rankings in multiple disciplines.
Click Here to View More Hilltop Milestones & Articles
Recent News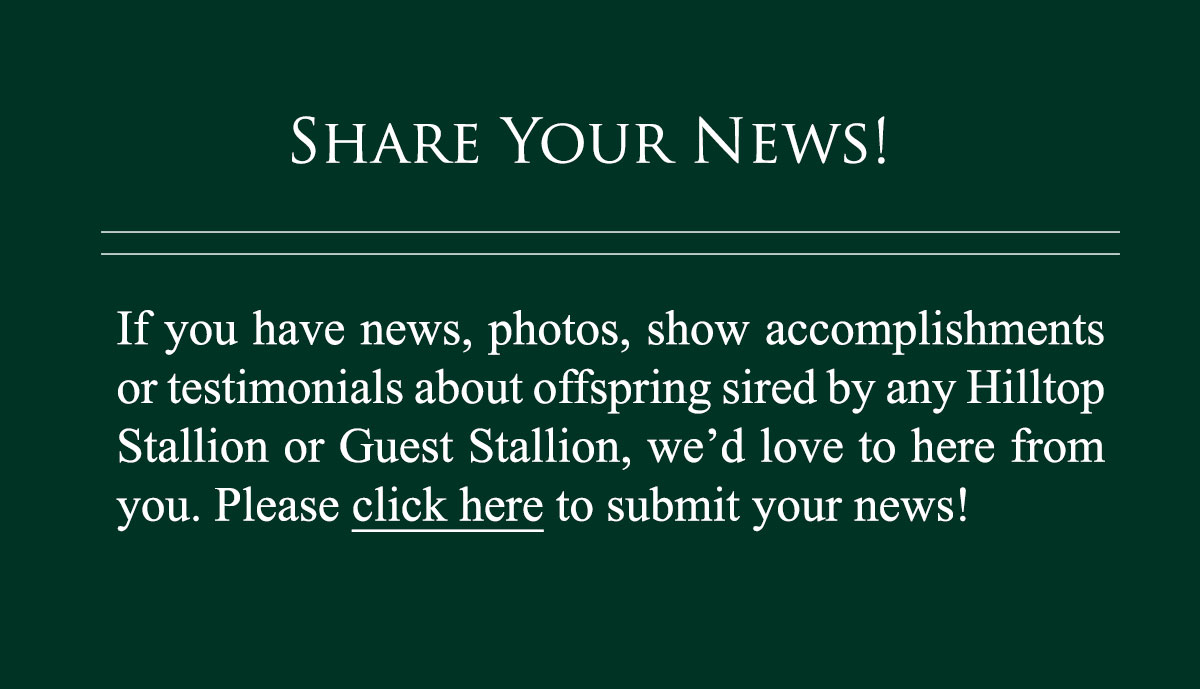 Foal Announcements