ESDCTA added in two new Breed Shows over Memorial Day weekend and we were thrilled to take some of the youngsters up to the New Jersey Horse Park for the first breed show of the season.  Quinnten Alston had a full plate each day handling not only the horses from Hilltop, but the vast majority of the horses in the breed show!  These first outings for the youngsters can be exciting, but we were very happy with how each of our youngsters behaved and settled into the show environment over the weekend.  Michelle Ryan's Coach (Contucci-Benetton Dream) placed 4th & 2nd in the Yearling Colts classes, 5th in Saturday's Hanoverian class for all ages, and 3rd in Sunday's Colt Championship.  Michelle Reilly's Quartet GSH (Qredit-Arrian) won her Yearling Fillies classes, was 3rd in Saturday's Hanoverian class, and was 3rd in the Filly Championships on both days.  Karen Schumaker's Doc Marten SPF (Doctor Wendell MF-Liberty Gold) was 1st & 4th in the Yearling Colts classes, 4th in Saturday's Hanoverian IBC, and 3rd in Saturday's Colt Championship.  The Hilltop-bred/owned filly Qindle HTF (Qredit-Royal Prince) was 2nd in her Two-Year Old Filly classes, 2nd in Saturday's Hanoverian class, and was Reserve Champion Filly on Sunday.  Finally, Jessica Fay rode Hilltop's Cha Ching HTF (Contucci-Cordoba) in his second show weekend and won all four of their Materiale and Suitability classes.
History in the Making
Dec, 2010
It's official – the USEF Sire Rankings have been tabulated for the year and we are very proud to announce that for the 2nd year in a row Riverman is the Eventing Sire of the Year and for the 3rd year in a row Royal Prince is the Dressage Breeding Sire of the Year! Congratulations to all the owners and breeders whose offspring contributed to these wins.
Jun, 2014
Hilltop Farm, Inc., unveils new 1,000+ page website. With our growing online audience and the ever-changing advancements in technology, we partnered with the team of innovators and online engineers at www.EqGraphics.com to bring you what is likely, the most comprehensive stallion website in the industry.
Click Here to View More Hilltop Milestones & Articles
Recent News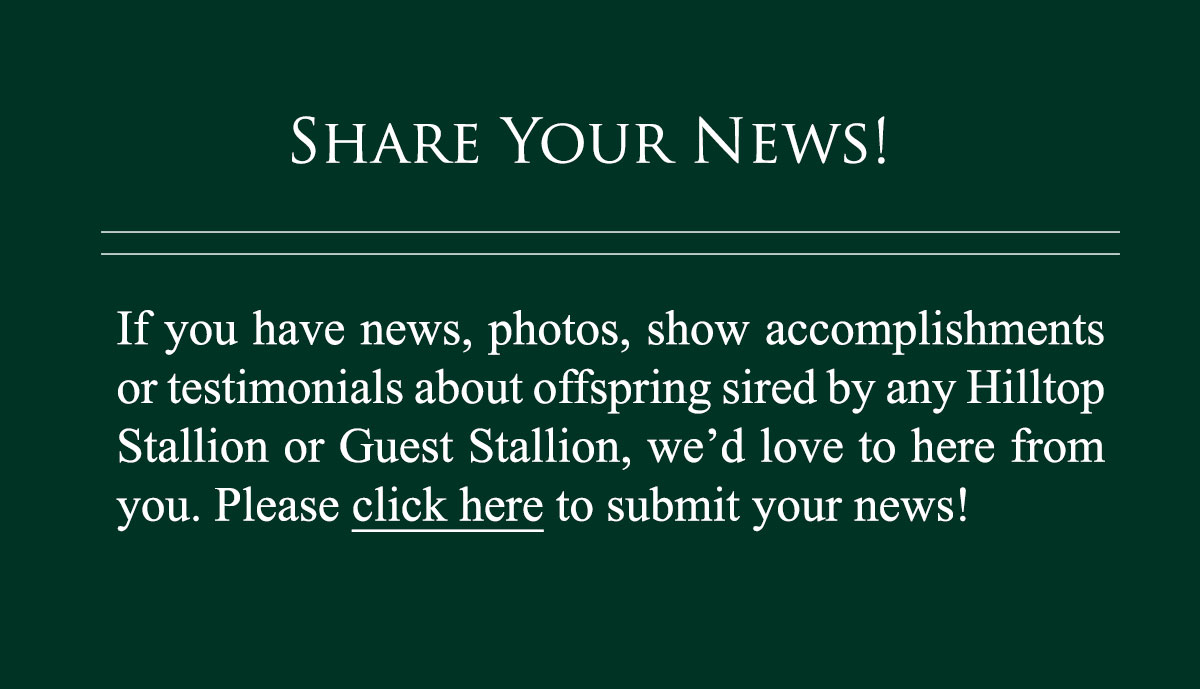 Foal Announcements