Each year we look forward to the release of the USEF Sire of the Year rankings. The USEF Leading Sire system has become a valuable way for stallion owners, breeders, and trainers to evaluate the success of a stallion's offspring in many different venues from competitions throughout the United States. This year, we pleased to see many of the Hilltop stallions receiving high rankings in multiple disciplines. The results were especially exciting for Marydell Farm's Don Principe (Donnerhall – Prince Thatch xx) and Hilltop Farm's Riverman (Redfort-Landego). Don Principe finished the year as the leading USEF Dressage Breeding Sire, an accomplishment that narrowly eluded him in 2010 when he finished Reserve Champion. With superb showings by his offspring at shows such as Dressage at Lexington and Dressage at Devon, we are not at all surprised that he earned this honor this season. Another highlight for Don Principe was a 9th place ranking in the Hunter Breeding division. Riverman offspring, yet again, highlighted the wonderful athletic versatility their sire offers, taking Riverman to a top-25 ranking in four different disciplines. Riverman was awarded the Reserve Champion USEF Eventing Sire of the Year, only a few points behind this year's winner. Riverman also finished 20th in the Jumper Sire Rankings and was the highest ranked US-based jumper stallion; for which he was honored with the USEF South Pacific Award. In the Hunter Breeding and Hunter divisions, Riverman finished 24th and 13th respectively.
Another cornerstone in the Hilltop Farm line-up, Contucci (Caprimond – Lungau) also earned multiple top-25 finishes.  Contucci finished the year ranked 21st in the Hunter Sire rankings, 6th in Eventing Sire rankings, 23rd in Dressage Breeding Sire rankings and last but not least 5th in Dressage Sire rankings.  The dressage arena is where Contucci offspring truly shine and we were thrilled to see this reflected in the sire standings where he was the highest ranked US-based sire.  With many of the oldest Royal Prince (Rohdiamant – Prince Thatch xx) offspring now competing under saddle, we saw a large shift in Royal Prince's Dressage Sire rankings boosting him to 16th place overall.  Royal Prince offspring continue to do well at Dressage Breeding venues as well, earning him a 5th place ranking.  With only two foal crops on the ground, the Hilltop stallion Qredit (Quaterback – Dream of Glory) finished the year ranked 11th in Dressage Breeding.   Bugatti (Bergamon – Rubinstein I)received a 20th ranking in Dressage Sires and a 13th in Dressage Breeding Sires. Last but not least for the US stallions, Donarweiss GGF (De Niro – Hohenstein) finished 15th in the Dressage Breeding Sires and 24th in the Eventing Sires.
International dressage stallions Negro and Ampere received strong rankings with a limited number of offspring competing here in the states. Negro (Ferro – Variant) tied with Bugatti for a 20th place finish in Dressage rankings; while Ampere(Rousseau – Flemmingh), earned an impressive 4th place finish in Dressage Breeding Sires. International jumper stallions Utrillo Van De Heffinck (Clinton – Heartbreaker), Ramiro B (Calvani – Wendekreis), and Quite Easy (Quidam de Revel –Landgraf I) also received top finishes. Ramiro B ranked 14th in the Eventing Sire rankings, Quite Easy was not far behind him in 20th place. Quite Easy also earned an 8th place finish in the Hunter Sire rankings. Utrillo Van De Heffinck offspring truly showcased their sire's beautiful type and jumping ability to rank him as the 4th place Hunter Sire of 2013.
Hilltop Farm would like to thank all of our breeders and owners who have confidently chosen to breed to Hilltop Farm stallions; as well as the current owners who have their offspring out competing. Your breeding and competition efforts are truly appreciated and these accomplishments could not have been possible without your efforts!
Hilltop Archives
Oct, 1999
Ten weeks following a surgery that was intended to prolong and sustain the quality of life for the 19-year old Holsteiner stallion, Hilltop Farm lost their founding sire Cabaret on October 28, 1999. An arthrocentesis was performed on the right front fetlock of the stallion in order to" fuse" the fetlock and create relief for a failing suspensory apparatus.
Feb, 2009
The United States Equestrian Federation gives awards to the top placing sires, breeders, and owners based upon their offspring show records over the past year at USEF recognized shows. For the 2008 show season, Hilltop Farm stallions once again proved their consistency as Leading Sires in the US.
Click Here to View More Hilltop Milestones & Articles
Hilltop Articles & Interviews
Jan, 2009
The phone rings at Hilltop Farm and breeding manager Natalie DiBerardinis answers. Just as she suspected, it is a mare owner looking for advice. Which stallion would be a good match for her mare, the caller asks anxiously. With scientific advances in artificial insemination, the choices for a perfect partner have never been greater, but that doesn't mean the selection process is any simpler. DiBerardinis asks the owner a few questions about her mare and suggests she complete Hilltop's online questionnaire. After reading it, she and the caller will talk again to discuss the options.
Jan, 2010
A Sport Horse Handler, whether at a show, inspection or exhibition, constantly strives for that 'magical moment' as he guides a horse in hand around the arena, often negotiating a large triangle formed from flower pots and jump poles. Together the two lift off and eat up the ground, matching stride for stride -- the horse seeming to float, to collect and extend on his own, all in perfect rhythm. The handler is as discreet as possible so that all attention focuses on the horse looking his best.
Click Here to View More Hilltop Milestones & Articles
Recent News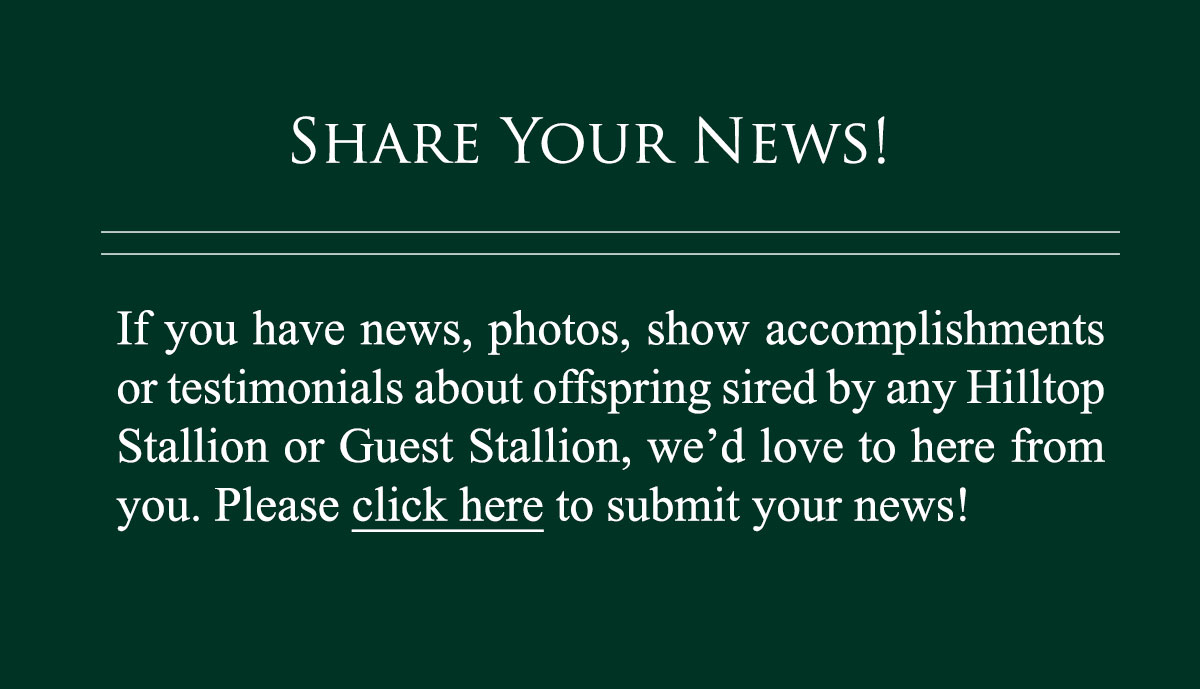 Foal Announcements