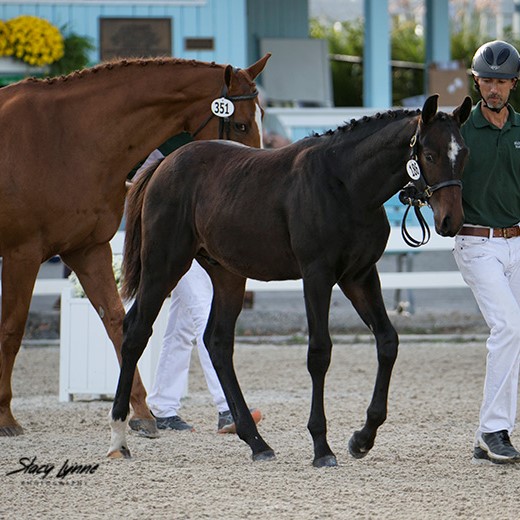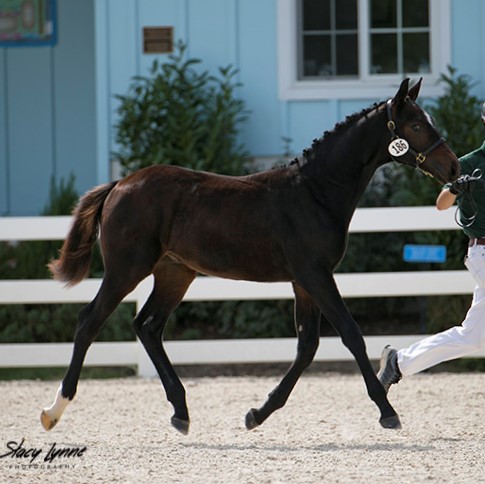 Percy is a power-packed youngster who is full of personality. He's showing us three strong gaits, with an especially scopey canter.  At his large ISR/Oldenburg inspection, he earned scores of 8.0 for conformation, 8.3 for movement, 8.2 for overall impression, was named a Premium Foal, and was Reserve Champion Colt for his inspection.  He followed this up by placing 3rd in his large Colts of 2017 class during Dressage at Devon. 
Sire Pikko del Cerro has been a 3-time US National Champion and had a very successful international Grand Prix Dressage career with Olympian Lisa Wilcox. The Cerro offspring all seem to inherit a strong hindleg, uphill balance, and compact frame.  Percy's dam, Wraina, was the High Score US-bred Filly at Dressage at Devon and was successful showing both in-hand and under saddle. She was also the high-scoring mare at her 2011 ISR/Oldenburg inspection. Wraina's sire, Obadiah (Fair Play-Trapper), was a successful FEI dressage horse and her dam sire is the Thoroughbred stallion Sir Wimborne. Wraina is a half-sister to the 4-star event horse Rock on Rose.
This is Wraina's 4th foal, and like the previous half-siblings, Percy is a natural athlete with a curious, confident attitude which is ideally suited for a show career.  
Price: $15,000