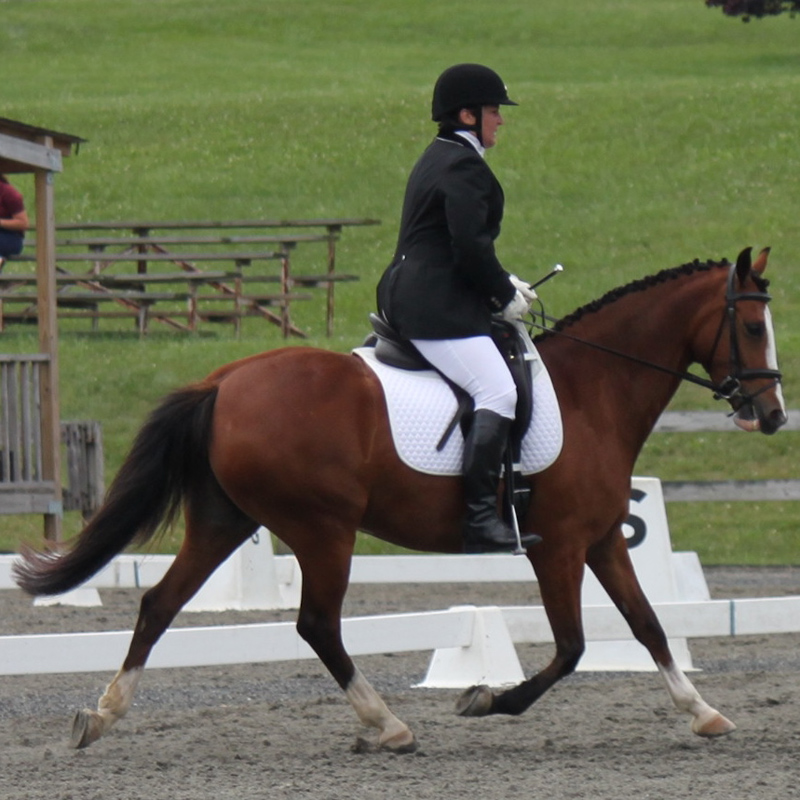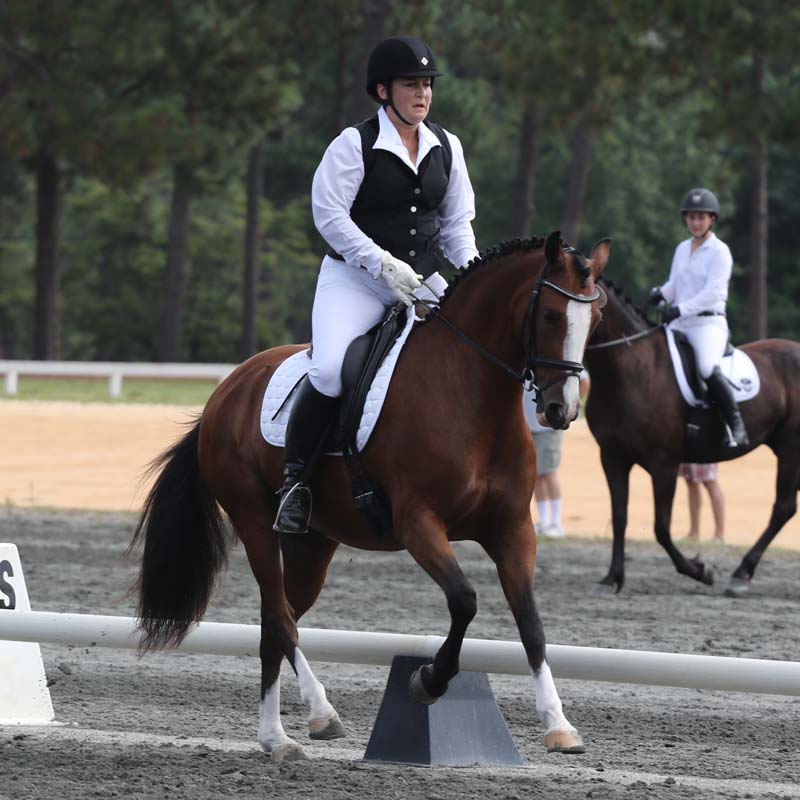 2010 bay premium ISR/OldenburgNA filly out of the Welsh Section D mare Clanfair Mary Kay (Kentchurch Chime – grandsire). Overall inspection score was 8.2 and with a movement score of 8.5. It was the second highest movement score at the inspection. She was shown in hand at NCDCTA Sport Horse Breeding show- fillies 2010 and placed first with a score of  78.2%- trot score was 8 with comment that her movement was "uphill for her age". This placing made her eligible to compete at the USDF Breeders Championship at Devon. At Devon she competed in the fillies 2010 class and received a 7.9 for her trot and the comment on the scoring sheet – "good rhythm and round motion" -final score 74.3%. She currently stands at about 14 hands and has been handled daily since birth. She clips/trailers/stands on the cross ties and has had her feet trimmed every 5 weeks and is very good with the farrier.
Her dam, Clanfair Mary Kay, is a Section D Welsh Cob with excellent bloodlines for dressage. Mary Kay's grandsire is the well know Kentchurch Chime that was on of the first ponies to compete in upper level dressage. He won Grand Prix classes and the Region 9 Grand Prix championship. This amazing sire started dressage at the age of 9 and retired at 17. He has produced foals that have competed at the FEI levels. Mary Kay herself has been an amazing pony mare. She came to our farm as a 2 year old and was started undersaddle at 3 and at 3 1/2 was entered into a lesson program and became the children's favorite. She is very easy and willing with big powerful gaits.
Princi is sensitive, but willing and very hardworking. She was showed Training successfully in 2016 with scores mid to high 60's with an AA- will show first level in 2017,  schooling second- completed her mare performance test with ISR/Oldenburg Aug 2016 with a score of 68%.
Price: $30,000
During her ISR/Oldenburg NA 2010 inspection she received many 8's and an overall score of 109 placing her as one of the top scoring mares at the inspection. She was awarded Premium status in the Mare Book. She went on to receive 2nd place for the 2010 High Score Mare Award with the ISR/OldenburgNA. She received second place out of all the mares from the east coast and based on her confirmation score was placed in the star program. This filly is an FEI pony in the making and would be a great addition to a serious FEI pony breeder. Princi is the 2013 USDF All Breeds Reserve Champion for 3 year old Fillies- ISR/Oldenburg.