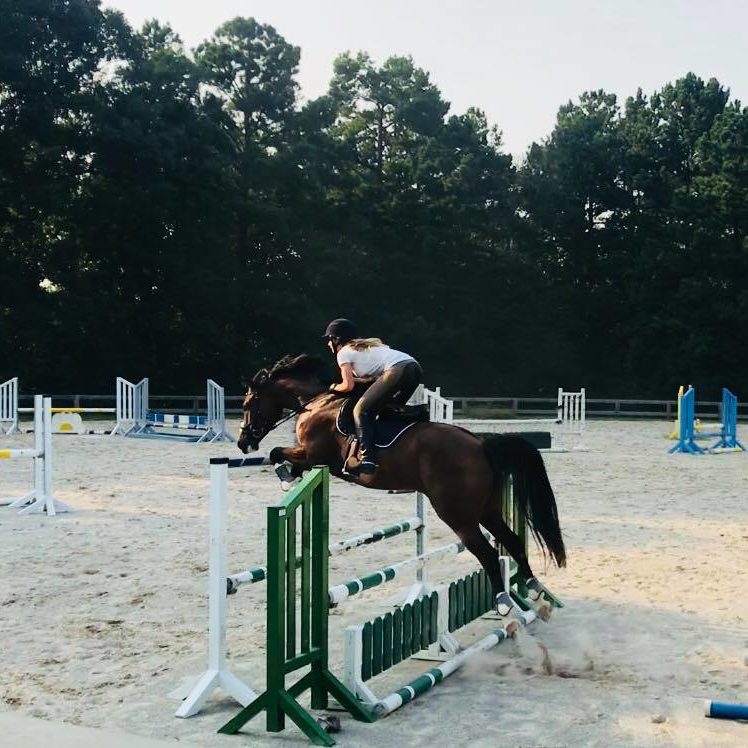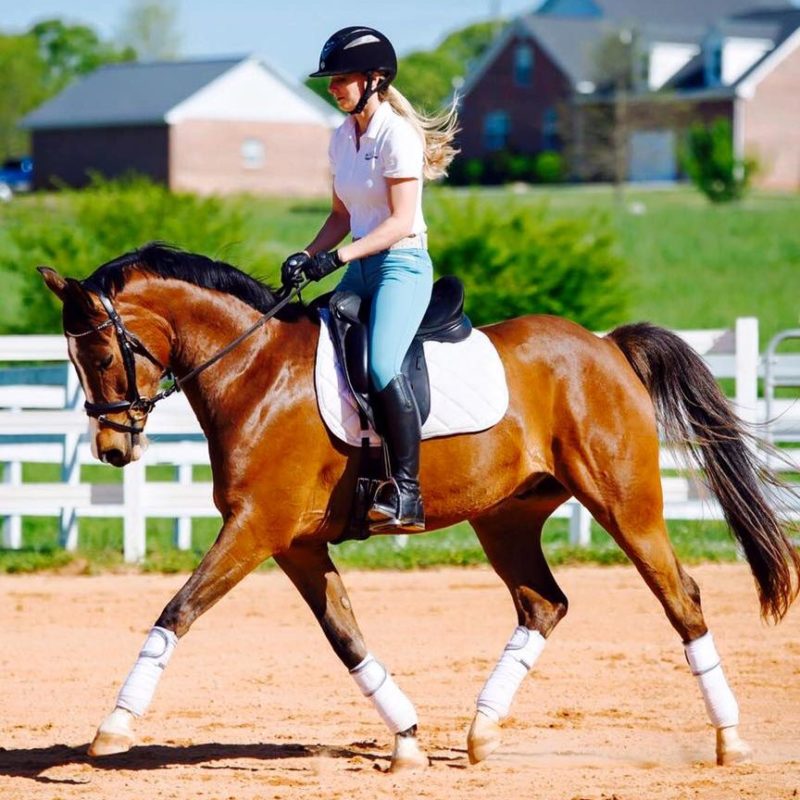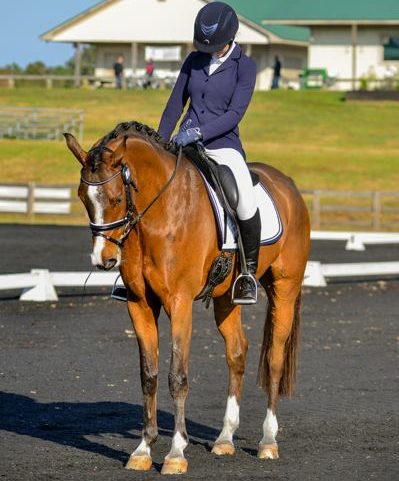 Q-Star is a 2012 Holsteiner/Arab gelding by Quite Easy/Quidam de Revel out of Isle B Exceptional/Islamorada/Bask. He is double registered with Oldenburg NA & AHA. Q-Star has exceeded all of my goals as a breeder. He is beautiful, very intelligent and athletic, sound and sane with a tractable, trainable temperament, who can go in all directions of our sport. He has been brought along carefully and is at the perfect age to be your next upper level show horse. No matter if you are looking to ride up the levels in Dressage, Show Jumping, Eventing and even Hunters/Equitation – he has it all.
Q-Star was born on March 29, 2012. 15.2h. He is out of "Isle Be Exceptional", our purebred Arabian jumper mare whose grandfather is the legendary BASK. Q's sire is the top Grand Prix jumping sire Quite Easy. Quite Easy has not only sired grand prix jumpers, but also grand prix dressage horses. He is by the one and only Quidam de Revel. It is said he's the best stallion in the world.
Q is very soft in the bridle and has a nice forward push without being to forward. He has an above average walk with a huge overstep. His trot makes you feel like you are sitting on clouds, with lots of suspension. His canter could not be any more comfortable with a big stride that is easily collectible. His gaits constantly score 8's. His rideability is very rewarding. This horse loves to work and does not like to get bored. He will give you amazing rides if you keep him challenged. His jumping ability has no limits. He is a very brave and careful jumper with a great eye and oversight. His scope is endless and his bascule and form is ideal. Due to his wonderful Dressage training he is very adjustable in between jumps. His footwork is very good and he has great oversight.
Q is branded and registered ISR Oldenburg, as well as registered with the Arabian Horse Association. Q has won numerous regional and nationals titles in the selected shows he's attended. From yearling to 3-year old he placed either 2nd or 3rd in the USEA Future Event Horse Classes and qualified every year for the finals. As a 4- and 5-year old he was shown and has won numerous classes in First Level with scores up to 74% and Training Level up to 80%. As a 5 year old he won the FEI Young horse class at the Sport Horse Nationals for Arabian/Half Arabian Horses, in which the judges called him the only horse out of 26 horses, which they would like to see back in the FEI classes. He also placed 2nd in the Training Level Championship for young horses and 3rd in the Open Training Level Championship. As a 6 year old he was Reserve Champion at First Level at the Region 12 Championships for Arabian Horses and keeps scoring in the 70's. He is ready to show 2nd level Dressage. Half Steps have been introduced. Q has clear rounds at rated jumper shows up to 0.9m. He is schooling up to 1.10m. has attended jumper schooling shows as well as schooled XC up to Novice level.
Olympic 3-day eventer Lauren Kieffer says: "Q" is a lovely package with all the qualities you look for in a horse. He has three lovely gaits and the kind of canter you can't miss a distance to the jump on. He will make anyone a lovely and competitive partner." Dressage scores are available on Centerlinescores.com. Search for "Q-Star". Q has excellent ground manners, loves grooming of any kind, trailers perfectly and is a great joy to have in the barn. He is a total character, who adores humans. He has a great love for cats. Perfectly suited for the intermediate rider (Adult Amateur or Professional). Set of full clean x-rays available. Extensive vet exam including air way scope on file. Priced at $38K, somewhat negotiable to a forever loving home. Several different videos upon request.
Price:$38,000