Hilltop Farm hosted its annual ISR/Oldenburg inspection on August 16th.  The judging panel of Ekkehard Brysch, Dieter Felgendreher, and Gary Lawrence had a packed day of horses to evaluate.  Four stallions were presented for licensing and three were approved.  The approved stallions were Lea Ann Hansen's Velluto (Schiffon-Urspring), Kindle Hill Farm's GK Calucci (Calido I-Accord II), and Trestle Tree Farm's Beaulieu's Talisman (Toulon-Alexis Z).
Four horses took part in the performance test which evaluates potential both in free jumping and under saddle.  Rag Doll, owned by Lauren Kimmel and bred by Angelique Le Vell, was the High-Score Winner of the Performance Test with an impressive 78 points overall including an 8.5 for jumping ability and an 8.0 for rideability.  Rag Doll (Regazzoni-Matissa) was also accepted into the Main Mare Book with a score of 97 points.  Christina Warfel's pony mare Wrefleksion (Wicked Courtjester-Nieuwmoeds Patrick) passed the Mare Performance Test with an overall score of 70 points and was accepted into the Pony Mare Book with a score of 98 points.  Summit Sporthorses' Piper (Popeye-Fascination) and Popgun (Popeye-Oliver Twist) earned scores of 7 on rideability and will add this performance test to their sport record.   This is a good reminder that the Performance Test is open to both Mares and Geldings and can give owners of geldings a wonderful goal to work towards in early training  while also helping refine the breeder's evaluation of their own program.
Nine additional mares were presented for breeding evaluation.  Due to pedigree, two were accepted into the Pre-Mare Book – Dancin To A Fiddle (Reneck Fiddlin Man-Gunmetal Bars) and Leanna (Maraton-Palermo) which will allow their foals to receive the ISR brand in the future.  Six mares were accepted into the Main Mare Book: the Oldenburg mare Ravissante (Riverman-Pontifex xx), Gangway Flirt xx (Harbor Man-Lucky Chance), Repeat Vision xx (Pollard's Vision-Zuppardo's Prince), For the Taste xx (Sky Classic-Irish River), Kourages Kelly xx (Halos and Horns-Secreto), and Janet's Wish xx (Caller ID-Iron).  There was one Premium Mare, Chiquita HTF (Contucci-Cordoba), who earned 105 points overall.  Chiquita was bred and is owned by Hilltop Farm.
A total of 15 foals were presented representing the sires Farscape, Doctor Wendell MF, Wasabi, Qredit, Cunningham, Amazing, Wild Dance, Wamberto, Don Principe, Escapade, Forrest Flame, Royal Prince, and Rotspon.  There were six Premium Foals.  Scores listed are for conformation/correctness, movement, overall impression, and final score.
Wassail (Wasabi-Harbor Man xx), bred by Lynn Schriver: 8.3/8.0/8.2/8.2 CHAMPION FILLY
LJS Wild Waldo (Wild Dance-Caesar), bred by Lazy J Sporthorses: 8.2/8.5/8.4/8.4 CHAMPION COLT
Rondee Voo (Rotspon-Cor Noir), bred by Horse Power, Inc: 8.0/8.3/8.0/8.1
Forrest Folly (Forrest Flame-Nieuwmoeds Patrick), bred by Lesley Feakins: 8.0/8.0/8.0/8.0
Quotogenic (Qredit-Cabaret), bred by Meg Sherman: 8.0/8.3/8.1/8.1 RES. CHAMP FILLY
Westbrook (Wamberto-Contucci), bred by Sue Jackman: 8.2/8.0/8.0/8.1
Congratulations to all the participants!
Hilltop Archives
Nov, 2002
Hilltop Farm regretfully announces the passing of a wonderful stallion and a real show jumping star. On November 13, 2002, the famous jumping stallion VIP passed away while enjoying a beautiful sunny day in his paddock. At nearly 24-years of age, VIP still came out of his stall each day with the exuberance of a 3-year old! No one would have guessed it would be his last day.
Nov, 2010
Festrausch (Florestan-Carprilli) has been an important part of the stallion line-up at Hilltop Farm since his purchase in 2000. His bloodlines, incredible movement, and elegant type stood him apart, and it is the movement and character that he passes to his offspring that have made many of his breeders very loyal to him over the years.
Click Here to View More Hilltop Milestones & Articles
Hilltop Articles & Interviews
Nov, 2010
For many Warmblood enthusiasts, just the mention of the famous stallion Riverman is enough to send chills down their spines. The stunning grey Holsteiner, who currently stands at stud at Hilltop Farm in Colora, Maryland, was the Reserve Champion at his stallion licensing, and was a Verband stallion in Germany for the first part of his life.
Jan, 2009
The phone rings at Hilltop Farm and breeding manager Natalie DiBerardinis answers. Just as she suspected, it is a mare owner looking for advice. Which stallion would be a good match for her mare, the caller asks anxiously. With scientific advances in artificial insemination, the choices for a perfect partner have never been greater, but that doesn't mean the selection process is any simpler. DiBerardinis asks the owner a few questions about her mare and suggests she complete Hilltop's online questionnaire. After reading it, she and the caller will talk again to discuss the options.
Click Here to View More Hilltop Milestones & Articles
Recent News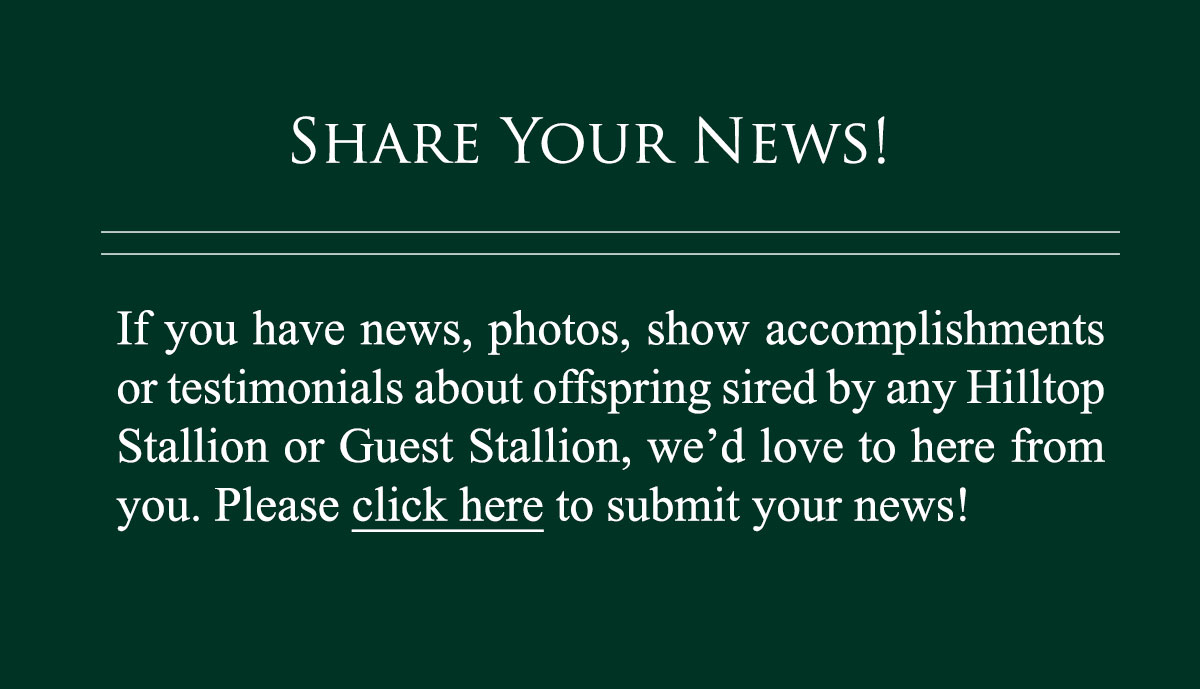 Foal Announcements