Our annual ISR/OldenburgNA Inspection was held August 12-13th and we saw a large, diverse group of good quality horses over the two days. Five stallions were licensed: Chester (Cunningham-Padinus), Heroic Times (Goodtimes-Michellino), Stormy River DZ (San Amour-Weltmeyer), Finery (Furstenball-Diamond Hit), and Rubinero (Rubinstein-Ex Libris).  Having already fulfilled their performance requirements, Stormy River DZ & Rubinero have achieved their Lifetime Approval.  The other three stallions received a Certified Breeding License which is good for two years while they complete their performance requirements.
Five mares participated in the Mare Performance Test with Beaucoup d'Amis (Bugatti-Contucci), bred by Janice Barnes and owned by Trisha DeRosa being the high-scoring mpt with an overall 74.7. Seven mares were presented for Studbook inspection on Day 1. Premium Mares were Beaucoup D'Amis and Remarkable (Redwine-Evening Kris xx).
Day 2 of the inspection was filled with mares and foals.  An additional 11 mares were presented with Qindle HTF (Qredit-Royal Prince) earning the only Premium Mare Award for the day.  Twenty-two foals, including 4 ponies, were then presented.  Premium Awards were given to Jin (Jazz-Good As Gold) bred by Lauren Efford/Goldhope Farm, Harley's Davidson (Woodbury's Harlequin-Colwyn Llewelyn) bred by Arlette Johnson, Forrest Fern (Forrest Flame-Merrie Moscan) bred by Lesley Feakins, Sambuca (Sternlicht-Pointmaker) bred by Kathy LaCroix, Quiet Riot (Quaterback-Cor Noir) bred by Horse Power Inc, Perfect Storm (Cunningham-Popeye K) bred by Maple Run Farm, Alemana (Aloha-Sky Classic) bred by Beth Lawrence, and Galway (Grafenstolz-Riverman) bred by Elizabeth Callahan.  Top colt was Alemana and Top Filly was Forrest Fern.  Congratulations to all!
Thank you to the Hilltop staff, all the participants, the judges, and the brave spectators who came out in this heat!  Despite the weather, everyone remained in excellent spirits and your enthusiasm was very much appreciated.
Hilltop Archives
Jun, 2014
Hilltop Farm, Inc., unveils new 1,000+ page website. With our growing online audience and the ever-changing advancements in technology, we partnered with the team of innovators and online engineers at www.EqGraphics.com to bring you what is likely, the most comprehensive stallion website in the industry.
Dec, 2010
It's official – the USEF Sire Rankings have been tabulated for the year and we are very proud to announce that for the 2nd year in a row Riverman is the Eventing Sire of the Year and for the 3rd year in a row Royal Prince is the Dressage Breeding Sire of the Year! Congratulations to all the owners and breeders whose offspring contributed to these wins.
Click Here to View More Hilltop Archives
Hilltop Articles & Interviews
Jan, 2009
The phone rings at Hilltop Farm and breeding manager Natalie DiBerardinis answers. Just as she suspected, it is a mare owner looking for advice. Which stallion would be a good match for her mare, the caller asks anxiously. With scientific advances in artificial insemination, the choices for a perfect partner have never been greater, but that doesn't mean the selection process is any simpler. DiBerardinis asks the owner a few questions about her mare and suggests she complete Hilltop's online questionnaire. After reading it, she and the caller will talk again to discuss the options.
May, 2013
The dramatic view at Hilltop Farm is as beautiful as its magnificent horses, but the facility's scenic side in a relatively rural section of Maryland is just one of the many things that make it unique, the word most often used by people describing this one-of-a-kind property.
Click Here to View More Hilltop Articles & Interviews
Recent News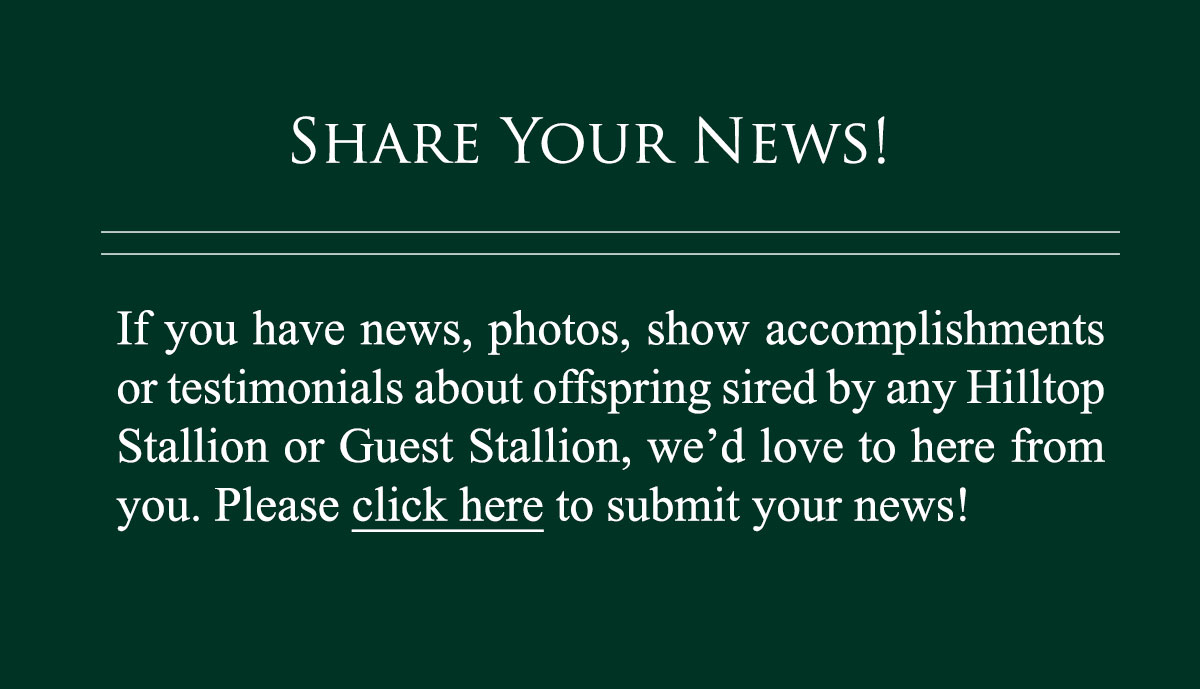 Foal Announcements