It's been a couple of years since we were able to attend the MDA Show in Bel Air and we were very happy to add it back into our schedule this year.  It's a fun, laidback environment and it's close to home!  Iris Aberbach's Boxster A continues to be a standout as he moves up the levels.  On Saturday he won Fourth Level 3 with a score of 72% and was the Fourth Level High-Score for the day and on Sunday he repeated the win and High-Score Award for his Prix St. Georges test.  Lara and Mitch Mitchelson's Faberge Blue is just beginning his show career and this was the first recognized show for the 4-year old Dutch gelding.  He earned a 69% and 2nd place in his first class, Training Level 2, but then won his Training Level Test 3 class with a 75.2% on Saturday.  The following day he won Training Level 3 with a 75.5% and was High-Score Training Level both days. It was going to be a day filled with 70's for Michael as he continued the streak with Kaja Brix's Westfalen gelding Feuerbach.  In his first outing with Michael the pair earned a 75.5% in Third Level Test 3 on Satuday and a 72% on Sunday. They were the Third Level High-Score winners for both days.  The best part of this show however was having all the owners present to join in the fun!
Hilltop Archives
Jun, 2013
On June 25th Parabol was humanely euthanized at Hilltop Farm due to declining health and age-related complications. While our hearts our heavy with this loss, we choose to focus instead on the thirty remarkable years Parabol had...
Oct, 1999
Ten weeks following a surgery that was intended to prolong and sustain the quality of life for the 19-year old Holsteiner stallion, Hilltop Farm lost their founding sire Cabaret on October 28, 1999. An arthrocentesis was performed on the right front fetlock of the stallion in order to" fuse" the fetlock and create relief for a failing suspensory apparatus.
Click Here to View More Hilltop Milestones & Articles
Hilltop Articles & Interviews
Jan, 2010
The manicured grounds of the Lamplight Equestrian Center were superb as was the quality of the equine competitors at the 2009 Markel/United States Equestrian Federation (USEF) National Young Horse Dressage Championships and the 2009 USEF National Developing Horse Dressage Championship, sponsored by the Dutta Corporation and Performance Sales International.
Apr, 2008
Wisconsin breeders work on one foal at a time. Shannon (a competitive dressage rider) and Doug Langer, DVD, (a partner of the Wisconsin Equine Clinic and Hospital) have bred Hanoverians for 10 years at their Maple Run Farm in Helenville, Wisconsin. They arrived on the international stage when their homebred Cabana Boy represented the United States at the 2007 World Young Horse Championships.
Click Here to View More Hilltop Milestones & Articles
Recent News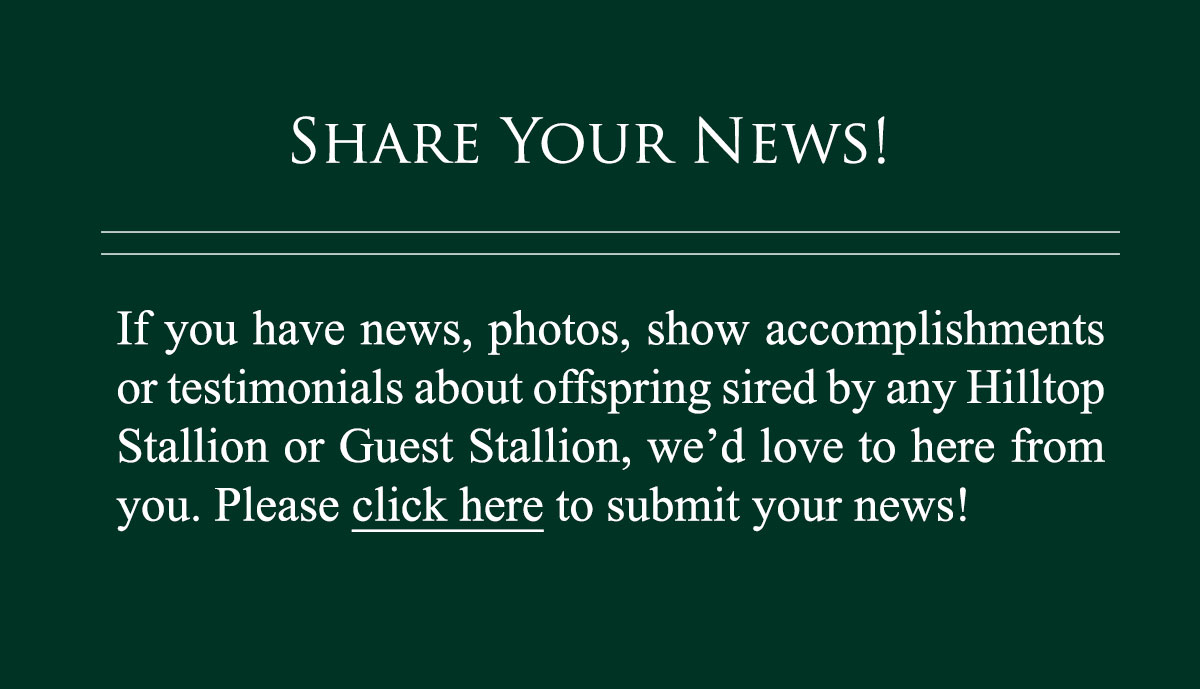 Foal Announcements