The North American Stallion Sport Test, LLC has released the schedule of events for both the East Coast and West Coast stallion tests in Oct/Nov 2017. All listed events are open to the public, and there is no charge to attend. A complimentary lunch will be provided at the East Coast site at Hilltop Farms on November 1st.. Please RSVP to holly@hilltopfarminc.com if you plan to attend that day.
An educational event is slated at both sites at the end of Day 2. Hilltop will feature Jurgen Koschel discussing Young Horse Dressage Training on November 1st. Pollyrich Farms will host Gerd Sickinger & Dieter Stut discussing Young Horse Jumper Training on November 4th.
Pollyrich will also be the site of a wine-tasting and dinner following the educational event on Saturday. Tickets are $50 per person, and reservations should be made in advance to BuffyOas@me.com
A copy of the schedule in PDF may be found here.
East Coast Testing Oct 31st-Nov 2nd
Hilltop Farm, 1089 Nesbitt Rd. Colora, MD 21917
PH: 410-658-9898 
October 31st (Day 1 – East Coast)
Vet Check, Schooling Sessions
12:45pm Vet Check
2-4pm Schooling Sessions 
November 1st (Day 2 – East Coast)
Observed Schooling AM, Testing PM
9:30am-12pm Schooling Sessions (Dressage)
12-1pm Lunch – Complimentary. Please RSVP to holly@hilltopfarminc.com
2-4pm Individual Dressage Tests
4-6pm EDUCATIONAL SESSION: Young Horse Dressage Training with Jurgen Koschel
November 2nd (Day 3 – East Coast)
Guest Rider AM, Licensings
8:30-11am Guest Rider
12pm Stallion Licensings
West Coast Testing Nov 3rd-5th
Pollyrich Farms, 468 Ballard Canyon Road Solvang, CA 93463
PH: 805-688-0220
November 3rd
Vet Check, Schooling Sessions
12:00pm Vet Check
1:15-2:30pm Schooling Sessions (Dressage)
2:30-4:00pm Schooling Sessions (Jumper) 
November 4th
Observed Schooling AM, Testing PM
8:15-9:30 Schooling Sessions (Dressage)
9:30-11:30am Schooling Sessions (Jumper)
11:30am-12:30pm Lunch
12:30-1:15pm Dressage Test
1:30-3:30pm Jumper Test
3:30-5:30pm Young Jumper Training with Gerd Sickinger & Dieter Stut
5:30 Wine Tastings, Followed by Dinner Party – $50/ticket all-inclusive. Please RSVP to BuffyOas@me.com 
November 5th
Guest Rider AM, Licensing PM
8:30-9:00am Guest Rider (Dressage)
9:30am-11:30am Guest Rider (Jumper)
12pm Stallion Licensings
Hilltop Archives
Jun, 2014
Hilltop Farm, Inc., unveils new 1,000+ page website. With our growing online audience and the ever-changing advancements in technology, we partnered with the team of innovators and online engineers at www.EqGraphics.com to bring you what is likely, the most comprehensive stallion website in the industry.
Jan, 2012
The influence of a stallion is marked not only by the stallion's success but most importantly by the success of his offspring. Riverman's (Redfort x Alexis III/Landego) offspring set him apart as truly an exceptional sire as they continue to excel in the dressage, eventing, hunter, and jumper rings at all levels of competition.
Click Here to View More Hilltop Archives
Hilltop Articles & Interviews
Jan, 2009
The phone rings at Hilltop Farm and breeding manager Natalie DiBerardinis answers. Just as she suspected, it is a mare owner looking for advice. Which stallion would be a good match for her mare, the caller asks anxiously. With scientific advances in artificial insemination, the choices for a perfect partner have never been greater, but that doesn't mean the selection process is any simpler. DiBerardinis asks the owner a few questions about her mare and suggests she complete Hilltop's online questionnaire. After reading it, she and the caller will talk again to discuss the options.
Apr, 2010
Kristi Nunnink's default expression is a smile. It doesn't matter how hard she's working, what level she's riding or how the horse under her is performing -- her mouth curls faintly upward, unforced. It may just be a coincidence of facial structure, or it may be a product of years of habit. But either way, the expression fits her, because Nunnink may very well be the happiest rider at Rolex Kentucky. At 48, she's heading to her first CCI**** with her horse of a lifetime.
Click Here to View More Hilltop Articles & Interviews
Recent News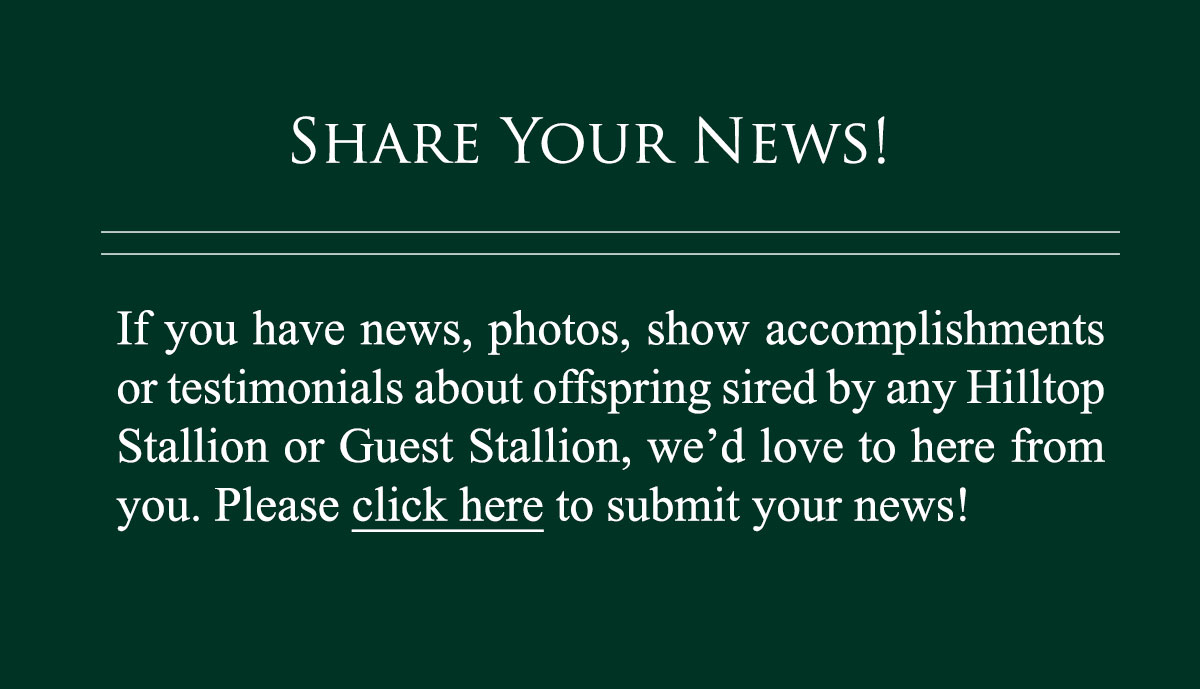 Foal Announcements