The North American Stallion Sport Test, LLC has released the schedule of events for both the East Coast and West Coast stallion tests in Oct/Nov 2017. All listed events are open to the public, and there is no charge to attend. A complimentary lunch will be provided at the East Coast site at Hilltop Farms on November 1st.. Please RSVP to holly@hilltopfarminc.com if you plan to attend that day.
An educational event is slated at both sites at the end of Day 2. Hilltop will feature Jurgen Koschel discussing Young Horse Dressage Training on November 1st. Pollyrich Farms will host Gerd Sickinger & Dieter Stut discussing Young Horse Jumper Training on November 4th.
Pollyrich will also be the site of a wine-tasting and dinner following the educational event on Saturday. Tickets are $50 per person, and reservations should be made in advance to BuffyOas@me.com
A copy of the schedule in PDF may be found here.
East Coast Testing Oct 31st-Nov 2nd
Hilltop Farm, 1089 Nesbitt Rd. Colora, MD 21917
PH: 410-658-9898 
October 31st (Day 1 – East Coast)
Vet Check, Schooling Sessions
12:45pm Vet Check
2-4pm Schooling Sessions 
November 1st (Day 2 – East Coast)
Observed Schooling AM, Testing PM
9:30am-12pm Schooling Sessions (Dressage)
12-1pm Lunch – Complimentary. Please RSVP to holly@hilltopfarminc.com
2-4pm Individual Dressage Tests
4-6pm EDUCATIONAL SESSION: Young Horse Dressage Training with Jurgen Koschel
November 2nd (Day 3 – East Coast)
Guest Rider AM, Licensings
8:30-11am Guest Rider
12pm Stallion Licensings
West Coast Testing Nov 3rd-5th
Pollyrich Farms, 468 Ballard Canyon Road Solvang, CA 93463
PH: 805-688-0220
November 3rd
Vet Check, Schooling Sessions
12:00pm Vet Check
1:15-2:30pm Schooling Sessions (Dressage)
2:30-4:00pm Schooling Sessions (Jumper) 
November 4th
Observed Schooling AM, Testing PM
8:15-9:30 Schooling Sessions (Dressage)
9:30-11:30am Schooling Sessions (Jumper)
11:30am-12:30pm Lunch
12:30-1:15pm Dressage Test
1:30-3:30pm Jumper Test
3:30-5:30pm Young Jumper Training with Gerd Sickinger & Dieter Stut
5:30 Wine Tastings, Followed by Dinner Party – $50/ticket all-inclusive. Please RSVP to BuffyOas@me.com 
November 5th
Guest Rider AM, Licensing PM
8:30-9:00am Guest Rider (Dressage)
9:30am-11:30am Guest Rider (Jumper)
12pm Stallion Licensings
Hilltop Archives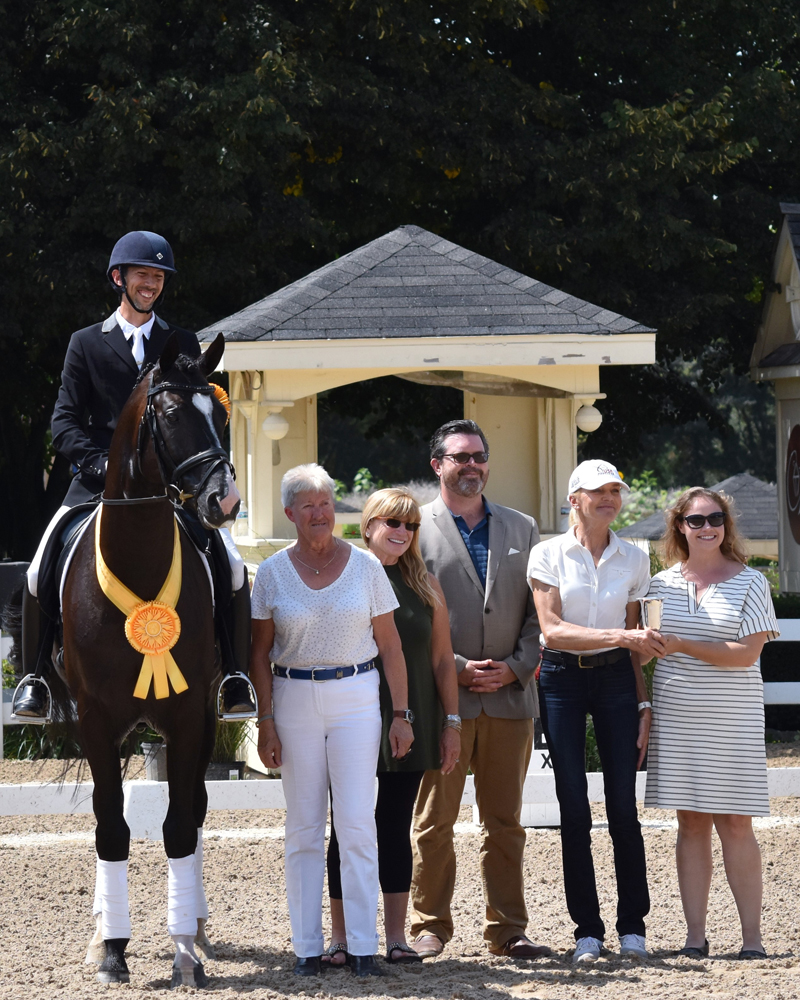 Sep, 2016
Once again we made the long drive out to the beautiful Lamplight Equestrian Center in Wayne, IL for the Markel/USEF Young Horse Championships. Michael qualified two horses for the Championships this year.
Jan, 2016
With each step in their careers, the Riverman offspring continue to impress us with the versatile athleticism that has allowed them to succeed at the highest levels of most every discipline. Over the years we've seen Riverman ranked near the top the USEF Leading Sire rankings in multiple disciplines.
Click Here to View More Hilltop Archives
Hilltop Articles & Interviews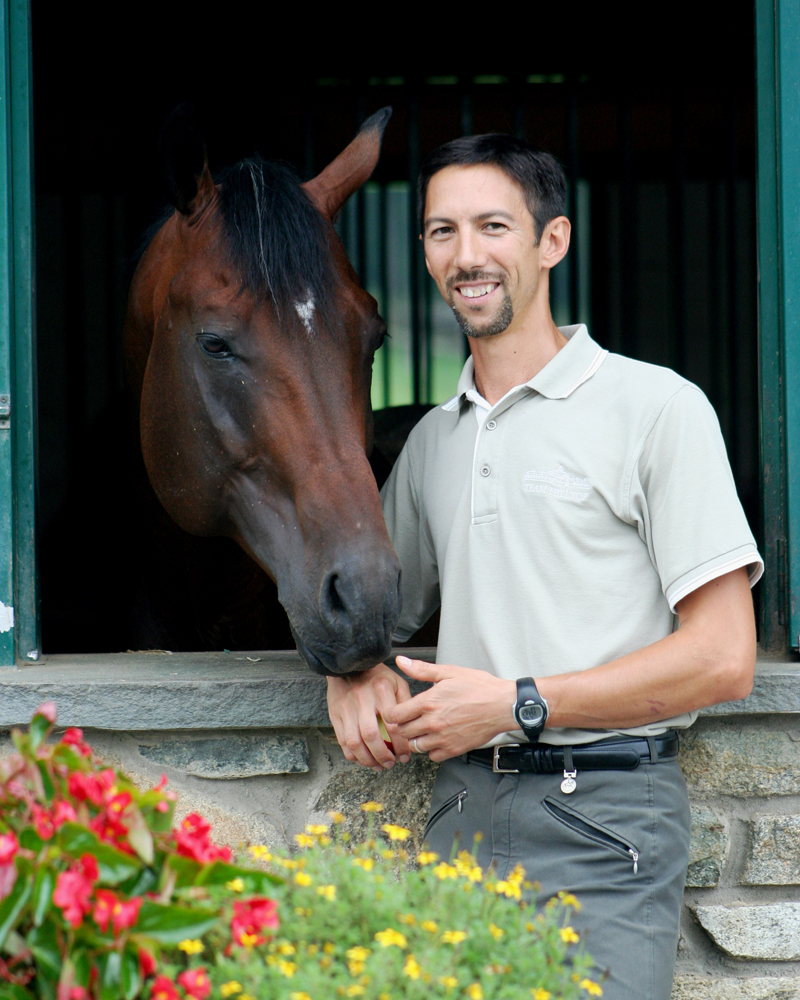 Aug, 2016
Whether you are learning about showing your horse in hand or just looking for some tips, this excerpt from the 2015 USDF Sport Horse Breeders/Handlers Seminar is for you – Showing Sport Horses In Hand with Michael Bragdell.
May, 2013
The dramatic view at Hilltop Farm is as beautiful as its magnificent horses, but the facility's scenic side in a relatively rural section of Maryland is just one of the many things that make it unique, the word most often used by people describing this one-of-a-kind property.
Click Here to View More Hilltop Articles & Interviews
Recent News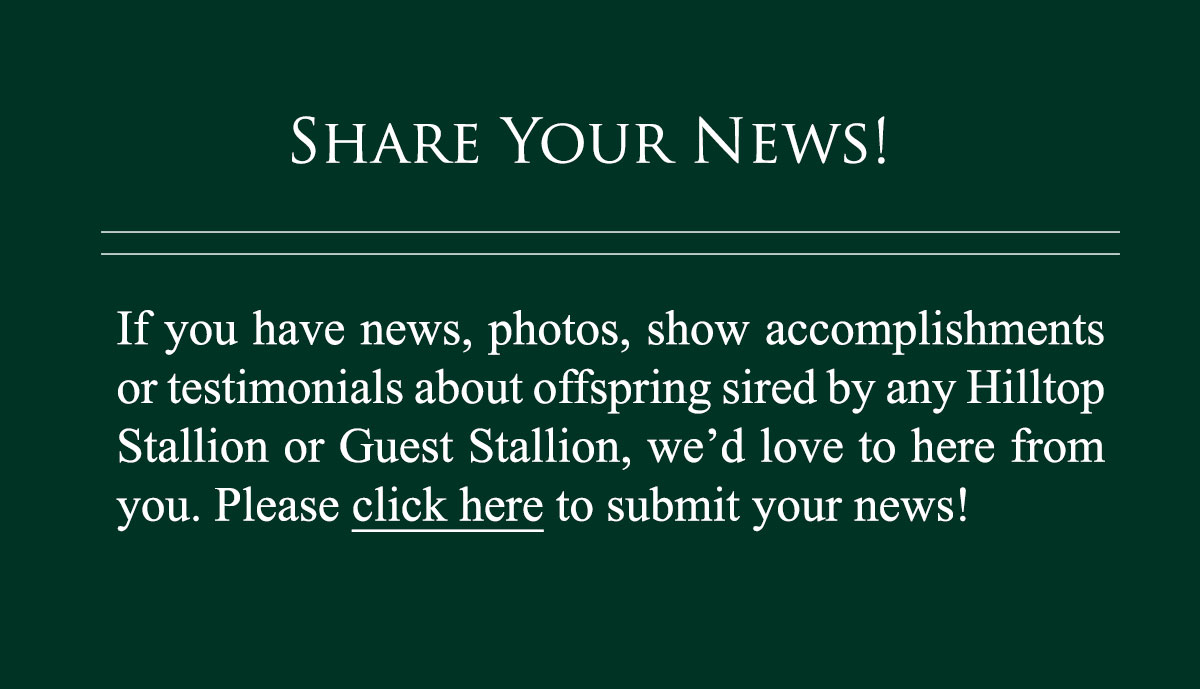 Foal Announcements