The North American Stallion Sport Test, LLC has released the schedule of events for both the East Coast and West Coast stallion tests in Oct/Nov 2017. All listed events are open to the public, and there is no charge to attend. A complimentary lunch will be provided at the East Coast site at Hilltop Farms on November 1st.. Please RSVP to holly@hilltopfarminc.com if you plan to attend that day.
An educational event is slated at both sites at the end of Day 2. Hilltop will feature Jurgen Koschel discussing Young Horse Dressage Training on November 1st. Pollyrich Farms will host Gerd Sickinger & Dieter Stut discussing Young Horse Jumper Training on November 4th.
Pollyrich will also be the site of a wine-tasting and dinner following the educational event on Saturday. Tickets are $50 per person, and reservations should be made in advance to BuffyOas@me.com
A copy of the schedule in PDF may be found here.
East Coast Testing Oct 31st-Nov 2nd
Hilltop Farm, 1089 Nesbitt Rd. Colora, MD 21917
PH: 410-658-9898 
October 31st (Day 1 – East Coast)
Vet Check, Schooling Sessions
12:45pm Vet Check
2-4pm Schooling Sessions 
November 1st (Day 2 – East Coast)
Observed Schooling AM, Testing PM
9:30am-12pm Schooling Sessions (Dressage)
12-1pm Lunch – Complimentary. Please RSVP to holly@hilltopfarminc.com
2-4pm Individual Dressage Tests
4-6pm EDUCATIONAL SESSION: Young Horse Dressage Training with Jurgen Koschel
November 2nd (Day 3 – East Coast)
Guest Rider AM, Licensings
8:30-11am Guest Rider
12pm Stallion Licensings
West Coast Testing Nov 3rd-5th
Pollyrich Farms, 468 Ballard Canyon Road Solvang, CA 93463
PH: 805-688-0220
November 3rd
Vet Check, Schooling Sessions
12:00pm Vet Check
1:15-2:30pm Schooling Sessions (Dressage)
2:30-4:00pm Schooling Sessions (Jumper) 
November 4th
Observed Schooling AM, Testing PM
8:15-9:30 Schooling Sessions (Dressage)
9:30-11:30am Schooling Sessions (Jumper)
11:30am-12:30pm Lunch
12:30-1:15pm Dressage Test
1:30-3:30pm Jumper Test
3:30-5:30pm Young Jumper Training with Gerd Sickinger & Dieter Stut
5:30 Wine Tastings, Followed by Dinner Party – $50/ticket all-inclusive. Please RSVP to BuffyOas@me.com 
November 5th
Guest Rider AM, Licensing PM
8:30-9:00am Guest Rider (Dressage)
9:30am-11:30am Guest Rider (Jumper)
12pm Stallion Licensings
Hilltop Archives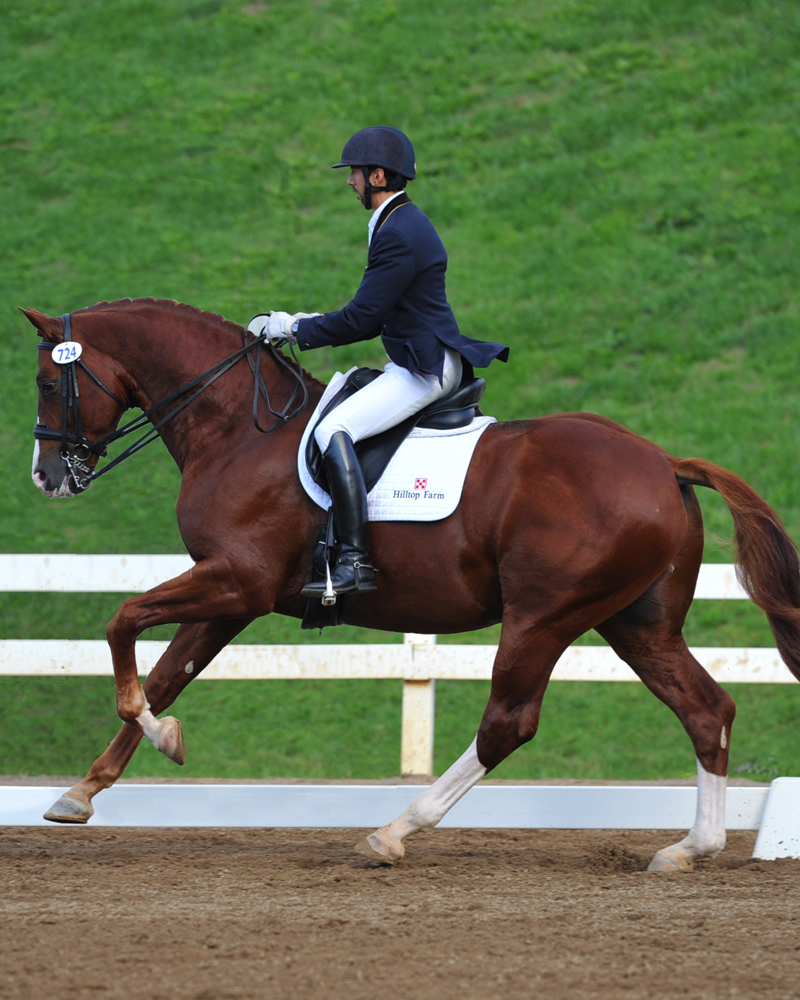 Oct, 2014
This weekend Michael Bragdell headed down to the CBLM Championships & VADA Fall Show in Lexington, VA. Balissa HTF (Bugatti-Contucci) tied for 1st in her Third Level Test 1 on Friday with a 66.184% and improved her score in Saturday's Third Level Championship with a 67%.
Nov, 2006
Thank you to all who joined us to celebrate 15 wonderful years at Hilltop Farm! Over 350 people attended this colorful afternoon celebration on Saturday, October 28. We so appreciate the rave reviews over our main event, the music-filled presentation of our stallion line-up and their offspring. We also appreciate everyone's time, support, and good wishes. Friends and customers traveled as far as from Chicago, Kansas, and South Carolina to celebrate with us.
Click Here to View More Hilltop Archives
Hilltop Articles & Interviews
Nov, 2010
For many Warmblood enthusiasts, just the mention of the famous stallion Riverman is enough to send chills down their spines. The stunning grey Holsteiner, who currently stands at stud at Hilltop Farm in Colora, Maryland, was the Reserve Champion at his stallion licensing, and was a Verband stallion in Germany for the first part of his life.
Apr, 2010
Kristi Nunnink's default expression is a smile. It doesn't matter how hard she's working, what level she's riding or how the horse under her is performing -- her mouth curls faintly upward, unforced. It may just be a coincidence of facial structure, or it may be a product of years of habit. But either way, the expression fits her, because Nunnink may very well be the happiest rider at Rolex Kentucky. At 48, she's heading to her first CCI**** with her horse of a lifetime.
Click Here to View More Hilltop Articles & Interviews
Recent News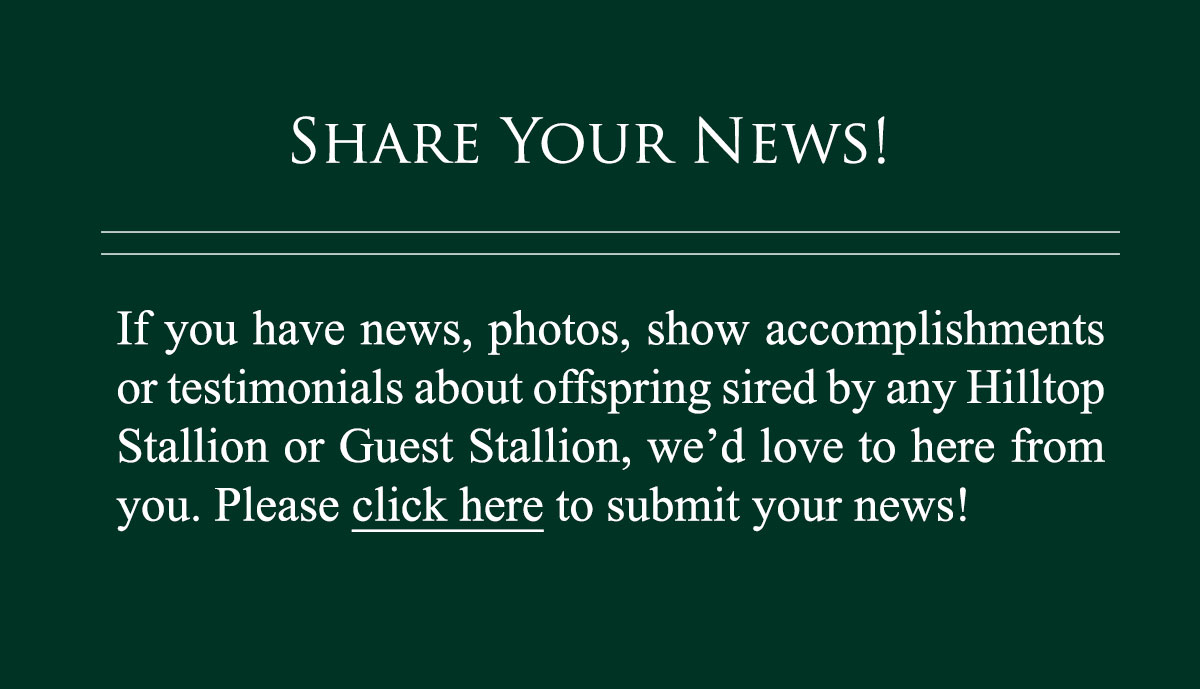 Foal Announcements