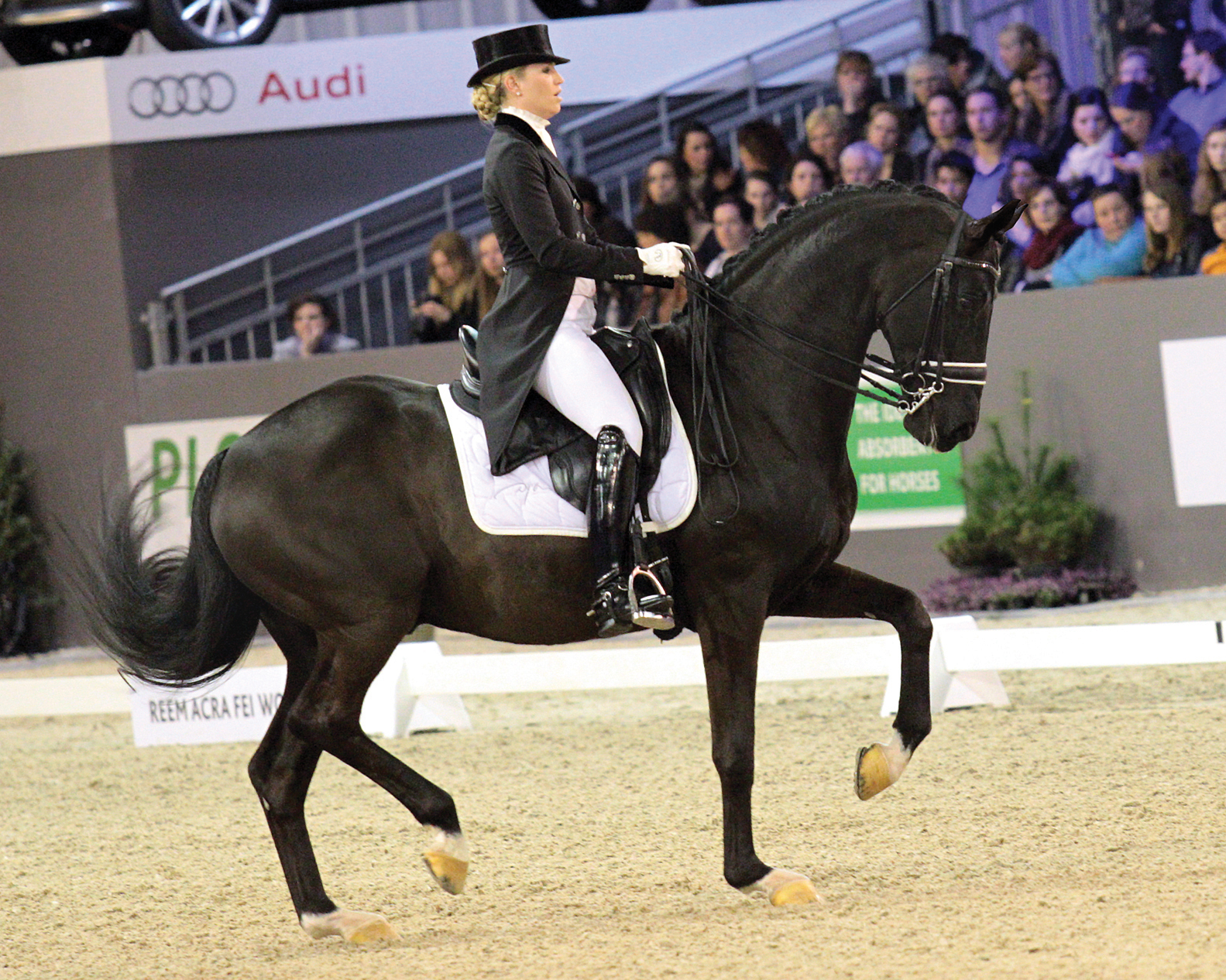 16.1h | 1997 | Dutch Warmblood Stallion
Gribaldi – Ferro – Officier
Painted Black is an inspiring stallion whose record as both a performance horse and a breeding stallion sets him apart.  His successful sports career began with victories in the KWPN Stallion Competitions and Young Horse Classes with Hans Peter Minderhoud.  As a six-year old, Painted Black was Reserve Champion at the World Championships for Young Horses with Anky van Grunsven and just two years later the pair claimed the Dutch National Championship at Prix St. Georges.  In 2009, Painted Black placed 3rd at the FEI World Cup Finals in Las Vegas and the following season he was purchased for Morgan Barbancon Mestre.  Painted Black brought Morgan from the U-25 competitions into international sport at the highest levels.  The pair have competed at the World Equestrian Games, World Cup Finals, and the London Olympic Games.  
Both Painted Black's sire and grandsire have also been international dressage stars and influential breeding stallions.  Sire Gribaldi was proclaimed an Elite Stallion by the Trakehner society in 2003 and keur stallion by the KWPN society in 2004. He has a high percentage of Ster/Keur daughters and is the sire of many Grand Prix horses including Totilas. Painted Black's grandsire, Ferro, captured the Team Silver at the 1998 World Equestrian Games, 1999 European Championships, and 2000 Olympics in Sydney. Ferro earned the "Preferant" title for the KWPN.
Painted Black offspring are highly valued.  He currently stands third on the KWPN's list of top dressage sires with a dressage index of 169 and a reliability factor of 90%.  His offspring are competing at the highest levels of sport and he has four approved stallions to his credit.  Due to his exceptional record as a sire, Painted Black was awarded Keur status by the KWPN.
Owner:
Morgan Barbacon Mestre
Breeder:
Frank van de Valk & Jacqueline van Anholt
Gribaldi
Kostolany
Enrico Caruso
Kapstadt
Gondola II
Ibikus
Gloria VI
Litchy
Ferro
Ulft
Brenda
Vrona
Officier
Ransi
Performance Test: 
Completed KWPN Short Test in 2004
2003: Reserve Champion at World Championships for Young Horses, 6-year old
2008: World Cup Final in Hertogenbosch ~ 3rd place
2008: Lyon CDI5* Grand Prix ~ 1st place
2008: Donaueschingen CDI4* Grand Prix & Grand Prix Special ~ 1st place
2008: Cannes CDI5* Grand Prix ~ 1st place
2008: Lingen CDI5* Grand Prix ~ 1st place 
2009: Donaueschingen CDI4* Grand Prix & Grand Prix Special ~ 1st place 
2009: World Cup Final ~ 3rd place
2009: Wellington CDI5* Grand Prix ~ 1st place
2009: Amsterdam CDI-W Grand Prix ~ 1st place
2010: Falsterbo CDI5* Grand Prix & Grand Prix Freestyle ~ 1st Place
2012: Competed in the London Olympics
2014: World Equestrian Games ~ 15th place Individual and 9th place Team
2015: World Cup Final Grand Prix Freestyle ~ 8th place 
2015: Awarded Keur status by the KWPN
---
Breeding Fees & Contracts
---
Stallion Health Information
---
Cooled Semen
Painted Black is not available via cooled semen. Please see Frozen Semen for shipping costs and details on Painted Black's frozen semen.
---
Frozen Semen
Frozen semen may be shipped year-round. Frozen semen is only shipped at the request of the breeder or their veterinarian, click here for instructions to Request A Semen Shipment.
Distribution Fee (per shipment)
Frozen Semen distribution is handled by Select Breeders Service, Inc. The Distribution Fee must be paid in advance of each shipment by check or credit card.
$355.00 for FedEx Overnight or $325.00 for FedEx 2-Day US shipments; $590.00 for Canadian shipments + duties/customs charges. These include round-trip FedEx shipping. $16.00 additional for Saturday delivery.
$125.00 for pick-up/return at Hilltop Farm or SBS with our container (does not include return by FedEx)
$45.00 for pick-up or shipment from SBS with own container (does not include return by FedEx); $45.00 additional client owned tank recharge fee for tanks that arrive warm.
$45.00 for each additional stallion if multiple stallions are being shipped together
Late Fee for requests received after the published notification time: $75.00
Container Deposit – $1000.00 (Secured by credit card – not charged unless container is not returned or is damaged)
---
Mare Information
Mare Management Reminders
At Hilltop Farm we want to work closely with you and your veterinarian to ensure a successful breeding season and are available for questions at any time. The following information includes some basic suggestions as well as reminders on a few requirements for your breeding contract.
A Breeding Soundness Exam including a uterine culture is recommended, but not required, for all mares prior to breeding. If a mare fails to settle after two breeding cycles, Hilltop Farm will require a culture and cytology to be done at that time prior to any additional shipments of semen. We always recommend your vet checking your mare post-breeding to confirm ovulation. If a mare hangs on to a follicle longer than expected, it can be less expensive to ship additional semen than it would be to breed a second complete cycle. Getting your mare settled in foal is just the beginning. We recommend multiple pregnancy checks to help prevent cases of twins, misdiagnosed pregnancies, or lost time in the breeding season. The following schedule is what we recommend; only the first and fourth checks however are required by your breeding contract.
1st check (Required): 14-16 days post ovulation – optimum time for vet to pinch off a twin if more than a single ovulation is noted.
2nd check (Recommended): 28 days post ovulation – to confirm a viable pregnancy as the heartbeat normally appears by day 25.
3rd check (Recommended): 35-40 days post ovulation – to confirm maintained pregnancy prior to endometrial cup formation. Mares that slip foals early may not come back into heat.
4th check (Required): 55-60 days post ovulation – final confirmation of pregnancy in its critical first trimester.
Following your mare's 55-60 day pregnancy check, please have your vet finish completing the Mare Breeding Passport and return it to Hilltop Farm by September 15th. This Passport is used in all stallion reports to various breed registries and is used to generate a Breeding Certificate so that you can register your foal.
---
Registration Information
Your mare's registration and approval play just as important of a role as the stallion's approvals when determining registration options for your foal. Please keep in mind that in order to register your foal with a specific association, your mare may first need to be presented to that registry for approval. In addition to the registries a stallion is approved with, there may be additional registration options based on your mare's eligibility and the stallion's credentials. If you are confused at all on registration options for a potential foal, please speak with Hilltop Farm and your breed registry PRIOR to booking your breeding.
Painted Black's Approvals
KWPN
GOV
Selle Francais
Hanoverian
Danish
Additional Registration Possibilities
AHS: Painted Black offspring out of Hanoverian approved mares are eligible for registration with the AHS with payment of a Foreign Sire Fee.
GOV: Painted Black offspring out of Oldenburg approved mares are eligible for registration with the GOV with payment of a Foreign Sire Fee.
ISR/OldenburgNA: Offspring of many of the European stallions may be eligible for registration upon the mare owner's completion of a Foreign Stallion Permit.