16.2h | 2003 | Hanoverian Stallion
Pik L – Rohdiamant – Grundstein II
Hilltop Farm is thrilled to welcome the International Grand Prix stallion Pikko del Cerro HU to our 2016 Stallion Line-Up.  Pikko del Cerro HU is a fantastic athlete with elastic movement, natural balance and exceptional intelligence.  From in-hand at Devon, through the FEI Young Horse Program, and into the CDI arena, Cerro has been a standout.   As a two-year old, Pikko del Cerro earned the record setting score of 90% at the prestigious Dressage at Devon Breed Show and he was named Champion Stallion in 2009. That same year, Mikala Gundersen rode Cerro to his first National Championship at the USEF/Markel Six-Year Old National Championships. The following year, Lisa Wilcox took over the ride on Cerro and in 2011 the pair won the USEF Developing Horse National Championships and competed at the USEF Intermediaire I Championships. The following year they captured another championship win in the USEF Developing Grand Prix National Championships. In 2013, Pikko del Cerro HU graduated to the International CDI Grand Prix ring with Lisa Wilcox and had multiple CDI wins with scores over 70% through 2016.
The talent for the FEI work is strongly rooted in Pikko del Cerro's genetics.  His sire Pik L is a Class I stallion that finished 4th with 128 points overall at his 100-day test in Germany.  His extensive show career has included two Pan-American Games, USDF Horse of the Year titles, and three USEF Junior National Championships with three different riders.  Pik L has sired two approved stallions and is the damsire of the approved stallion Bodyguard, as well as siring many Elite/EMC daughters.
Pikko del Cerro's damsire, Rohdiamant, was a very successful Grand Prix horse including being long-listed for the US Olympic Team with rider Lisa Wilcox.  As a breeding stallion his influence will be felt for generations to come with over 50 approved sons to continue his legacy.  Cerro's grandsire is Grundstein II, a versatile producer of both dressage and show jumping horses.  Grundstein II offspring have competed at the WEG and Olympic Games.  The combination of Rohdiamant-Grundstein II also resulted in the stallion Glock's Romanov.
The first Pikko del Cerro foals arrived in 2014.  They show his correct conformation, charming expression, and athletic movement.  With his retirement from international sport, we are finally able to make this exceptional stallion available to breeders and we're looking forward with great excitement to his future foal crops.
Owner:
Horses Unlimited, Inc.
Breeder:
Horses Unlimited, Inc.
Pik L
Pik Bube II
Pik Koenig
Franka
Abaja
Abajo xx
Levana
Rohweena
Rohdiamant
Rubinstein I
Elektia V
Galina
Grundstein II
Luna
Performance Test
Lifetime Approval based on Sport Record
Approved AHS, Westfalen, ISR/OldenburgNA, GOV & Rhineland
Cerro is the whole package! He has good looks of course, and his walk, trot and canter. The future of United States Dressage depends on this quality of horse! Cerro is going to make lots of breeders and mares happy!"
2015: Ranked 67th on the WBFSH Dressage Horse Rankings
2015: USDF All-Breeds Awards ~ AHS 1st Grand Prix & GP Freestyle
2015: NEDA Fall Festival CDI ~ 3rd in the Grand Prix & 1st in the GP Special
2015: Palm Beach Dressage Derby CDI ~ 6th in Grand Prix & 2nd in GP Freestyle
2015: Global Dressage Festival CDI ~ 5th in the Grand Prix & 3rd in the GP Freestyle
2013: CDN Ankum, Germany ~ winner of the Grand Prix & Grand Prix Special
2013: Wellington Classic Sunshine Challenge CDI 3* ~ winner of the GP & GP Special
2012: USEF Developing Grand Prix Horse National Champion
2011: USEF Developing Horse National Champion
2011: Kentucky Dressage Association CDI ~ winner of Prix St. Georges & Intermediaire I
2009: USEF 6-Year Old Young Horse National Champion
2009: Dressage at Devon ~ Stallion Champion & winner of FEI Six-Year Olds
2008: Dressage at Devon ~ winner of FEI Five-Year Olds
2008: USEF FEI 5-Year Old Young Horse National Championship ~ 4th Place, Top US-bred
2007: USDF AHS All-Breeds Awards 4-Year Old Stallion Materiale Champion
2007: Dressage at Devon ~ winner of USEF Four-Year Olds
2007: USEF 4-Year Old Young Horse National Championships ~ 10th Place
2005: Dressage at Devon Born in the USA Champion with a score of 90%
Breeding Information
Stud Fee:
2018 Rates Coming Soon
EVA Negative
Availability
Cooled Semen available March 15th – August 15th. Frozen semen may be shipped year-round.
REMINDER: The SBS lab is closed and stallions will not be collected on Easter Sunday, Sunday and Monday of Memorial Day weekend, July 4th, and July 27th.
Breeding Agreements for the 2018 breeding season will be available soon.
Contact Us
if you'd like to be notified when Pikko del Cerro's 2018 contracts are available.
Shipment Notification Schedule
**Please review this information with your veterinarian at the beginning of your mare's cycle**
PLEASE NOTE: We don't accept semen shipment requests via fax or email.
Call 410-658-9898 ext. 120 when requesting semen.
We appreciate a "heads-up" if possible when your mare enters the start of her heat cycle. Cooled semen stallions may be collected any day except Saturday and can be shipped either via FedEx overnight or same-day Airline. Frozen semen is able to be shipped Monday thru Friday via FedEx overnight. Pick-up of both cooled and frozen semen is also available at Hilltop Farm or Select Breeders Services in Maryland. Our cooled semen season runs from March thru August for most of our stallions. Frozen semen may be shipped year-round. See each specific stallion's webpage and/or contract for availability.
Monday - Friday: Pick-up, Fed Ex Overnight, or Airline shipments
Please notify our office before 9:00pm eastern time the day prior to collection/shipping. For example: If you want semen collected & shipped on Friday, we need to know by 9:00pm on Thursday evening.
Frozen semen cannot be sent by same-day Airline, so must be sent Monday thru Friday via FedEx or picked-up at Hilltop Farm or Select Breeders Services.
Sunday: Pick-up or same-day Airline Shipments Only
Please notify our office before 5:00 P.M. eastern time on Saturday evening.
Cooled semen stallions will not be collected on Easter Sunday, Sunday and Monday of Memorial Day weekend, or July 4th. (Please note that shipments scheduled the day before and after Holidays may be restricted to airlines or pick-up only depending on FedEx's schedule)
Call 410-658-9898 ext. 120 when requesting semen.
Canadian Breeders Shipping from Moore Equine
To help our Canadian breeders save on shipping expenses and the hassle of getting an import permit, Hilltop Farm ships a limited amount of frozen semen to Moore Equine in Calgary, Alberta at the start of each breeding season for distribution within Canada. We will ship four doses of frozen semen to Moore Equine for each contract booked prior to this group shipment. Doses will be distributed at a max of two doses per cycle. If a mare is not confirmed in foal after utilizing those doses, it would be necessary for the mare owner to follow our typical import procedure to obtain semen for any additional breeding cycles. All shipment requests for semen in Canada will still be sent to Hilltop Farm and follow Hilltop's standard notification schedule. For more information on deadlines to be included in the group shipment to Canada or to inquire about frozen semen already located in Canada contact
Brittany
.
Mare Management Reminders
At Hilltop Farm we want to work closely with you and your veterinarian to ensure a successful breeding season and are available for questions at any time. The following information includes some basic suggestions as well as reminders on a few requirements for your breeding contract.
Links & Downloads
Download Mare Owner's Checklist
Download Mare Breeding Passport
1st check (Required): 14-16 days post ovulation - optimum time for vet to pinch off a twin if more than a single ovulation is noted.
2nd check (Recommended): 28 days post ovulation – to confirm a viable pregnancy as the heartbeat normally appears by day 25.
3rd check (Recommended): 35-40 days post ovulation – to confirm maintained pregnancy prior to endometrial cup formation. Mares that slip foals early may not come back into heat.
4th check (Required): 55-60 days post ovulation – final confirmation of pregnancy in its critical first trimester.
Following your mare's 55-60 day pregnancy check, please have your vet finish completing the Mare Breeding Passport and return it to Hilltop Farm by September 15th. This Passport is used in all stallion reports to various breed registries and is used to generate a Breeding Certificate so that you can register your foal.
Registration Information
Your mare's registration and approval play just as important of a role as the stallion's approvals when determining registration options for your foal. Please keep in mind that in order to register your foal with a specific association, your mare may first need to be presented to that registry for approval. In addition to the registries a stallion is approved with, there may be additional registration options based on your mare's eligibility and the stallion's credentials. If you are confused at all on registration options for a potential foal, please speak with Hilltop Farm and your breed registry
PRIOR
to booking your breeding.
Pikko del Cerro's Approvals
Approved AHS, Westfalen, GOV, ISR/Oldenburg
Additional Registration Possibilities
The following are additional registries with which you may be able to register your offspring. Please contact Hilltop Farm and the Registry directly to discuss your specific mare and requirements.
Dutch Warmblood Studbook in North America (KWPN-NA): Offspring out of KWPN mares and by stallions approved with an Erkend Studbook (including Pikko del Cerro) are eligible for Register A papers.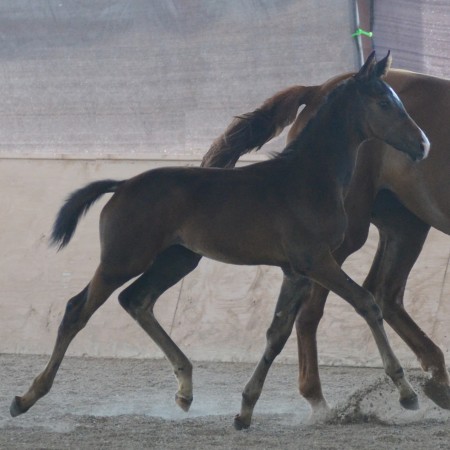 (Pikko del Cerro x EM Noble Destiny HU/Noble Champion)
(Pikko del Cerro x EM Rohmanie/Rohdiamant)