A quick guide to pedigree, competition results, owners, breeders, and riders, the USEF Leading Sire Rankings continues to be a good resource for information on horses competing in the United States.  With numerous disciplines governed by the USEF, the ranking lists are comprised of a variety of breeds and include anywhere from 100 to 1000 stallions in the various divisions. It's exciting to see many of our stallions earning Top-25 finishes and especially exciting to see a few earning top rankings in multiple disciplines.
Dressage Sire of the Year:
6th Contucci
9th Don Principe
12th Negro
14th Royal Prince
15th Bugatti
Dressage Breeding Sire of the Year:
2nd Ampere
3rd Doctor Wendell
5th Royal Prince
10th Donarweiss
12th Tied – Qredit & Bugatti
15th Contucci
17th Don Principe
18th Popeye
Half-Arabian Sire of the Year:
25th Contucci
Eventing Sire of the Year:
1st Riverman
13th Royal Prince
14th Contucci
Hunter Sire of the Year:
1st Quite Easy
4th Riverman
Hunter Breeding Sire of the Year:
5th Royal Prince
Jumper Sire of the Year:
6th Quite Easy
Pony Hunter Breeding Sire of the Year"
8th Popeye
Most importantly, thank you to the owners who are out competing with their offspring and earning points towards each sire's ranking. We've enjoyed the show results, updates, and photos many of you have shared with us throughout the season.  Best wishes for an equally successful 2016 show season!
History in the Making
Sep, 2010
It is with great sadness that Jane MacElree and Hilltop Farm share the news that on Monday, August 23rd Cabana Boy was humanely euthanized following a catastrophic injury while in turnout. Cabana Boy's well-being, comfort, and quality of life were the focus of each discussion and decision and a team of veterinarians was consulted to discuss all possible options and outcomes.
Nov, 2002
Hilltop Farm regretfully announces the passing of a wonderful stallion and a real show jumping star. On November 13, 2002, the famous jumping stallion VIP passed away while enjoying a beautiful sunny day in his paddock. At nearly 24-years of age, VIP still came out of his stall each day with the exuberance of a 3-year old! No one would have guessed it would be his last day.
Click Here to View More Hilltop Milestones & Articles
Recent News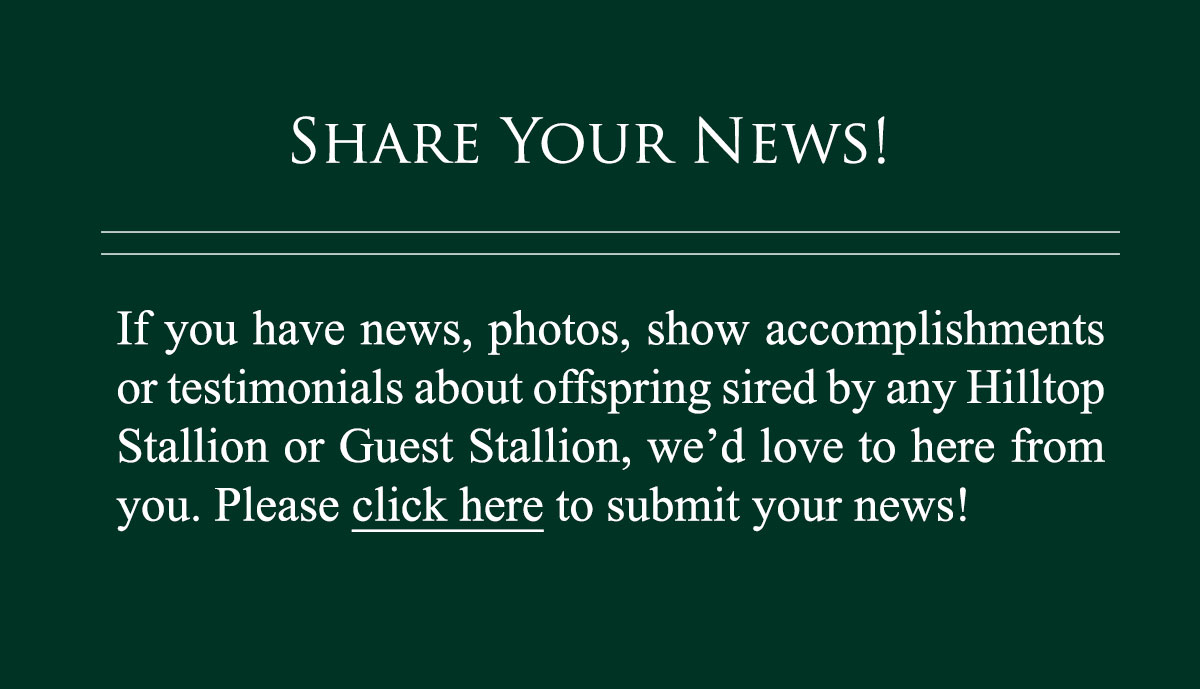 Foal Announcements