A quick guide to pedigree, competition results, owners, breeders, and riders, the USEF Leading Sire Rankings continues to be a good resource for information on horses competing in the United States.  With numerous disciplines governed by the USEF, the ranking lists are comprised of a variety of breeds and include anywhere from 100 to 1000 stallions in the various divisions. It's exciting to see many of our stallions earning Top-25 finishes and especially exciting to see a few earning top rankings in multiple disciplines.
Dressage Sire of the Year:
6th Contucci
9th Don Principe
12th Negro
14th Royal Prince
15th Bugatti
Dressage Breeding Sire of the Year:
2nd Ampere
3rd Doctor Wendell
5th Royal Prince
10th Donarweiss
12th Tied – Qredit & Bugatti
15th Contucci
17th Don Principe
18th Popeye
Half-Arabian Sire of the Year:
25th Contucci
Eventing Sire of the Year:
1st Riverman
13th Royal Prince
14th Contucci
Hunter Sire of the Year:
1st Quite Easy
4th Riverman
Hunter Breeding Sire of the Year:
5th Royal Prince
Jumper Sire of the Year:
6th Quite Easy
Pony Hunter Breeding Sire of the Year"
8th Popeye
Most importantly, thank you to the owners who are out competing with their offspring and earning points towards each sire's ranking. We've enjoyed the show results, updates, and photos many of you have shared with us throughout the season.  Best wishes for an equally successful 2016 show season!
History in the Making
Feb, 2009
The United States Equestrian Federation gives awards to the top placing sires, breeders, and owners based upon their offspring show records over the past year at USEF recognized shows. For the 2008 show season, Hilltop Farm stallions once again proved their consistency as Leading Sires in the US.
Nov, 2012
What a way to end the year! The 2012 North American Stallion Test just finished this weekend and we couldn't be more pleased with the results for Qredit when he finished as the Dressage Champion & Overall Champion at the the 2012 70-Day North American Stallion Test!
Click Here to View More Hilltop Milestones & Articles
Recent News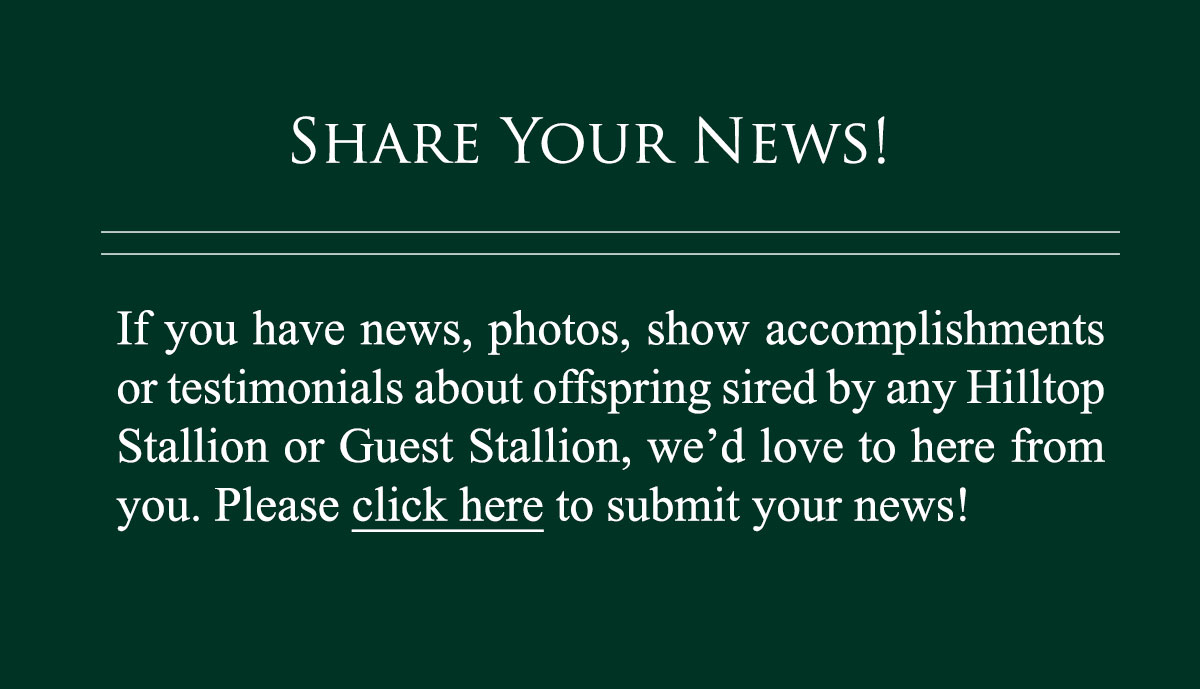 Foal Announcements