There's nothing quite like the first show of the year! Hilltop trainer Jess Faye took two coming 4-year olds to the VADA/NOVA show at Morven Park the weekend of April 9-10. Despite snow, gusting winds up to 50 mph, and a morning temp in the 20's, it was an excellent outing for Elizabeth's Elan (aka Enya) and Quinzy HTF. As Jess said, "showing anywhere after this will be easy!"
Quinzy (Qredit-Cordoba) showed only on Saturday and won both her Materiale class (76%) and her Training Level Test 3 (71.364%). Enya (Quite Easy-Calimero), in her first undersaddle show ever, got hit with the worst of the weather conditions but gained a lot of confidence over the weekend. Her scores at the first day of 62.5 & 64.8 earned her 3rd & 2nd place at Training Level. On Sunday, she was able to show more relaxation and less playfulness as she settled into the show routine. While she again earned a 2nd and a 3rd, her scores jumped to 69% & 72%. Enya's breeder/owner Beth Gildea braved the weather to see Enya's first riding show. It's a long time from planning a breeding to seeing them out competing!
Hilltop Archives
Jun, 2014
Hilltop Farm, Inc., unveils new 1,000+ page website. With our growing online audience and the ever-changing advancements in technology, we partnered with the team of innovators and online engineers at www.EqGraphics.com to bring you what is likely, the most comprehensive stallion website in the industry.
Apr, 2012
It was an absolute perfect finish to our Florida show season when Chris and Witness were invited to be on Team USA for the first ever CDIO3* Nations Cup competition in Wellington, Florida. Chris and Witness started the weekend out strong with a 2nd place finish in Friday's Prix St. Georges, but they really shone in the Freestyle under the lights on Saturday night.
Click Here to View More Hilltop Archives
Recent News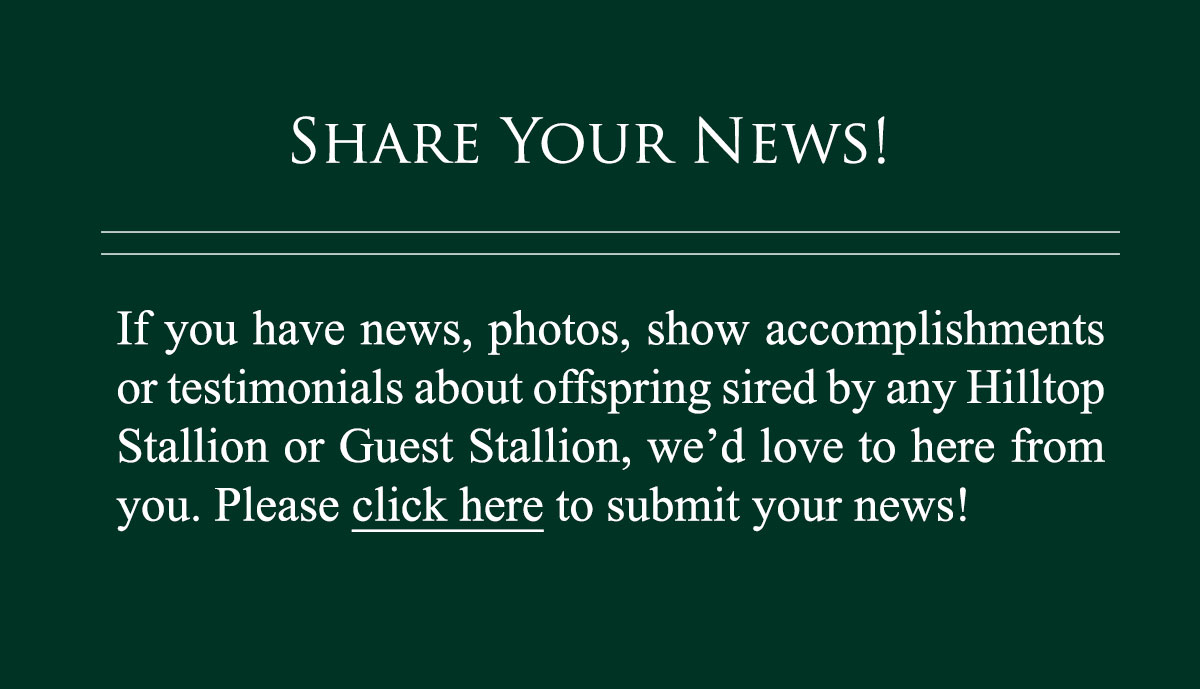 Foal Announcements