Hilltop Farm regretfully announces the passing of a wonderful stallion and a real show jumping star. On November 13, 2002, the famous jumping stallion VIP passed away while enjoying a beautiful sunny day in his paddock. At nearly 24-years of age, VIP still came out of his stall each day with the exuberance of a 3-year old! No one would have guessed it would be his last day. VIP had a heart attack in his field and died very suddenly. Just moments before, he was enjoying his usual gallop through his paddock, gesturing to all that he was still "King of the Hill!"
VIP enjoyed a wonderful life as a show jumper under Steve Stephens and Debbie Dolan. As a 7-year old under Steve Stephens, VIP won the AGPA Championships, one of the youngest horses in the history of the sport at that time to win such a prestigious event. He continued on under Debbie Dolan to an international career as a show jumper.
Accomplishments:
1987 — CSIO Spruce Meadows, Calgary Nations Cup
1987 — CSIO Royal International, Toronto Nations Cup
1988 — CSIO Mexico, Nations Cup (2nd place)
1989 — CSIO Rome, Nations Cup
1989 — CSIO Hickstead, England Nations Cup (2nd place)
1989 — Grand Prix of Aachen -(3rd place)
1990 — US World Equestrian Games Trials, Overall Best Score
1990-1991 — Volvo East Coast World Cup League
1992 — I Love New York Grand Prix
When VIP was retired from sport, he came to live at Hilltop Farm. We were blessed with many years of his exuberant expression and playful personality. We are grateful for VIP's offspring who are growing up in our fields and happy for those breeders who took advantage of his wonderful influence while he was with us.
Riverman & Don Principe Lead USEF Sire Rankings
At the Pegasus Dinner during the USA Equestrian Convention, January 11, 2002, Jane MacElree was honored with the Ellen Scripps Davis Memorial Breeders Cup for her contribution to the sporthorse industry. Jane was elected as the one of two recipients for this year's award and is the first warmblood sporthorse breeder to be given this honor. The award recognizes breeders who consistently produce outstanding individuals for the show arena. The other recipient this year was Sheila Varian, a breeder of Arabian horses. Honorees are nominated by USA Equestrian Committee members and elected by their Executive Committee. It was a thrill to witness Jane being acknowledged within the national spotlight. She is a woman who consistently gives so much to others and provides her on-going support to bring continued growth and possibility to this industry.
---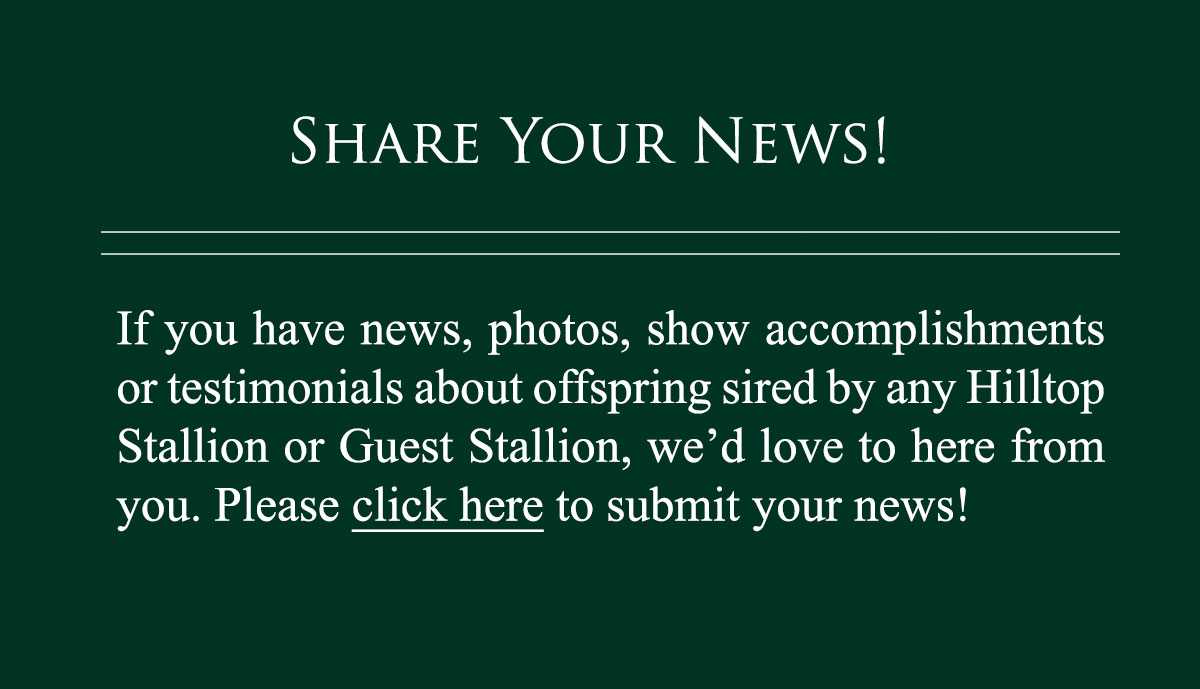 ---