2008 USEF/MARKEL Young Horse Championships
The 2008 USEF/Markel Young Horse Nationals was literally a whirlwind weekend for the Hilltop Team with trainers Michael Bragdell riding Selten HW (Sandro Hit – Hohenstein) to the Four Year-Old Grand Champion and Chris Hickey riding Cabana Boy (Contucci – Bordeaux) to successfully defend his National Champion title, this time in the Six Year Old division. Even despite the hurricane-like weather in Lexington, KY, both horse and rider combinations won all their classes, and Chris coached numerous students to awards in the Young Horse Championships and the coinciding MSEDA Championship I & II as well.
Selten HW, owned by Cadence LLC and bred in the U.S. by Irene Hoeflich-Wiederhold, secured his championship class with a score of 8.56 while winning his warm up class with a score of 8.38. Michael states "For a young horse, he handled the environment incredibly well. He has such a great work ethic and trainability." Highlights of the championship class include receiving 9's for Selten's trot and canter and an 8.8 for overall impression. "I feel very fortunate for the opportunity to ride such a fabulous young horse," Michael states, "I couldn't have done it without the support of Hilltop and Selten's owner Elizabeth Ball."
Commandingly winning their preliminary class with the score of 8.86, Chris and Cabana Boy secured their second National Championship title with an overall score of 8.644, and earned scores of 9.5 for the walk and trot between the two classes with an 8.5 for general impression. Chris comments, "Under awful conditions on Sunday, Cabana showed he is a great competition horse to go out and do his job so successfully."
In addition to the outstanding success of Hilltop trainers and horses, numerous students of Chris Hickey won awards as well. Chris' student Nicole Bellah took the Five Year-Old Championship on her horse Winsor (San Remo – Julia Mariner) bred in Holland by PPW Janssen with an overall score of 8.028. Taking Reserve Champion in the Four Year-Olds was Emily Gershberg and her horse Zatino H (Sir Sinclair – Equador) bred by J.A. de Haas in Holland.
"I am very proud at the success of our young horses with Champion and Reserve in the Four Year-Olds, Champion Five Year-Old, and Champion Six Year-Old. It means so much to me that my students have high success." Chris states.
---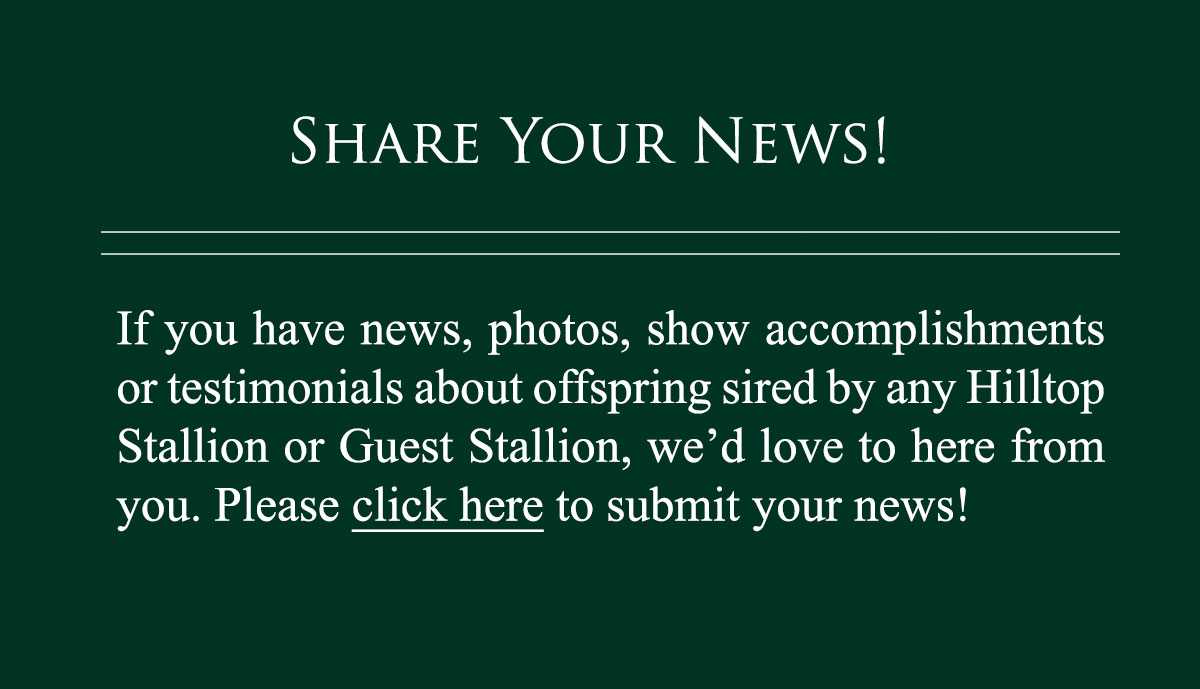 ---