Royal Prince & Riverman Win USEF Sire of Year Awards
It's official – the USEF Sire Rankings have been tabulated for the year and we are very proud to announce that for the 2nd year in a row Riverman is the Eventing Sire of the Year and for the 3rd year in a row Royal Prince is the Dressage Breeding Sire of the Year! Congratulations to all the owners and breeders whose offspring contributed to these wins.
Festrausch Moves to Cazenovia
Festrausch (Florestan-Carprilli) has been an important part of the stallion line-up at Hilltop Farm since his purchase in 2000. His bloodlines, incredible movement, and elegant type stood him apart, and it is the movement and character that he passes to his offspring that have made many of his breeders very loyal to him over the years. Devon winners, USDF All-Breeds winners, an Approved Stallion and many Premium Mares and Foals have all proven his success as a sire.
There is now an exciting new development in Festrausch's career that we wanted to share. In mid-October, Festrausch moved to Cazenovia College in New York to stand at stud and to continue the education of Cazenovia's Equine Business Management students. We've had a wonderful association with Cazenovia for many years through their internship programs and Hilltop Farm appreciates the quality of education they are providing to our future professionals. Their facility is top-notch and with the retirement of their current stallion, we knew they needed an exceptional stallion to bring additional focus and opportunities to their program.
Professor Carol Buckhout and Farm Operations Manager Stefani Watson have both spent time at Hilltop with Festrausch and we have the highest comfort level with them taking over the care of this special stallion. Festrausch was greeted by over 25 students upon his arrival at Cazenovia and is clearly loving being the 'big man on campus.'
Hilltop Farm remains committed to all of Festrausch's breeders and his offspring. Our Breeders Support Programs, website, etc. are all still available to owners of Festrausch offspring. Hilltop Farm is retaining an inventory of frozen semen for Festrausch's breeders to honor any rebreeds in the 2011 season and will continue to offer for sale proven frozen semen on this exceptional stallion for a limited time. Cazenovia will continue to offer Festrausch at stud for the public through cooled semen.
Thank you for your belief and commitment to Festrausch these past years. We look forward to his continued success under Cazenovia's care.
Cabana Boy ~ Goodbye To A Champion
It is with great sadness that Jane MacElree and Hilltop Farm share the news that on Monday, August 23rd Cabana Boy was humanely euthanized following a catastrophic injury while in turnout.  Cabana Boy's well-being, comfort, and quality of life were the focus of each discussion and decision and a team of veterinarians was consulted to discuss all possible options and outcomes.
The consummate showman with a larger than life personality, Cabana had the unique ability to draw fans wherever he went.  Bred by Doug and Shannon Langer of Wisconsin, Cabana Boy was sired by Hilltop Farm's stallion Contucci and out of Britania (Bordeaux-Weltmeyer).  Hilltop Farm acquired Cabana Boy early in his yearling year and since then Cabana Boy has been unstoppable in his accomplishments.
Intermediaire I National Championships
Hilltop Farm's Christopher Hickey and Cabana Boy (Contucci-Bordeaux) attended the 2010 Collecting Gaits Farm/USEF Dressage Festival of Champions on August 6-8 at the historic USET headquarters in Gladstone, NJ.  At only 8 years old, this was already Cabana Boy's 2nd trip to the Championships.  It was especially rewarding to have Hilltop's owner Jane MacElree and her daughters Ann and Leslie on hand to enjoy the show.  Jane's mother was very active in the early years of the USET headquarters at Gladstone, so for Jane and her family it's especially meaningful for one of her horses to compete at the Championships there.
Chris and Cabana Boy started off the weekend with a third place in the FEI Prix St. Georges with an overall score of 68% and a fourth in Intermediate I on Saturday.  Sunday's competition was Cabana Boy's strongest over the weekend.  It is readily apparent that he enjoys his freestyle music – a combination of Beach Boys' & Beatles' music that the crowd loved. Chris and Cabana Boy earned a 2nd in the Freestyle and a 3rd overall for the weekend's standings. Congratulations!
---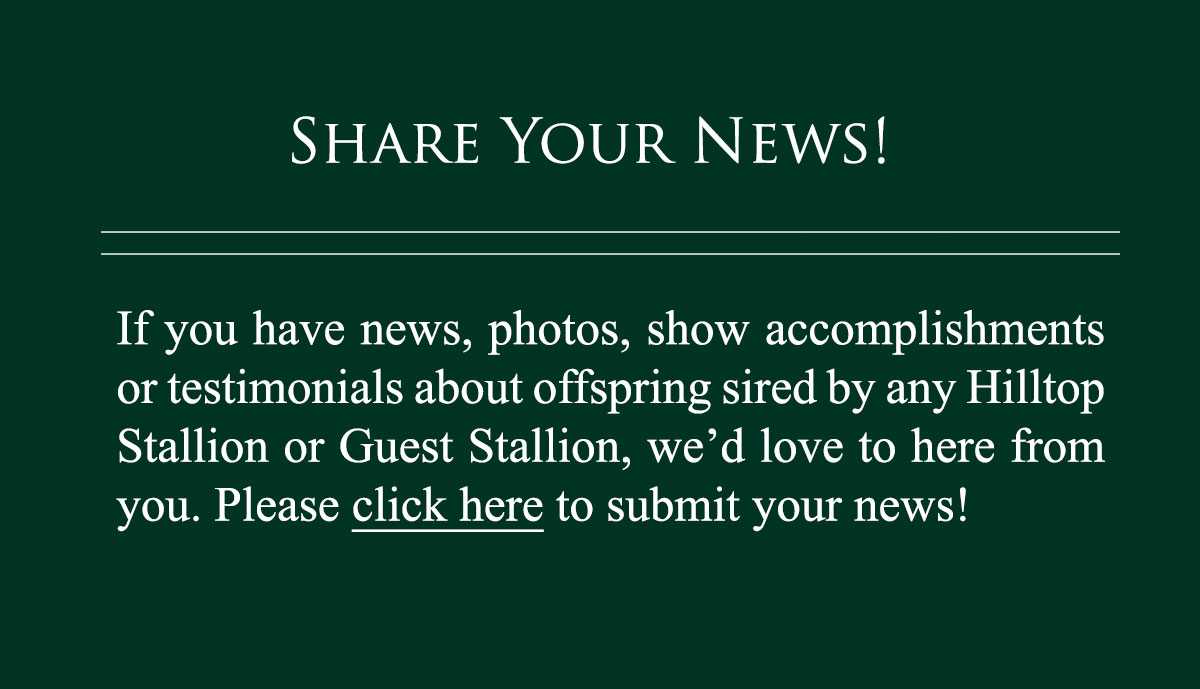 ---