Qredit Wins the 70-Day Stallion Test
What a way to end the year!  The 2012 North American Stallion Test just finished this weekend and we couldn't be more pleased with the results for Qredit when he finished as the Dressage Champion & Overall Champion at the the 2012 70-Day North American Stallion Test! He earned a 135.93 for his Dressage Index (1st), 113.16 for a Jumping Index (6th), and 126.59 Overall (1st).
The team at Silver Creek did an excellent job caring for the stallions and we were impressed with the training program that Harald Hoffmann, the Training Director, had designed to prep each stallion in the best possible way for the finals. Natascha Feld was Qredit's rider throughout the testing and did an exemplary job showing him off.  We are grateful to everyone at the testing who made this such a positive experience.  Thank you!
This year there was an overall high-quality of stallions in the testing, including some phenomenal jumpers.  Bon Balou was Jumper Champion and Bliss MF was Overall Reserve Champion. The final Testing Days were exciting to watch and it was especially noteworthy that many of the stallions attending were bred in North America.  Congratulations to all of the owners and breeders of these stallions.  It will be exciting to watch them and their offspring in the coming years.
Qredit was presented at the conclusion of the test for Hanoverian approval and we are very happy to report that he is now approved with the AHS and the Hanoverian Verband, opening up further options for our breeders.
On Top at the USEF National Championships
The Lamplight Equestrian Center showgrounds were an exceptional stage for the USEF Young Horse National Championships this past weekend and we could not be happier with the performances of Hemmingway (Hofrat – Archipel) and Qredit Hilltop (Quaterback – Dream of Glory). These two US-bred stallions put in solid performances in the warm-up class, but really stepped up in the Four-Year Old Championship class with some of their best tests to-date and they finished being named Champion and Reserve Champion for the USEF Four-Year Old division. Hemmingway, owned by Rock Solid Warmbloods, bred by Angela Barilar, and ridden by Michael Bragdell, earned an overall score of 8.26 and high praise from the judges including "you make us forget we are watching a 4-year old".
Qredit, owned by Hilltop Farm, bred by Judy Yancey, and ridden by Christopher Hickey, gave Hemmingway and Michael a run for their money finishing closely behind them with an overall score of 8.22. To develop both of these horses from youngsters to the National Championships is a wonderful feeling and just the start of their success as both performance horses and breeding stallions.
Also in the 4-Year Old Championship, Dilona (Lord Leatherdale – Kennedy) and Anna Marek took third place with an excellent score of 8.2. Dilona's sire Lord Leatherdale joined Hilltop Farm's International Stallion program in 2011 and we are very excited to see some of his older offspring now competing in the United States. In the 5-Year Old Championship Boccaccio IOF (Bugatti – Rubinstein I) finished in 5th place. Boccaccio is owned by Marchella Richardson and was bred by Hilltop Farm and started by Michael Bragdell. Calimar (Contucci – Martini), another US-bred representative, earned an 8th place finish in the Developing Horse Grand Prix Championship. It is especially rewarding to see Calimar, owned and ridden by Claire Darnell, succeeding at this level. Claire started Calimar as a junior rider and has brought him successfully up the ranks, including competing in the USEF Intermediaire I Championships last year.
Team USA Wins Wellington CDIO3* Nations Cup
It was an absolute perfect finish to our Florida show season when Chris and Witness were invited to be on Team USA for the first ever CDIO3* Nations Cup competition in Wellington, Florida.  Chris and Witness started the weekend out strong with a 2nd place finish in Friday's Prix St. Georges, but they really shone in the Freestyle under the lights on Saturday night.  With the high-score of the night with a 71.425%, Chris and Witness's score was instrumental in the team competition and led Team USA to the Gold Medal win over the European  team.  Chris was excited by the win and by the entire experience. "I'm very happy with Witness.  He showed himself well even in the electric night time atmosphere of the wonderful new show grounds! I am proud of him and so happy that Jane was there to enjoy the team feeling we got from this wonderful experience! I had a lot of fun with my teammates as well!"
Also on Saturday night the Global Dressage Festival had a Parade of Champions for the High-Score winners from the entire season.  Balissa HTF was Reserve High-Score at First Level for the entire show series this year.  Since Chris was preparing Witness for the Freestyle, Jane went into the ring for the walk around with the other winners to collect Balissa's ribbon & trophy.  Jane was ecstatic with her award!
Riverman Wins USEF South Pacific Award
The influence of a stallion is marked not only by the stallion's success but most importantly by the success of his offspring. Riverman's (Redfort x Alexis III/Landego) offspring set him apart as truly an exceptional sire as they continue to excel in the dressage, eventing, hunter, and jumper rings at all levels of competition. This year Riverman has been honored as the USEF/PHR South Pacific Sire. The South Pacific award is donated by Joan Irvine Smith after her international Grand Prix competitor and stallion South Pacific. It is given annually to the leading US-based jumper stallion. Hilltop Farm is very excited that Riverman has been honored with this prestigious award and would like to thank all of the breeders who chose to breed to Riverman over the years. His achievements as a sire could not have been made possible without you!
---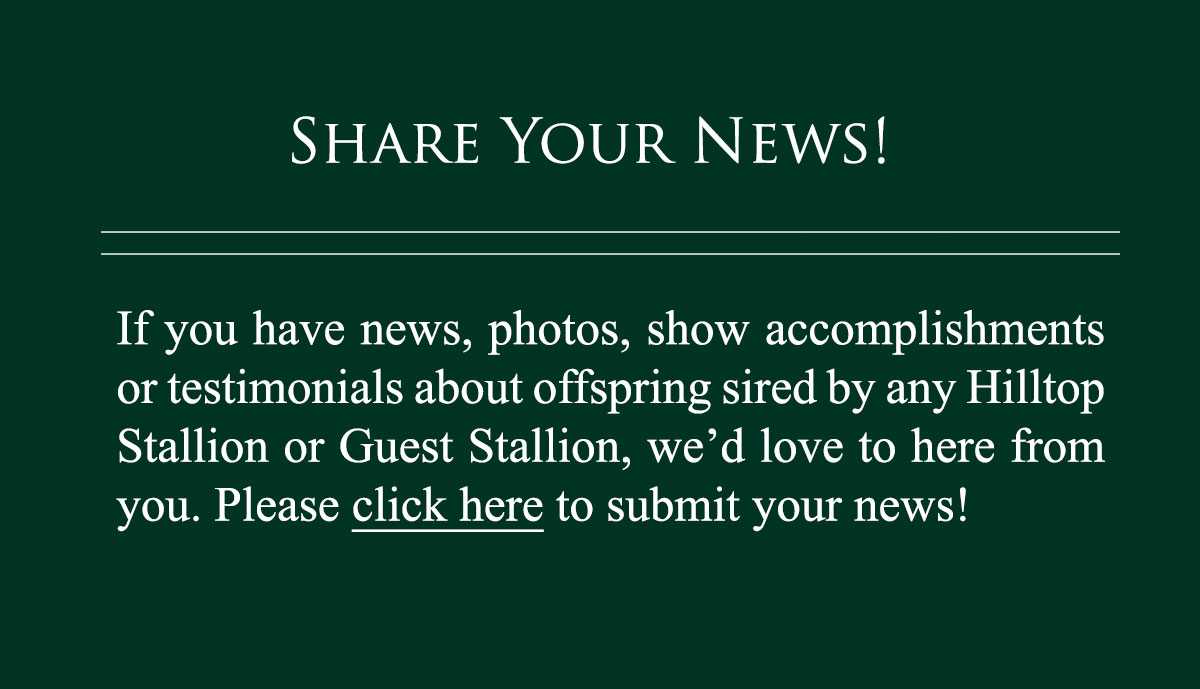 ---