CBLM Championships & VADA Fall Show
This weekend Michael Bragdell headed down to the CBLM Championships & VADA Fall Show in Lexington, VA.  Balissa HTF (Bugatti-Contucci) tied for 1st in her Third Level Test 1 on Friday with a 66.184% and improved her score in Saturday's Third Level Championship with a 67%.  Brenda Mendenhall's Rendezvous HTF (Regazzoni-Donnerhall), bred by Hilltop Farm, had his first show outing in a number of years and quickly settled back into show mode finishing 4th in Fourth Level Test 2 with a 68% and earning 3rd in the Prix St. Georges with a 62.5%.  His last outing was at Second Level, so this was quite the jump up and its another horse Michael's taken from starting into the FEI!  Qredit Hilltop (Quaterback-Dream of Glory) used his first outing at Fourth Level on Friday as a good warm-up earning a 64.5% and then really pulled out a top test in Saturday's Third Level Championships winning with a 72.8%. He's now finished his year undefeated at Third Level.
Dressage at Devon Breed Show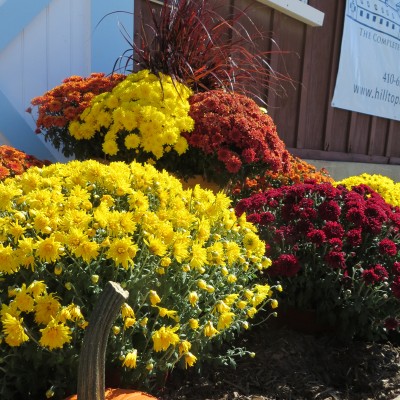 Devon is one of our favorite shows and we always look forward to catching up with other breeders, owners, and friends at this historic show.  A large group of horses joined us from Hilltop's Raising Department and Devon Prep Program making this year's Devon especially busy for Team Hilltop.  Assisting Hilltop Handlers Quinnten Alston and Michael Bragdell was King Santacruz.  We were thrilled to welcome King back to Hilltop for the third consecutive year and can't thank him enough for his extra assistance over the week.  His superb handling skills compliment Quinnten and Michael's style so well.
Tuesday's warm sunny weather made for an excellent start to the show on Young Horse Day. Virginia Leary's Don Hill gelding Don de Lion (Don Hill-Hawthorne) and Quinnten Alston kicked off the start of the show for Team Hilltop in the Yearling Colts and Geldings class with a 7th place finish. Don de Lion is from Don Hill's first US foal crop; we're enjoying seeing the early Don Hill foal crops out showing.  Following suit in the Dixon Oval in the 2-Year Old Colts and Gelding's class Michael Bragdell handled Marydell Farm's colt David Bowie MF (Don Principe-Rotspon) to a 3rd place finish.  Cha Ching HTF (Contucci-Cordoba) ended his Devon in-hand career with a 4th in the 3-Year Old Colts and Geldings and a win in the USDF/GAIG Colts and Gelding Final later in the day under Michael's guidance. Also in the 3-Year Old Colts/Geldings, Quinnten handled Rolling Stone Farm's Shopper (Shakespeare-Widmark) to a 2nd place finish. Shopper went on to finish 3rd in the Colt Championship. The Colts of 2014 class was one of the largest classes of the breed show with 19 entries. Michelle Ryan's Contucci colt, Coach (Contucci-Benneton Dream) earned a 2nd place finish in the competitive class with an 81.5%.  Coach went on to finish 3rd in the Devon Foal Championship and 4th in the USDF/GAIG Current Year Foal Final. Catherine Haddad's flashy colt Damaskus (Don Principe-Ramiro's Bube) finished 4th in the Colts of 2014 and was 3rd in the USDF/GAIG Current Year Foal Final. Theresa Peck's Qredit colt Qontindior (Qredit-Contucci) was just behind him in 5th place; with the charming Qennett HTF (Qredit-Negro) and Cheap Trick (Contucci-Wonner) finishing 8th and 9th in the class as well.
In the Gold ring, we started with the Yearling Filly class. Hilltop Farm's Relevè HTF (Royal Prince-Cordoba) earned a score of 80% and a second place finish.  Melissa Stubenberg's Rhea (Royal Prince-Obadiah) finished just behind Relevè with a 3rd place finish, and later Tuesday evening earned 7th in the USDF/GAIG Filly Final.  The 2-Year Old fillies class was especially exciting with Marydell Farm's Dansuse MF (Don Principe-Furst Heinrich) commandingly winning the class with an 89.2% under King's guidance. Dansuse went on to win Reserve in the Young Horse Championship later Tuesday evening, qualifying her for the Grand Championship – more on that to come! Quinnten handled Kris Schuler's Plume de Soliel EMF (Roi du Soliel-Pablo) to a 3rd place finish with a 77.4%. Mary La Banca's Bugatti filly Brilijant G wasn't far behind them with a 76% for 9th place. The three-Year Old Ampere filly Glamour Girl (Ampere-Varus), owned and bred by Lesley Feakins, was another highlight winning her class with an 87.3%.  Glamour Girl later went on to finish 3rd in the Devon Filly Championship and win the USDF/GAIG Filly Championship. Quartet GSH (Qredit-Arrian) handily won the Fillies of 2014 class with an 86.1%. Quartet was also Reserve Champion in the Devon Foal Championship and won the USDF/GAIG Current Year Foal Final.  Tawna King's pretty Qredit-Lord Sinclair filly, Quarter Sinclaire, earned a 6th place finish in the Fillies of 2014 class, with Virginia Leary's Don Hill filly Donhaela not far behind in 9th place.
Wednesday brought more warm weather and sunshine for the Mature Horse Day and Grand Championship.  Quinnten started Wednesday with 4-Year Old and Older Maiden Mares, finishing 3rd with the Rolling Stone Farm bred and Courtney Burns owned Shundance (Shakespeare-Contucci) and 4th with Rolling Stone's Shabrina (Shakespeare-Widmark).   In the 4-Year Old and Older Broodmares, Michelle Ryan's Bahia Breeze (Benneton Dream-Banditentraum) easily won the class with an 80% and later went on to place 3rd in the USDF/GAIG East Coast Mare Championship.  Catherine Haddad's Raureif (Ramiro's Bube-DeNiro) finished 3rd in the 4-Year Old and Older Broodmares.
In the Gold Ring, Quinnten showed Rolling Stone Farm's Dheputy (Dauphin-Rotspon) to a 1st place finish in the 4-Year Old and Older Stallions class. Dheputy went on to finish Reserve Champion in the Devon Stallion Championship and win the USDF/GAIG East Coast Stallion Final.  The Get of Sire class was a busy class for Team Hilltop with Marydell Farm's Don Principe earning top honors with David Bowie MF and Duet MF representing their sire.  Qredit finished 2nd due to Quartet GSH and Qennett HTF's efforts, Contucci in 3rd with Coach and Cha Ching HTF's representation. Groups for Royal Prince and Don Hill also earned top ten finishes in the class.   Another special highlight on Wednesday was Mary La Banca showing her own Brilijant G, known at home as Giada, in the Adult Amateur Handler class to a 6th place finish.  This has been a goal of Mary's since breeding Giada so we're happy to help her see it through and Team Hilltop was on-hand to cheer her efforts!
The Devon Grand Championship brought the show to a close on Wednesday evening and was a particular exciting moment for owners and breeders Wendell and Maryanna Haymon.  With two horses in the Grand Championship, their breeding program was extremely well represented.  We were very excited to share in the moment by handling the lovely 2-Year Old Don Principe filly Dansuse MF.  Affectionately known as "Rina," this filly has been a standout in the show ring throughout her yearling and two year old years.  King did a brilliant job handling her at Devon these past two years and we were all thrilled with her capturing the Grand Championship of Dressage at Devon.  Congratulations to Maryanna and Wendell on such an exciting milestone accomplishment!
It just wouldn't be Devon without a little bit of rain and Thursday morning brought plenty of rain as the remainder of the breed show classes finished.  Team Hilltop started the day with the Hanoverians 2 & Under class. Beth Custalow's Bugatti's Ballerina (Bugatti-Rohdiamant) put forth a great performance to earn a 2nd place finish with a 78%.  In the same class, Damaskus and Quarter Sinclaire finished 7th and 8th respectively.  The Hanoverian 3 & Over came up next with Raureif and Bahia Breeze earning 2nd and 3rd place ribbons. In the KWPN 2 & Under class, the Donarweiss gelding H. Devereaux had a strong 6th place finish for owner Lisa Karam. Last but not least was ISR/Oldenburg class where Royal Prince fillies Rhea and Royal Odessa finished 3rd and 6th respectively.
Congratulations to all the owners and breeders with horses participating in the show! And a special thank you to all the show organizers and volunteers that make Devon such a fun show for all of us to attend. With another Dressage at Devon in the books, we now look forward to the promise of Dressage at Devon 2015 – hope to see many of you there!
---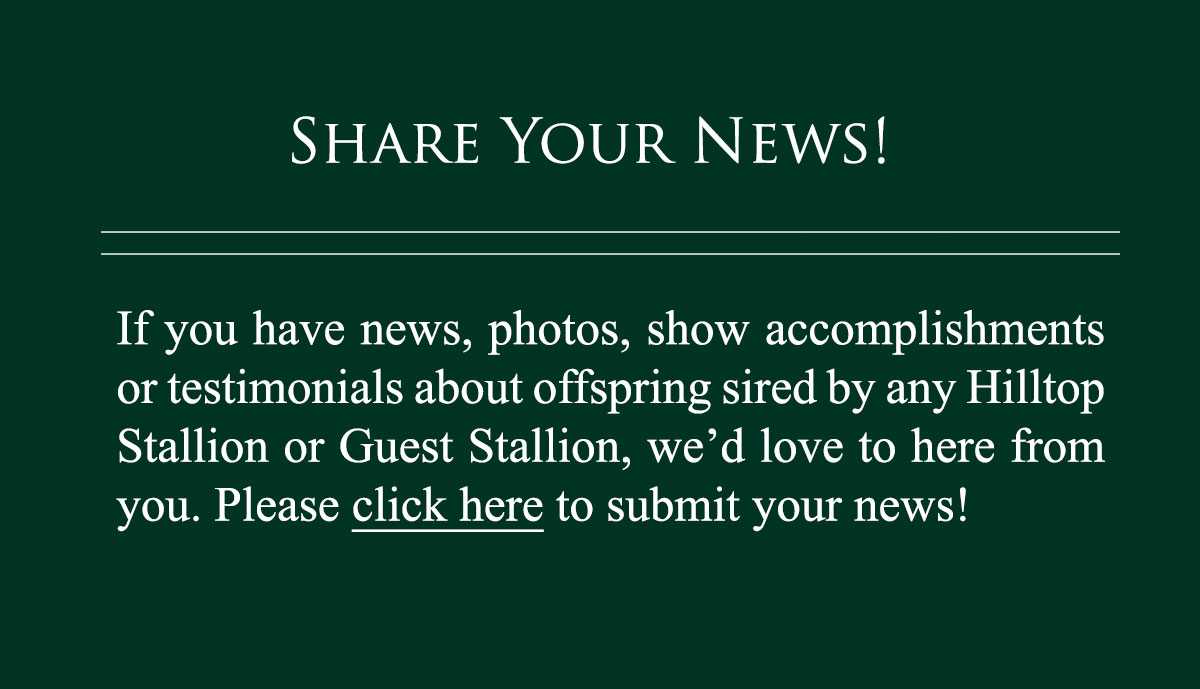 ---