Some endings you just can never be ready for and saying goodbye to Riverman has been one of those moments that proved impossible to prepare ourselves for. Despite the calendar saying he was 30 years old this year, Riverman had seemed to defy the idea of aging and we greedily hoped we would have more time with the grand stallion.
Bred by Adolf Ratjen, Riverman (Redfort-Landego) made his mark early being named Reserve Champion of his Holsteiner Licensing in 1992. Hilltop Farm was fortunate enough to acquire the handsome stallion in 1995 and his US debut culminated in winning the Grand Championship of Dressage at Devon. Breeders immediately took notice and his impact as a top-sire is undeniable. Riverman has been named the USEF Eventing Sire of the Year 5 times, was honored with the USEF South Pacific Award (for the Top US-based Show Jumping Sire) 3 times, was on the WBFSH Sire Rankings List, and has sired Grand Prix Jumpers, Grand Prix Dressage Horses, Advanced Level Eventers, Advanced Level Driving Horses, and numerous successful Hunters. His versatility as a sire was remarkable.
Riverman was also a bit of a rock star. He was often on the top of the list to see for visitors to the Hilltop Farm — it didn't matter if they were breeders or what discipline they were interested in — everyone knew of Riverman. He was a consummate showoff and loved when we did Stallion Shows. His music was always "Simply the Best" – one of the few musical selections that the staff agreed on unanimously. He also seemed to know when a camera was around and always had a bright expression and perfect pose ready.
So, while we feel broken hearted right now, we also know how incredibly blessed we have been to have Riverman at the center of life at Hilltop for 25 wonderful years. Thank you to all of River's people who have loved him so well!
Louisvile HTF Licensed Hanoverian & Rhineland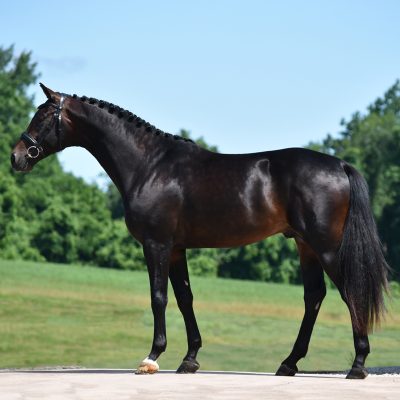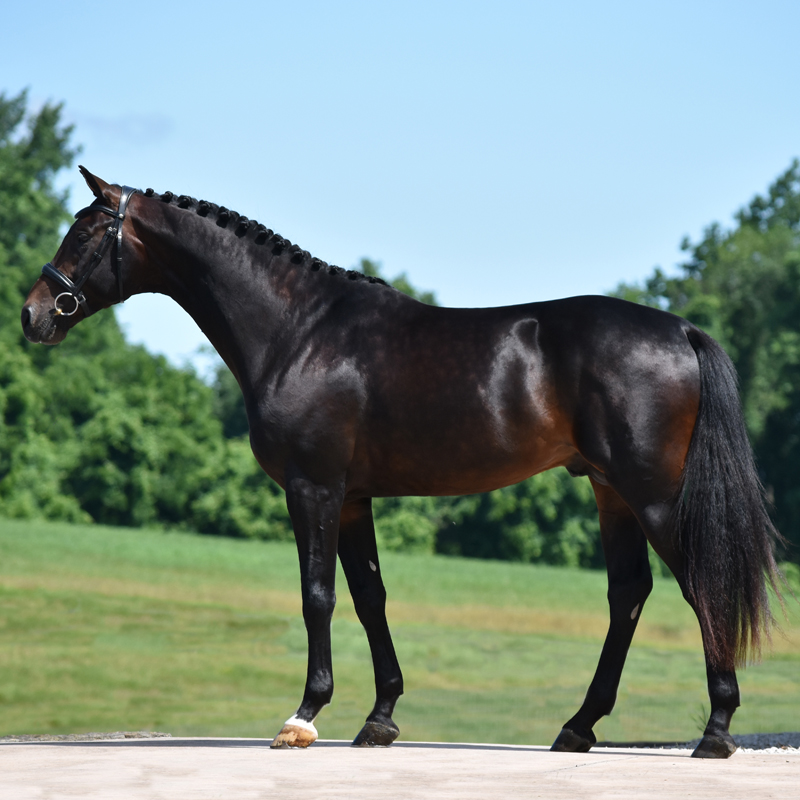 We have always believed in the potential of our homebred Louisville HTF and this week it was an especially proud moment for us to see him licensed with the Hanoverian & Rhineland registries.  The judges were very impressed with this 3-year old stallion and the rewarded him with the exceptionally high overall score of 8.0.  Already licensed with ISR/Oldenburg, we will be welcoming the first Louisville foals in the spring of 2021.  We are excited to now offer him to an even larger group of mare owners in the coming years.
May 1, 1993 – July 10, 2020
Hilltop Farm sadly shares the news of Contucci's passing last Friday. The great stallion lived a wonderful 27 years, with twenty-two of them here at Hilltop Farm. Contucci (Caprimond-Lungau) was bred in Germany by Klaus Storbeck and won the dressage portion of his 100-Day Test with an impressive 147.11 points.  He was purchased by Jane MacElree in 1998 and has been a cornerstone of the Hilltop Farm Stallion Roster ever since. Contucci's impact on North American breeding has been significant. His accolades include having earned the titles USEF Dressage Breeding Sire of the Year and USEF Dressage Sire of the Year, and he has been consistently ranked in the Top 10 of the USEF Sire Rankings for the past five years. Contucci proved time and again his ability to sire winning offspring. From in-hand at inspections and breed shows and up through the Grand Prix level, Contucci offspring have been champions. He has sired licensed stallions and many Premium/Elite mares and his influence on US dressage breeding will be felt for generations to come.
Contucci's character endeared him to everyone who had the pleasure of working with him over his many years here at Hilltop.  As we spent our last hours with him, there were a lot of tears but also a lot of smiles over the many Contucci stories we all had.  Thank you to everyone who has been a part of this special stallion's life over the years.  He was truly a great one!
NA Stallion Sport Test Cancelled for 2020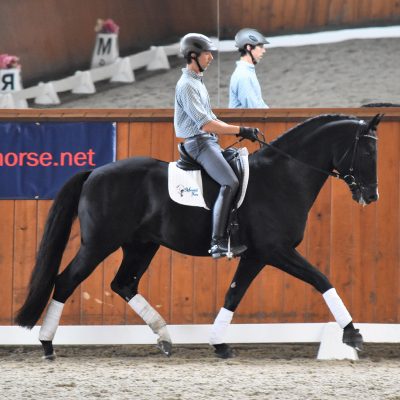 The organizing committee for the 2020 North American Stallion Sport Test (NASST) regrettably shares their decision to cancel the 2020 tests that were scheduled for October 26-28 in Colora, Maryland and October 30-November 1 in Solvang, California. These events draw in participants, spectators, and officials from three countries and many states. With the covid-19 pandemic still affecting us so heavily, we must keep the health and safety of everyone as our top priority and do not feel it would be prudent to run the tests this year.
Each registry will be communicating with its 4 to 6-year old licensed stallions to discuss how they will handle breeding license extensions given this unique situation. For 2021, NASST will also add a testing division for 7-year old stallions to accommodate those stallions that were scheduled to attend this year as 6-year olds. Each registry also offers alternate approval routes through traditional sport.
Updates regarding 2021 dates and locations will be published later this fall on the NASST website. We are all committed to the long-term development of North American-based stallions and will look ahead to seeing you all in 2021.
Hilltop wins USDF Bronze, Silver, & Gold Breeder Awards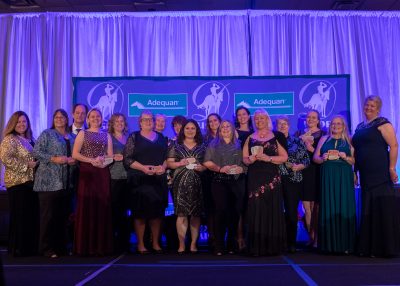 At the USDF Annual Meeting in early December, the very first USDF Breeder of Distinction Awards were presented.  These awards are based upon scores earned by horses in Dressage Sport Horse Breeding shows, the USDF Breeders Championship Series Final, and Materiale classes. Hilltop Farm is proud to be among the first breeders to receive their Bronze, Silver, & Gold Breeder of Distinction Awards.
---