Hilltop Farm Named 2013 USDF Breeder of the Year
Each year the United States Dressage Federation honors one breeder as the USDF Dressage Breeder of the Year and we are very excited to share that Hilltop Farm was the recipient for this award in 2013.
The Breeder of the Year award winner is determined on a point system, with each horse ranked in the USDF Horse of the Year, FEI, and/or USEF Young Horse Year-End awards contributing points to their breeder's ranking.  A maximum of five horses' scores will be used in tallying each breeder's points.  The horses that  contributed to Hilltop Farm earning this award were: Boccaccio IOF (Bugatti-Rubinstein), Bellatesse HTF (Bugatti-Cordoba), Con Dia (Contucci-Cor Noir), Pacino (Parabol -Cor Noir), Firenzi (Festrausch-Riverman).
Boccaccio, now owned by Marchella Richardson, had a fantastic year finishing as Second Level Horse of the Year and earning the First Level Championship and Second Level Reserve Championship at the USDF National Championships. Bellatesse, owned by Kris Schuler, finished the season as Reserve Champion Materiale Horse of the Year 4&5-YR Old Mares. Now owned by Stephanie McNutt, Con Dia earned an ISR/Oldenburg All-Breeds Award for Fourth Level Adult Amateur and Open Fourth Level; in addition to a Reserve Championship in Fourth Level Adult Amateur at the Region 1 Championships.  Firenzi and owner Larry Harrison had a great year together competing at First Level.  Last but not least, Cecelia Stewart's Pacino, under Chris Hickey's ride, finished the year as ISR/Oldenburg All-Breeds Awards Champion at Grand Prix.
Hilltop Farm Purchases Sternlicht GGF
Jane MacElree and Hilltop Farm are excited to announce their purchase of the recently licensed, three-year old Hanoverian stallion Sternlicht GGF (Soliman de Hus-Rascalino).   The charismatic black stallion was bred by Rachel Ehrlich of Massachusetts and is the second stallion from her well-established breeding program to be approved by the American Hanoverian Society.  Rachel was also the breeder of Donarweiss GGF.  "It was important to us to find another top US-bred prospect for us to develop," says Jane MacElree.  "Sternlicht has all the qualities we were looking for as a breeding stallion and a future competition horse."
Sternlicht has already had great success in-hand.  In 2011 he won his Yearling Colts class at Dressage at Devon with a score of 85%.  He earned multiple Championships as a two-year old and Reserve Champion for USDF Horse of the Year honors and Champion for All-Breeds awards with a median score over 82%.
Sternlicht is by the popular young stallion Soliman de Hus (Sandro Hit-Donnerhall). Soliman de Hus was winner of his 30-day test and is currently winning at Prix St. Georges. Sternlicht is out of the Elite mare Rhapsody GGF, by Rascalino.  She is an eighth generation Elite/SPS Mare and her dam is a full sister to the Champion mare SPS Wisconsin.
"We've been closely watching Sternlicht's development since he was a weanling and he has never failed to impress us," says Natalie DiBerardinis, Hilltop Farm's Breeding Manager. "His pedigree offers a new outcross for many daughters of our current stallions.  This is an important consideration for us as we continually evaluate our stallion line-up."
Parabol January 10, 1983 - June 25, 2013
On June 25th Parabol was humanely euthanized at Hilltop Farm due to declining health and age-related complications.  While our hearts our heavy with this loss, we choose to focus instead on the thirty remarkable years Parabol had.
Parabol was the Champion of his 100-day Performance Test with the outstanding overall score of 140.38 points.  A successful jumper in Germany, Parabol easily transitioned to the dressage arena after his purchase by Jane MacElree.  He was the 1991 USDF Horse of the Year at Third Level and a Top Ten Finalist for the 1995 Pan-Am Selection Trials before developing into a successful Grand Prix horse with both Scott & Susanne Hassler. Approved by multiple breeding associations, Parabol's influence has been significant and he has an approved stallion, multiple Premium/Elite mares, and high-level competitors in dressage, hunters, and show jumping to his credit.
Parabol's most profound impact however was on those who worked with him daily.  In Parabol's presence you felt the depth of character, the generous nature, and the charisma that made him a truly great horse.  It's been an honor to have him in our care for so long and we're grateful for each day we had with him.
Riverman is the Top-Ranking, US-based Show Jumping Sire
Riverman (Redfort – Landego) has been a cornerstone of the Hilltop Farm stallion line up for many years.  Though is career focus was in the dressage arena, we see Riverman offspring excelling in the upper levels of almost every sport including dressage, eventing, combined driving, and most recently Riverman offspring are shining in show jumping.  We were honored to receive the news that Riverman has been selected as the USEF/PHR South Pacific Award Winner for the second consecutive year. The South Pacific award is donated by Joan Irvine Smith and named after her international Grand Prix competitor and stallion South Pacific. Each year the award is given to the top-ranked US-based jumper stallion.  Hilltop Farm is proud that Riverman has been honored with this prestigious award and would like to thank all of the breeders who chose to breed to Riverman over the years.  His achievements as a sire could not have been made possible without you!
Royal Prince Honored for the Fifth Consecutive Year
Royal Prince (Rohdiamant-Prince Thatch xx) offspring typically share their sire's stamp of refined, modern type, a correct foundation, and quality movement and those attributes are well-rewarded in the breed show ring. We are excited to share the news that Royal Prince has won the USEF Dressage Breeding Sire of the Year for the FIFTH consecutive year.   The USEF Leading Sire system has become a valuable way for stallion owners to track and evaluate the success of their stallion's offspring in competitions throughout the United States. This is a remarkable achievement and couldn't have been made possible without all the breeders who have selected Royal Prince over the years.  We're looking forward to another great show season for all the Royal Prince offspring in 2013!
---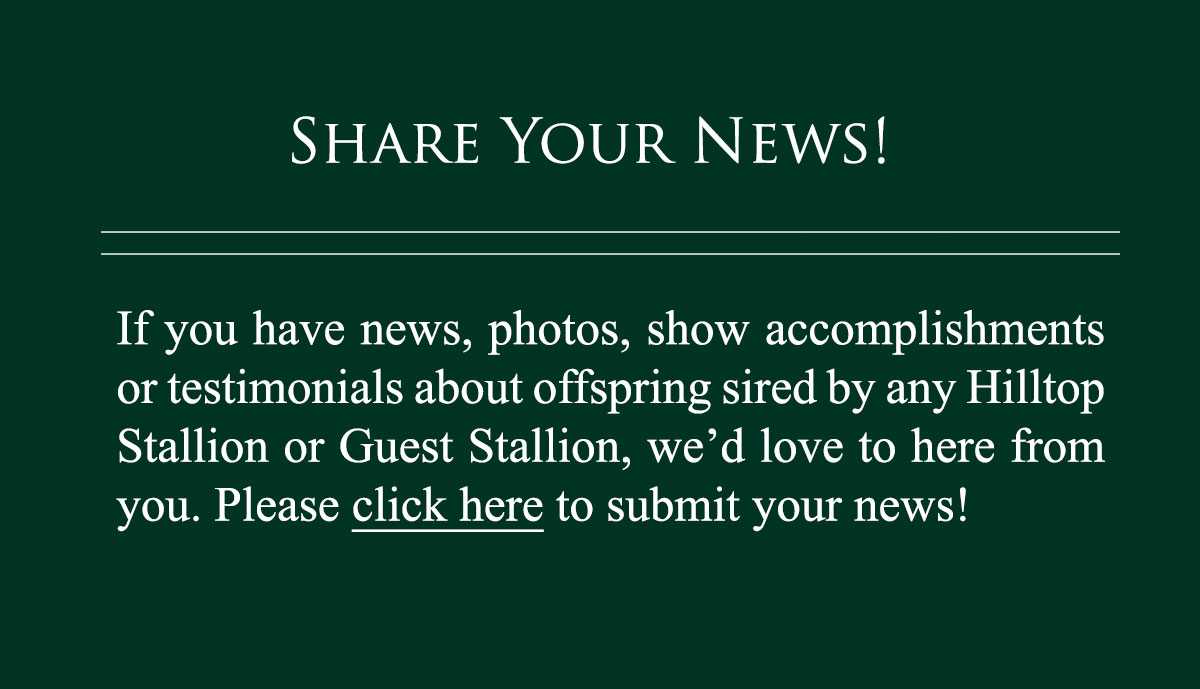 ---