The Mare Management Program covers all aspects of the breeding process, from insemination to weaning.  Mares live out in large pastures with spacious sheds and individual feeding stalls.  They are carefully checked every day and regularly groomed.  Breeding is managed either on-farm (if utilizing cooled semen) or at one of two nearby veterinary facilities (if utilizing frozen semen).
As mares near the end of their gestation, they come into generously sized stalls overnight. After the foal arrives and both mare and foal are physically ready, we begin turnout in individual grass paddocks. Within a few weeks they begin group turnout and eventually transition back to 24/7 turnout.
Our Mare Management Program ties uniquely in with our Raising Program and is a smart solution for those looking for a safe, well-staffed environment to handle the breeding and/or foaling out of their mare.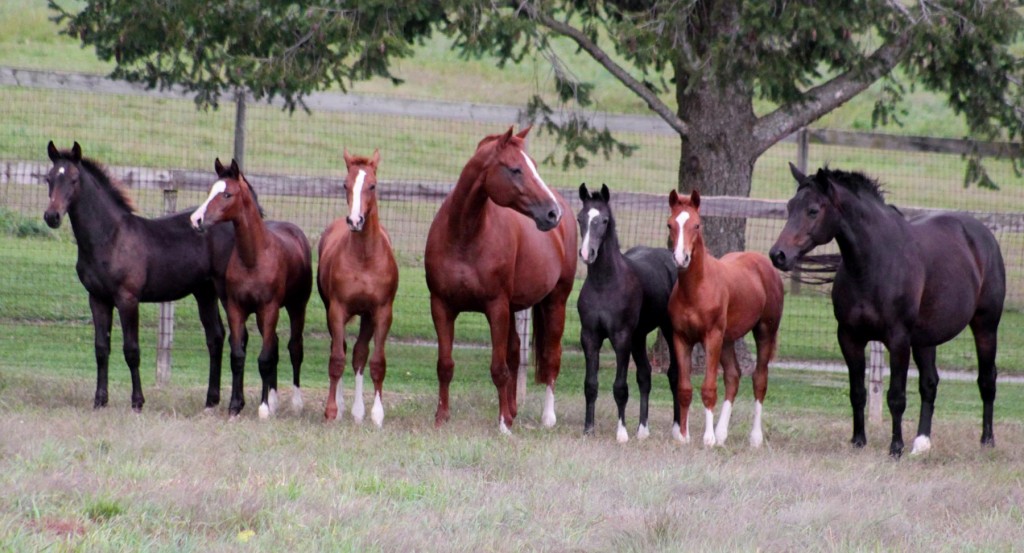 We are already fully booked for 2023.
Priority for space in Hilltop's Mare Management program is given to mares being bred to, or currently in-foal to, stallions offered through Hilltop Farm.
---
Long-Term Management:
Long-Term Management is for those who wish to leave their mares in Hilltop's care year-round. Many of the mares currently residing at Hilltop Farm have been with us through multiple pregnancies and deliveries, others stay through one foaling/weaning cycle and then return to their owners.  They are treated like one of our own mares and we carefully watch them throughout their pregnancy.
Foaling Services:
Foaling Services are available on a limited basis each year.  This option is designed primarily for mares in Long-Term Management. Foals from these mares have the option of joining the Raising Program or departing after weaning.  Flexibility on short-term options depends on space. It is required that mares arrive for Foaling Services at least a month ahead of their estimated due date.