2020 Breeder Rewards Winners
The competitive success of a stallion's offspring are a wonderful testament to the quality a stallion produces. We understand the time and financial commitment it takes to see a foal through conception to success in the show ring. As a reward for the breeders and current owners of Hilltop-sired offspring with exceptional success in the show ring, Hilltop Farm initiated a Breeder Rewards program many years ago. Winners earn credits towards a breeding to a Hilltop Farm stallion in the upcoming breeding season. Despite the challenges that COVID presented for this year's show season, we still saw many offspring showing across the country competing. This year we're giving away over $11,000 in rewards credits! Below is an alphabetical list of our many winners from the 2020 season along with their accomplishments.
Arden Augustus (Jaguar Mail x Juneau)
Owner/Breeder: Anita Antenucci
USEA Future Event Horse 2-Year Old Reserve Champion
Bennett (Bugatti – Symbol)
Owner: Christine Stephenson Dressage; Breeder: Joan Lavallee
USDF Region 7 Fourth Level Freestyle Reserve Champion
Cambria (Riverman – Collin L)
Owner/Breeder: Amy Concha
USHJA Zone 10 Horse of the Year Hunter Breeding 3-Year Olds Reserve Champion
Cashe' (Quite Easy – Captial)
Owner/Breeder: Laura Chapot
USHJA Zone 2 Horse of the Year Adult Amateur Jumper High Reserve Champion
Cover Girl (Contucci– Prince O'Pilsen)
Owner: Natalie DiBerardinis; Breeder: Janice Barnes
USDF All-Breeds ISR/Old Third Level Freestyle Reserve Champion
Davida PVF (Don Principe- Golfball)
Owner/Breeder: Ellen Ziemer
USDF Awards 3-Year Old Fillies Materiale Horse of the Year
Denver HTF (Donarweiss GGF– Royal Prince)
Owner: Bonnie Ascher-Nette; Breeder: Hilltop Farm, Inc.
USHJA Zone 1 Horse of the Year Amateur Owner Hunter 3'3" 18-35 Champion
Don Pavore' (Don Principe- Personal First)
Owner/Breeder: Kim Cederlund
USDF All-Breeds AHS Adult Amateur Training Level Reserve Champion
Finest Hour BC (Finery – Weltmeyer)
Owner/Breeder: Andrea Liguori Nuccio
USDF Awards Dressage Sporthorse Breeding Horse of the Year 2-Year Old Colts/Geldings Champion
USDF All-Breeds GOV Dressage Sporthorse Breeding 2-Year Old Colts/Geldings Champion
Hashtag TOP (Negro – Kelvin)
Owner: Jennifer Roth ; Breeder: Stan Topilko
USDF Region 4 Third Level Freestyle Reserve Champion
Jameson SW (Chippendale – Don Primero)
Owner/Breeder: Kate Fleming-Kuhn
USDF Region 2 First Level Open Champion
USDF Region 2 First Level Freestyle Champion
USDF All Breeds KWPN-NA Open First Level Champion
Kastel's Nintendo (Negro – Monaco)
Owner: Kastel Denmark; Breeder: C. Rommens
USDF Awards Grand Prix Adult Amateur Champion
USDF Awards Vintage Cup Grand Prix Open Champion
USDF Region 7 Grand Prix Open Champion
Kyro (Glamourdale – Jazz)
Owner: Chris Preston
USDF All-Breeds KWPN-NA FEI 5-Year Old Champion
Phenix (Popeye – Lonetree's Romeo)
Owner/Breeder: Angie Mirarchi
USDF Awards Dressage Sporthorse Breeding 4-Year Old & Older Stallions Horse of the Year
USDF All-Breeds ISR/Old Dressage Sporthorse Breeding 4-Year Old & Older Stallions Champion
Poetic Justis (Parabol – Adroit)
Owner: Brooke Cole Breeder: Catherine & George Walker
USHJA Zone 3 Horse of the Year Adult Amateur Hunter 18-35 Reserve Champion
Poseidon IRF (Popeye x Khemos Saffyre)
Owner/Breeder: Michael Maloney & Suzanne Schultz Maloney
USHJA Zone 2 Horse of the Year Pony Hunter Breeding Yearling Reserve Champion
Quaden AF (Qredit – All the Options)
Owner: Matthew Lewis Bryner; Breeder: Denise Hayman-Loa
USEA Future Event Horse East Coast 4-Year Old Champion
Rapscallion ASH (Royal Prinz – Diamond Hit)
Owner: Kaily Alma; Breeder: Samantha Kidd
USDF Awards Dressage Sporthorse Breeding Yearling Colts/Geldings Horse of the Year
Rohan (Royal Prince – Eminenz)
Owner: E Lynn Finlon; Breeder: Anne Schaefer
USDF Region 1 Third Level Freestyle Reserve Champion
Roma (Royal Prinz x Granita)
Owner/Breeder: Thole Farms
USDF Region 7 Prix St Georges Jr/YR Champion
Satori (Sternlicht – Rockefeller)
Owner: Lisa Hooper; Breeder: Carolyn Malone-Bostron
USHJA Zone 8 Horse of the Year Young Hunter 3'
Showboat (Hit Parade – Bugatti)
Owner: Cindy Acker; Breeder: Sheila O'Keefe
USDF All-Breeds ISR/Old Adult Amateur Fourth Level Champion
USDF All-Breeds ISR/Old Open Fourth Level Reserve Champion
Uncio G (Negro – Animo)
Owner: Amberly Foster; Breeder: L. Van Den Goor
USDF Region 3 Inter II AA Champion
Utah Beach (Ulmar Mail-A Fine Romance)
Owner: Monica Fiss Burdette; Breeder: Elizabeth Callahan
USEA Future Event Horse Yearling Champion
You can find additional information on our Breeder Rewards program and other Breeder Support programs online. Please notify us as soon as possible if you believe that your horse may be eligible for Breeder Rewards money but is not included on this list.
2020 USEF Sire of the Year Standings
Each year the USEF records and publishes a Leading Sire ranking list determined by the success of the stallion's offspring in sport. This ranking is a valuable resource for breeders, riders, and owners alike and we look forward to seeing the stallions' impact each year. The challenges of COVID presented a particularly unique show season for riders, owners, and trainers across the country so we were excited to see many people made it out to safely show their Hilltop-sired horses across the country.
This year the top 15 Dressage Sire of the Year rankings included three stallions currently in the Hilltop Farm roster, Negro (Ferro-Variant) owned by Van Olst Horses ranking 2nd, Contucci (Caprimond-Lungau) owned by Hilltop Farm, Inc. ranking 9th, and Royal Prince (Rohdiamant-Prince Thatch xx) owned by Hilltop Farm, Inc. ranking 13th. All three stallions have maintained Top 15 rankings since 2015, a true testament to the talent these lines so consistently produce, and all three trained through the FEI levels themselves. Additionally it was fun to see an Olivi (Jazz-Aktion) son, UB-40, and Olivi's sire, Jazz, both earning top 15 rankings, earning 3rd place and 11th place respectively. We see the Olivi offspring succeeding at the FEI levels across the globe so it's no surprise to see these lines well represented in the USEF rankings. Olivi is owned by Beth Mitchell.
The Dressage Breeding Sire of the Year rankings proved the Hilltop Farm stallions were very well represented in the Dressage Sporthorse Breeding classes this year. US-bred stallion, Pikko del Cerro HU (Pik L-Rohdiamant) finished the year as ranking 2nd and just above his sire Pik L. Pikko del Cerro is owned and bred by Horses Unlimited, Inc. Barn mates Royal Prinz (Royal Diamond-Dream of Glory) owned by Teresa Simmons ranked 4th place, Qredit (Quaterback-Dream of Glory) ranked 8th, Sternlicht (Soliman de Hus-Rascalino) owned by Hilltop Farm, Inc. ranked 9th, and Popeye (FS Pour l'Amour-Night Star I) owned by Ilona English ranking 10th. It's particularly important to note that from this group of stallions three are US-bred, including Pikko del Cerro, Qredit, and Sternlicht.
While the majority of our stallion line-up is focused on dressage bred stallions, we see many of them producing versatile offspring that excel in multiple disciplines such as hunters, jumpers, and eventing. The results of the USEF Hunter Breeding and Eventing Sire rankings, reflects this versatility well and we see Hilltop-owned stallions earning top positions in both. The Hunter Breeding Sire of the Year rankings including two Hilltop-owned stallions placing in the top ten. Riverman (Redfort-Landego) earned a 7th place finish and Qredit finished just behind him in 8th place. We're so pleased to see the Qredit offspring succeeding in both the Dressage Breeding classes and the Hunter Breeding classes this year. With Riverman's passing this year, it's a particularly bittersweet moment seeing Riverman named as the USEF Eventing Sire of the Year. Riverman has now been named the Leading Eventing Sire six times and the Reserve Champion an additional three times – a true testament to the versatile athletic talent of the Riverman offspring.
It makes us so happy to see the stallion's offspring and all of their connections having such success. Congratulations to all the breeders, owners, riders, and trainers that have played a vital role in the success of all of the stallion's offspring!
2020 USDF All-Breeds Year-End Awards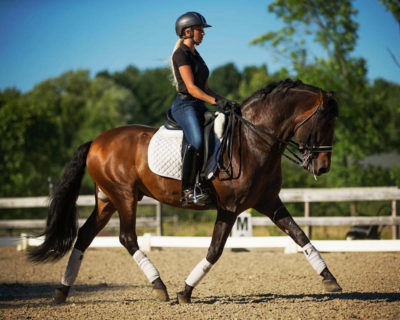 In the grand scheme of life, an abbreviated show season due to covid-19 was the least of our concerns this year.  But, we were fortunate to still be able to safely attend a few shows with our training horses and are proud of their year-end accomplishments with Michael Bragdell and Jessica Fay.
Jess rode Natalie DiBerardinis' mare Cover Girl (Contucci-Prince O'Pilsen) to the Reserve Champion spot for ISR/Oldenburg All-Breeds at Third Level Freestyle and Kaja Brix's gelding Feuerbach (Florestan-Welcome) to the Reserve Champion for Westfalen All-Breeds at Intermediate II.
Michael Bragdell had an excellent season with Qredit Hilltop (Quaterback-Dream of Glory) again earning the All-Breeds Championship for the GOV at Grand Prix and Sternlicht Hilltop (Soliman de Hus-Rascalino) winning the Championship at Intermediate II for the AHS.  Michael also rode Faberge Blue (Contango-Democraat), owned by Mitch Mitchelson, to 5th place at Grand Prix and 3rd for Grand Prix Freestyle for the KWPN All-Breeds standings.
Amina Bursese rode Guest Stallion Fiti AL (Jondo-Empaque) to 5th place in the USDF AA Grand Prix rankings and 7th place for the AA Grand Prix Freestyle as well as THREE All-Breeds (PRE) Championships!
Some endings you just can never be ready for and saying goodbye to Riverman has been one of those moments that proved impossible to prepare ourselves for. Despite the calendar saying he was 30 years old this year, Riverman had seemed to defy the idea of aging and we greedily hoped we would have more time with the grand stallion.
Bred by Adolf Ratjen, Riverman (Redfort-Landego) made his mark early being named Reserve Champion of his Holsteiner Licensing in 1992. Hilltop Farm was fortunate enough to acquire the handsome stallion in 1995 and his US debut culminated in winning the Grand Championship of Dressage at Devon. Breeders immediately took notice and his impact as a top-sire is undeniable. Riverman has been named the USEF Eventing Sire of the Year 5 times, was honored with the USEF South Pacific Award (for the Top US-based Show Jumping Sire) 3 times, was on the WBFSH Sire Rankings List, and has sired Grand Prix Jumpers, Grand Prix Dressage Horses, Advanced Level Eventers, Advanced Level Driving Horses, and numerous successful Hunters. His versatility as a sire was remarkable.
Riverman was also a bit of a rock star. He was often on the top of the list to see for visitors to the Hilltop Farm — it didn't matter if they were breeders or what discipline they were interested in — everyone knew of Riverman. He was a consummate showoff and loved when we did Stallion Shows. His music was always "Simply the Best" – one of the few musical selections that the staff agreed on unanimously. He also seemed to know when a camera was around and always had a bright expression and perfect pose ready.
So, while we feel broken hearted right now, we also know how incredibly blessed we have been to have Riverman at the center of life at Hilltop for 25 wonderful years. Thank you to all of River's people who have loved him so well!
Louisvile HTF Licensed Hanoverian & Rhineland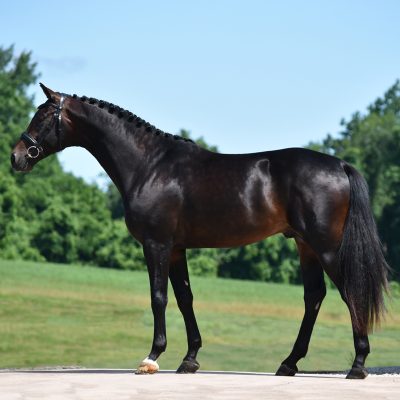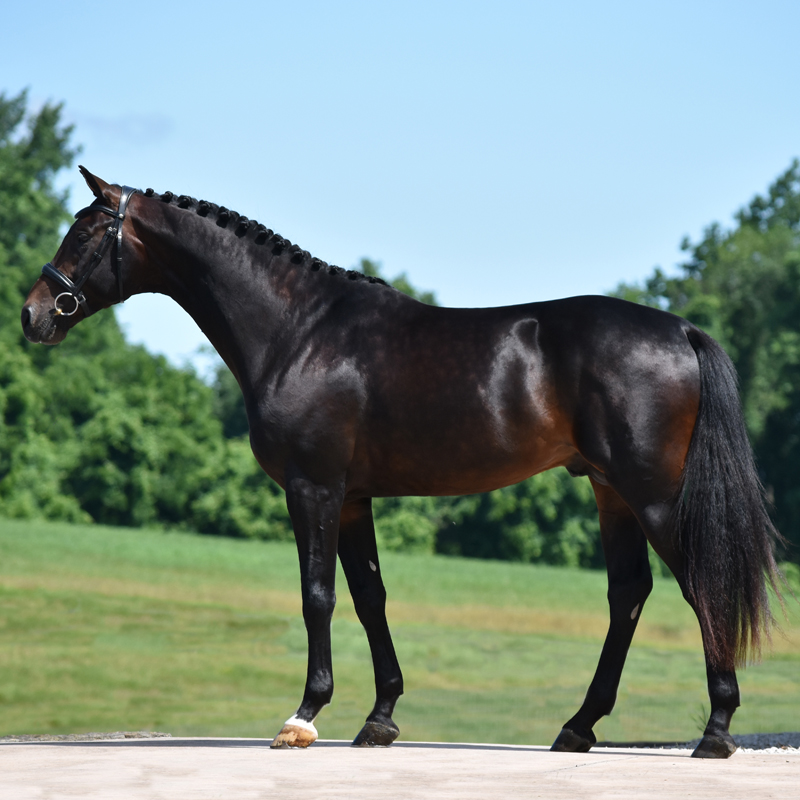 We have always believed in the potential of our homebred Louisville HTF and this week it was an especially proud moment for us to see him licensed with the Hanoverian & Rhineland registries.  The judges were very impressed with this 3-year old stallion and the rewarded him with the exceptionally high overall score of 8.0.  Already licensed with ISR/Oldenburg, we will be welcoming the first Louisville foals in the spring of 2021.  We are excited to now offer him to an even larger group of mare owners in the coming years.
May 1, 1993 – July 10, 2020
Hilltop Farm sadly shares the news of Contucci's passing last Friday. The great stallion lived a wonderful 27 years, with twenty-two of them here at Hilltop Farm. Contucci (Caprimond-Lungau) was bred in Germany by Klaus Storbeck and won the dressage portion of his 100-Day Test with an impressive 147.11 points.  He was purchased by Jane MacElree in 1998 and has been a cornerstone of the Hilltop Farm Stallion Roster ever since. Contucci's impact on North American breeding has been significant. His accolades include having earned the titles USEF Dressage Breeding Sire of the Year and USEF Dressage Sire of the Year, and he has been consistently ranked in the Top 10 of the USEF Sire Rankings for the past five years. Contucci proved time and again his ability to sire winning offspring. From in-hand at inspections and breed shows and up through the Grand Prix level, Contucci offspring have been champions. He has sired licensed stallions and many Premium/Elite mares and his influence on US dressage breeding will be felt for generations to come.
Contucci's character endeared him to everyone who had the pleasure of working with him over his many years here at Hilltop.  As we spent our last hours with him, there were a lot of tears but also a lot of smiles over the many Contucci stories we all had.  Thank you to everyone who has been a part of this special stallion's life over the years.  He was truly a great one!
NA Stallion Sport Test Cancelled for 2020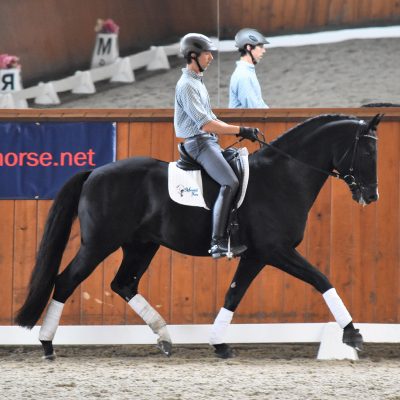 The organizing committee for the 2020 North American Stallion Sport Test (NASST) regrettably shares their decision to cancel the 2020 tests that were scheduled for October 26-28 in Colora, Maryland and October 30-November 1 in Solvang, California. These events draw in participants, spectators, and officials from three countries and many states. With the covid-19 pandemic still affecting us so heavily, we must keep the health and safety of everyone as our top priority and do not feel it would be prudent to run the tests this year.
Each registry will be communicating with its 4 to 6-year old licensed stallions to discuss how they will handle breeding license extensions given this unique situation. For 2021, NASST will also add a testing division for 7-year old stallions to accommodate those stallions that were scheduled to attend this year as 6-year olds. Each registry also offers alternate approval routes through traditional sport.
Updates regarding 2021 dates and locations will be published later this fall on the NASST website. We are all committed to the long-term development of North American-based stallions and will look ahead to seeing you all in 2021.
Hilltop wins USDF Bronze, Silver, & Gold Breeder Awards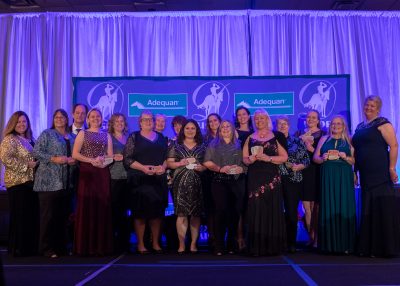 At the USDF Annual Meeting in early December, the very first USDF Breeder of Distinction Awards were presented.  These awards are based upon scores earned by horses in Dressage Sport Horse Breeding shows, the USDF Breeders Championship Series Final, and Materiale classes. Hilltop Farm is proud to be among the first breeders to receive their Bronze, Silver, & Gold Breeder of Distinction Awards.
---