2005 Hanoverian Mare, 16.3 hands
Royal Prince – Parabol – Consul
Raja HTF is the first Royal Prince daughter to enter the breeding program at Hilltop Farm.  A second generation mare for us, her dam was the Premium Oldenburg mare Parlez (Parabol – Consul).  The 1997 East Coast Champion for ISR/Oldenburg, Parlez was also the Champion of her Mare Performance Test. She had an active sport career in dressage, show jumping, and eventing prior to her full-time broodmare duties. In addition to a number of wonderful daughters, Parlez produced the approved stallion Innverness. Granddam Catinka was imported from Germany and her full sister produced the approved stallion Regazzoni. Raja's sire, Royal Prince, is well known for his beautiful type, elastic gaits, and the wonderful rideability he passes on to his offspring.  Royal Prince was Reserve Champion at his 70-day test, earning 129.90 points overall. He placed 4th at the 2004 FEI World Championships for Young Horses and was the 2004 USEF National Champion. He continued competing through Prix St. Georges and won multiple championships along the way. Royal Prince was named the USEF Dressage Breeding Sire of the Year for five consecutive years. Raja showed lightly in-hand as a young horse.  At her American Hanoverian Society inspection as a 3-year old, Raja scored an overall 7.66 and was also named a Premium Mare with ISR/OldenburgNA later that fall.  She produced her first foal in 2009 and was brought back into training in 2010 in preparation for her AHS Mare Performance Test.  Earning the highest gait scores of the day, Raja completed her MPT with a 7.13 and is an Elite Mare with the AHS.  Raja has also received her D-OC predicate from the KWPN. Raja's competition highlights include:
Elite Mare with the American Hanoverian Society
Premium Mare with ISR/OldenburgNA
2015 Dressage at Devon ~ 1st place Produce of Dam
Raja's foals consistently inherit her correct foundation, beautiful type, and sweet nature.  She's crossed well on a variety of stallions for us and regardless of the stallion choice, we see her influence as well.  The Raja offspring have been very successful in-hand and her oldest are now showing well undersaddle.  Each year we look forward to the next wonderful foal from Raja.
Royal Prince
Rohdiamant
Rubinstein I
Elektia V
Piri Piri
Prince Thatch
Winzerin
Parlez
Parabol
Paradox I
Winzerin
Catinka
Consul
SPS Werona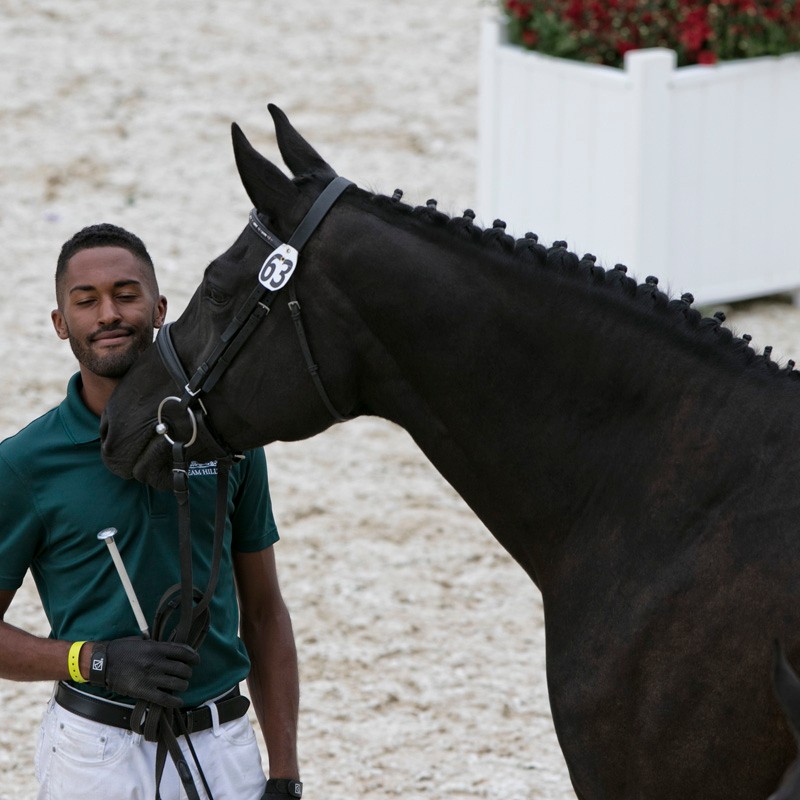 Ripken HTF
2009 Oldenburg Gelding by Riverman
2009 Dressage at Devon Colts/Geldings of 2009 ~ 4th Place
2010 Fair Hill Sport Horse Breed Show I & II Reserve Champion Colt/Gelding
2013-2014 Competed in the Baby Green Hunters
2015 Ocala January Festival Pre-Green Hunter Champion
2015 Ocala Winter Celebration Pre-Green Hunter Champion
2015 Garden State Pre-Green Hunter Champion
2016 Winner Pre-Green Incentive Stake at Garden State
2017 Ocala Premiere Conformation Hunter Reserve Champion
Qindle HTF
2013 Hanoverian Mare by Qredit
2014 VADA/NOVA Breeding Classic Champion Filly
2015 ESDCTA Memorial Breed Show II Reserve Champion Filly
2015 Dressage at Devon ~ 1st in Two-Year Old Fillies
2016 Champion of AHS Mare Performance Test; Hanoverian Premium Mare Candidate
2016 Dressage at Devon ~ 5th in Materiale Championship
2017 USDF Region 8 Championships ~ 5th at Training Level
Steinbeck HTF
2015 Hanoverian Gelding by Sternlicht
2015 Dressage at Devon
2nd in Colts of 2015
Reserve Champion ~ Devon Foal Championship
6th in the USDF/GAIG East Coast Foal Championship
1st in AHS 2 & Under
2019 Winning in USEF Four-Year-Old & Training Level Classes
Colette HTF
2016 Hanoverian Mare by Contucci
2017 ESDCTA Memorial Breed Show Reserve Champion Young Horse
2017 ESDCTA Memorial Breed Show Reserve Champion Filly
2019 Approved Main Studbook AHS; Hanoverian Premium Mare eligible
Paloma HTF
2017 Hanoverian Filly by Pikko del Cerro HU
Omika HTF
2018 Hanoverian Filly by Olivi
2018 Dressage at Devon ~ 5th place Fillies of 2018
Rigley HTF
2018 Hanoverian Colt by Riverman
 2019 Hanoverian Gold Medal Foal