PLEASE NOTE: We don't accept semen shipment requests via fax or email. 
Call 410-658-9898 ext. 120 when requesting semen.
---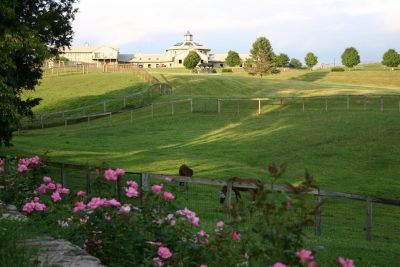 **Please review this information with your veterinarian at the beginning of your mare's cycle** We appreciate a "heads-up" if possible when your mare enters the start of her heat cycle. Cooled semen stallions may be collected any day except Saturday and can be shipped either via FedEx overnight or same-day Airline. Frozen semen is able to be shipped Monday thru Friday via FedEx overnight. Pick-up of both cooled and frozen semen is also available at Hilltop Farm or Select Breeders Services in Maryland. Our cooled semen season runs from March thru August for most of our stallions. Frozen semen may be shipped year-round. See each specific stallion's webpage and/or contract for availability.
Monday – Friday: Pick-up, Fed Ex Overnight, or Airline shipments
Please notify our office before 9:00pm eastern time the day prior to collection/shipping. For example: If you want semen collected & shipped on Friday, we need to know by 9:00pm on Thursday evening.
Frozen semen cannot be sent by same-day Airline, so must be sent Monday thru Friday via FedEx or picked-up at Hilltop Farm or Select Breeders Services.
Sunday: Pick-up or same-day Airline Shipments Only
Please notify our office before 5:00 P.M. eastern time on Saturday evening.
Cooled semen stallions will not be collected on Easter Sunday, Sunday and Monday of Memorial Day weekend, or July 4th. (Please note that shipments scheduled the day before and after Holidays may be restricted to airlines or pick-up only depending on FedEx's schedule)
Canadian Breeders Shipping from Therion Science
To help our Canadian breeders save on shipping expenses and the hassle of getting an import permit, Hilltop Farm ships a limited amount of frozen semen to Therion Science in Guelph, Ontario at the start of each breeding season for distribution within Canada. We will ship four doses of frozen semen to Therion Science for each contract booked prior to this group shipment. Doses will be distributed at a max of two doses per cycle. If a mare is not confirmed in foal after utilizing those doses, it would be necessary for the mare owner to follow our typical import procedure to obtain semen for any additional breeding cycles. All shipment requests for semen in Canada will still be sent to Hilltop Farm and follow Hilltop's standard notification schedule. For more information on deadlines to be included in the group shipment to Canada or to inquire about frozen semen already located in Canada contact Brittany.
We're excited to again be able to offer cooled semen options for many of our Canadian clients. Cooled semen will be available on select stallions to port of entry locations within Canada. Contact Brittany to discuss specifics and to see if this option is available for your location.
---
Call 410-658-9898 ext. 120 when requesting semen.