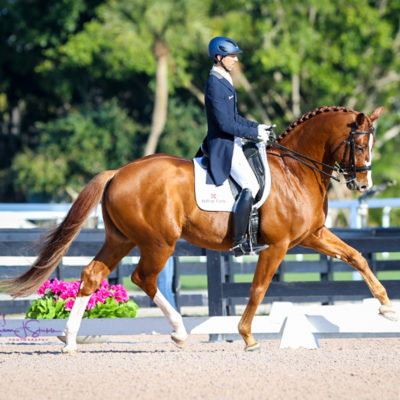 Photo by Susan J Stickle
---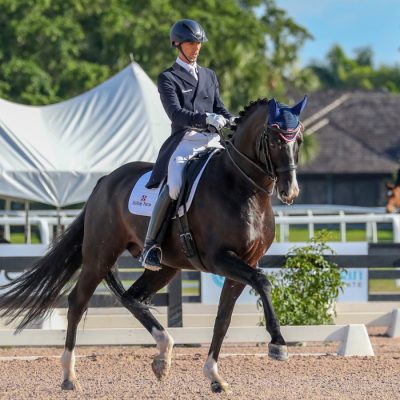 Photo by Susan J. Stickle
Michael Bragdell and Brittany Stanley offer lessons for riders from Training to FEI levels.  Our instruction program is geared to provide a foundation of the solid principles of training that enable a horse and rider to develop and perform at their best. We are committed to advancing the horse and rider in a methodical and thorough manner, and we help our riders set reasonable goals for training and showing.  We do NOT have lesson horses available. Please call 410-658-9898 to leave a message in the general voicemail or email Michael Bragdell or Brittany Stanley regarding lessons. 
Hilltop's training services include the development of all levels of dressage horses, preparation of stallions and mares for licensings and performance testings, and sales marketing for a select group of dressage horses.  We maintain an active show schedule, ranging from local schooling shows through CDI competitions and National Championships.  Young Horse starting space is limited to horses coming from our Raising Program.  We are proud of the long-term relationships we have with our clients.  Please call 410-658-9898 or email Natalie to learn more about training space for horses. 
Both Michael Bragdell and Brittany Stanley are available for off-site clinics on a very limited basis. We prefer to do few locations, but on a more regular schedule to allow for consistent, long-term learning. Please call 410-658-9898 to leave a message in the general voicemail or email Michael Bragdell or Brittany Stanley regarding clinics.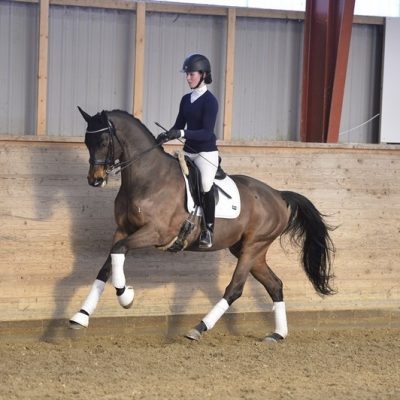 Photo by Ida K. D. Dalgaard
---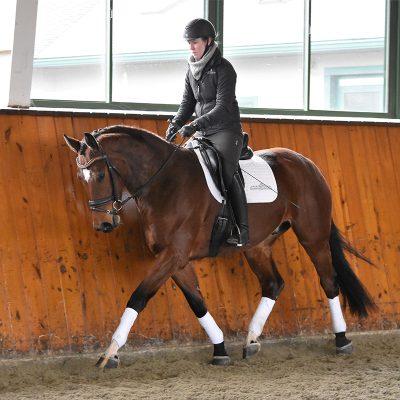 Hilltop Farm Photo
Head Trainer Michael Bragdell
Michael is originally from Gothenburg, Sweden and worked several years at a riding school, serving as an instructor and member of the show jumping team. He continued his education in England where he trained and showed young horses for Gustavii Stud. In 1995, Michael joined the Hilltop Team and he now holds the position of Head Trainer. Over the years he has presented numerous stallions and countless mares and foals at breed registry inspections as well as at breed shows around the country.
Michael believes in keeping the work interesting for the young horse to ensure they stay fresh and happy throughout their career. Seven of the youngsters that Michael has started at Hilltop have gone on to top finishes in the USEF/Markel Young/Developing Horse National Championships.
In 2008, Michael captured his first National Championship aboard Selten-HW in the FEI Four-Year Old division and captured this championship again in 2012 with Hemmingway.  In 2018 & 2019, Michael and SenSation HW won the USEF Young Horse National Championships.  Michael has won seven US Dressage Finals National Championships as well and is a USDF Bronze, Silver, & Gold Medalist.  Michael is a USDF Certified Instructor and is available for lessons at Hilltop Farm as well as offering limited clinics.
"It is important that I incorporate variety in the training for all of my horses. Some of the tools I use include groundwork, freejumping, longlining, and hacking. I think the variety allows the horses to approach the training with a fresher mind and develops their physical strength and promotes longterm soundness."
—Michael Bragdell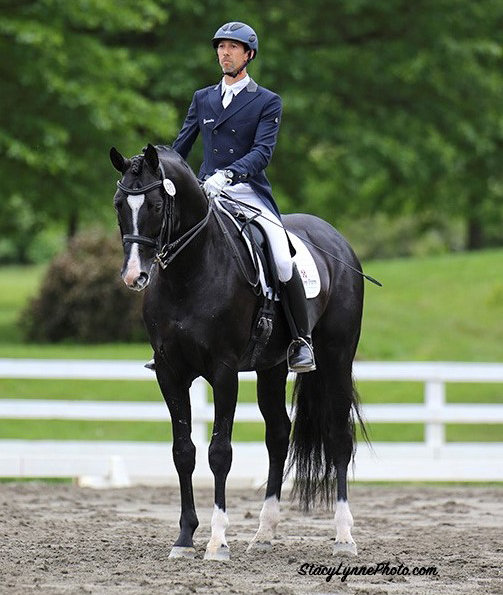 Assistant Trainer Brittany Stanley
Brittany Stanley has a common goal for all the horses she rides and trains – to develop a partnership where the horses are happy, healthy, and confident in their work. Brittany's equestrian education began in Missouri, where she rode jumpers as well as Morgan horses before falling in love with dressage. In 2013, she joined Lendon Gray's Winter Intensive Training Program in Wellington, FL, where she trained her Swedish Warmblood mare and gained exposure to top international dressage coaching and sport. From there, she continued riding and training multiple horses professionally, culminating in a pivotal move to Denmark to ride full time for Morten Thomsen in 2016. As the head rider for Morten for 3 years, she broadened her knowledge from starting young horses to educating horses to Grand Prix. She has used those skills to develop her own training & sales business in Denmark, but in December of 2020 we welcomed Brittany back to the United States and to Hilltop Farm in her new role as Assistant Trainer.