2001 Dutch Warmblood Mare, 16.1 hands
Negro – Fruhling – Liberto
We feel very fortunate to have acquired the lovely Dutch mare Uforia in late 2010.  Under owner Nick Wagman, Uforia (reg. Unicum-D) quickly climbed the dressage ranks.  In 2008 and at only 7 years old, Uforia competed at the USEF National Intermediaire National Championships.  She placed 6th in the Prix St. Georges and 8th in the Intermediaire I and the Freestyle.  The following year, Uforia made the move to Intermediaire II and Grand Prix with scores in the mid to high 60's and top finishes at competitions in California. Uforia's competition highlights include:
2007 consistent winner at Third Level
2008 Dressage Affaire CDI ~ 2nd in Prix St. Georges & 4th in Intermediaire I
2008 Del Mar CDI ~ winner Intermediaire I & 2nd in Prix St. Georges
2008 US Intermediaire I National Championships/Festival of Champions
2008 CDS Championships ~ Reserve Champion Prix St. Georges
2008 USDF Region 7 Championships ~ Reserve Champion Prix St. Georges
2008 USDF Region 7 Championships ~ 5th place Intermediaire
January 2009 Dressage Getaway ~ 1st place Open Intermediaire II
February 2009 Dressage Getaway ~ 1st place Open Intermediaire II
April 2009 Del Mar National ~ 1st place Open Grand Prix
Uforia is by the Preferent Dutch Stallion Negro who has been a valued addition to our International Stallion line-up for many years. Negro was himself a highly successful competitor. He was Reserve Champion of his Stallion Performance Test and won the Zwolle Stallion Show as both a five and six-year old. He debuted at Prix St. Georges the following season and showed particular talent for piaffe, passage, and pirouette's. Grandsire Ferro has been one of the most successful international dressage stallions in history, including medals at the World Equestrian Games, European Championships, and Olympics. The talent for the Grand Prix clearly passes through the generations and we see many Negro offspring winning at Grand Prix, including the Olympic, World Cup, & WEG Gold Medalist and World Record Holder, Valegro.  Uforia's dam sire is Fruhling (aka Landjonker), an advanced level showjumper by the highly regarded Landadel. Fruhling's influence has been well established in Europe and he has sired 10 approved sons in Germay. Fruhling's damline (KWPN breeding family 726) has produced the top international dressage horse Brillant as well as many approved stallions. Uforia offers a new outcross for all of Hilltop's stallions. In 2013 she was accepted by both the AHS and ISR/Oldenburg registries. She has also received her sport and D-OC predicates from the KWPN.  With the arrival of her first foal in the spring of 2014, she has proven to be an excellent mother.  Uforia definitely gifts very powerful and expressive movement to her offspring.  As one judge commented at the inspection of her first foal, 'This is the type of movement dressage riders want.'  We feel very lucky to have this special mare in Hilltop's broodmare herd.
Negro
Ferro
Ulft
Brenda
Fewrie
Variant
Mewri
Montana
Fruhling
Landadel
Griselda
Bonia
Liberto
Ronia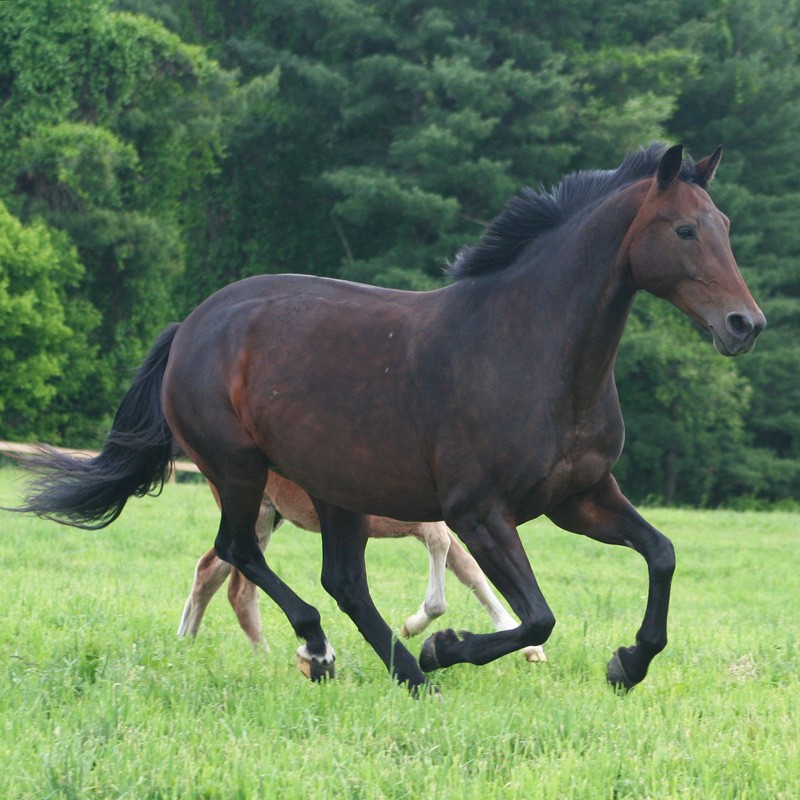 Qennett HTF
2014 Hanoverian Gelding by Qredit
2014 Dressage at Devon
USDF/GAIG East Coast Final Foal Championship ~ 6th Place
8th Place Colts of 2014
Stetson HTF
2015 Hanoverian Gelding by Sternlicht
2015 AHS Inspection ~ Reserve Champion Colt
2016 Dressage at the Meadows ~ Reserve Grand Champion, Champion Young Horse & Champion Colt
2016 Dressage at Devon
4th in Yearling Colts 
4th in USDF/GAIG Colt & Gelding Championship
2016 Champion Mid-Atlantic Hanoverian Breeders Club Colts/Geldings
2016 Reserve Champion American Hanoverian Society Younger Colts/Geldings
2017 Dressage at Devon
1st in Two-Year Old Colts & Geldings
Champion in USDF East Coast Colt & Gelding Championship
2017 AHS Year-End Awards Champion Older Colts & Geldings
2017 USDF HOY Two-Year Old Colts & Geldings ~ 3rd place
Shiraz HTF
2016 Hanoverian Filly by Sternlicht
2017 Dressage at Devon
2017 ESDCTA Memorial Weekend ~ 1st for Yearling Fillies & Hanoverian classes
Louisville HTF
2017 Hanoverian Colt by Lord Leatherdale
2017 Dressage at Devon
1st in Colts of 2018
Champion of Devon Foal Championship
USDF East Coast Foal Championship ~ 5th place
2017 AHS Inspection ~ called back for Top Colts group
2019 Licensed with ISR/Oldenburg NA
Qadence HTF
2017 Hanoverian Filly by Qredit
2019 AHS Inspection ~ Top Filly & Gold Medal Foal
Denmark HTF
2019 Hanoverian Colt by Desperado NOP
 2019 AHS Inspection ~ Called back for Top Colts group & Gold Medal Foal 
Laredo HTF
2019 Hanoverian Colt by Lord Leatherdale