Quality Touch offers a top jumper pedigree through sire Quick Star and his dam who also produced the Olympic Gold Medalist Classic Touch. His oldest offspring are proving his genetics continue through to the next generation as they are winning jumpers in Europe.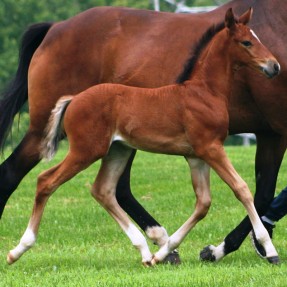 (Wamberto x Romy / Gribaldi)
Here's the FEI prospect you've been searching for. Kevelaer already shows us excellent mechanics in his movement with a particularly strong hind leg propelling his gaits. He is a beautiful, modern type colt who easily catches your eye.
---
Hilltop News & Events
I love Hilltop's customer service and knowledge base. I can't say enough about what an exceptional place this is: from breeding to training, the stallions, facility, and client support are exceptional and without equal." —Emily Covington