For five consecutive years Royal Prince was honored with the USEF Dressage Breeding Sire of the Year award based on the success of his early offspring in the show ring. Royal Prince's oldest offspring are now winning under saddle as well in both the hunter and dressage rings.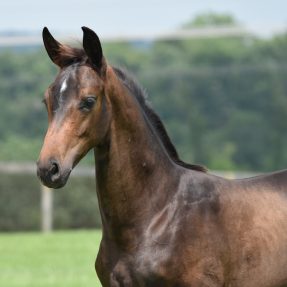 (Qredit x Berlinetta A/Bugatti)
From a family of proven dressage horses, this attractive colt will be a top talent for the dedicated dressage rider looking for a future FEI horse. Quantum A offers elastic, energetic movement and displays modern type. He's sure to catch your eye when you see him in person.
---
Hilltop News & Events
I love Hilltop's customer service and knowledge base. I can't say enough about what an exceptional place this is: from breeding to training, the stallions, facility, and client support are exceptional and without equal." —Emily Covington