Hilltop Farm welcomes the jumper stallion Talisman to our line-up! Winner of the Eastern League Young Jumper Championships, Talisman's carefulness, scope, and type reflect much of his sire Toulon. Jumper, hunter, and eventing breeders will be interested in considering this charming stallion for their own programs. Now approved with RPSI and ISR/OldenburgNA.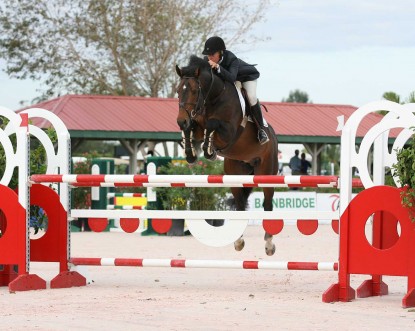 (Donarweiss GGF x Knock Out/Rolls Royce)
Exceptional ease of movement. Top Bloodlines. Elastic and supple with 3 correct gaits. FEI potential. Strong cadence in future! Natural balance, uphill carriage, inborn straightness with relaxation and rhythm. Light and ground covering canter and ground covering walk. Confident and easy temperament.
Sired By Donarweiss GGF...
2010
16.3H
Hanoverian Gelding
---
Hilltop News & Events
2015 Stallion Book & DVD
Order Your Free Copy of the Hilltop Farm 2015 Stallion Book & DVD Today!
( Now Available Online )
I love Hilltop's customer service and knowledge base. I can't say enough about what an exceptional place this is: from breeding to training, the stallions, facility, and client support are exceptional and without equal." —Emily Covington