Over the years, Doctor Wendell MF has captured multiple Championships and USDF Year-End Awards. In 2014 Doctor Wendell was 5th at the USEF Young Horse Championships and won the USDF Region 2 Championships at Third Level. His daughter, Danae MF, was the USDF Horse of the Year for weanling fillies.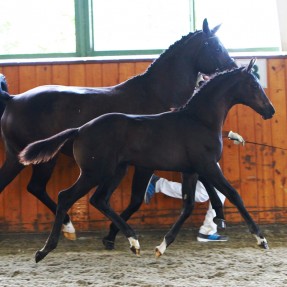 (Sternlicht GGF x EM Raja HTF / Royal Prince)
A complete package of looks, movement, and character! At Steinbeck's recent AHS Inspection the judges commented he was 'super in type, very leggy and modern with a beautiful expression, strong topline, and very elevated movement.'
Sired By Sternlicht GGF...
---
Hilltop News & Events
2015 Stallion Book & DVD
Order Your Free Copy of the Hilltop Farm 2015 Stallion Book & DVD Today!
( Now Available Online )
I love Hilltop's customer service and knowledge base. I can't say enough about what an exceptional place this is: from breeding to training, the stallions, facility, and client support are exceptional and without equal." —Emily Covington