Ampère won his stallion performance test with scores of 9 for his trot, rideability, and talent and earned a 9.5 for his canter. He offers breeders a modern, refined type with top-quality gaits that he is consistently passes on. His influence as a stallion is already well-established.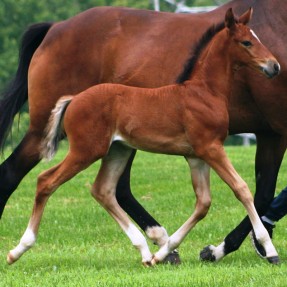 (Wamberto x Romy / Gribaldi)
Here's the FEI prospect you've been searching for. Kevelaer already shows us excellent mechanics in his movement with a particularly strong hind leg propelling his gaits. He is a beautiful, modern type colt who easily catches your eye.
---
Hilltop News & Events
2015 Stallion Book & DVD
Order Your Free Copy of the Hilltop Farm 2015 Stallion Book & DVD Today!
( Now Available Online )
I love Hilltop's customer service and knowledge base. I can't say enough about what an exceptional place this is: from breeding to training, the stallions, facility, and client support are exceptional and without equal." —Emily Covington