Photo By: Third Shutter from the Sun
Photo By: Third Shutter from the Sun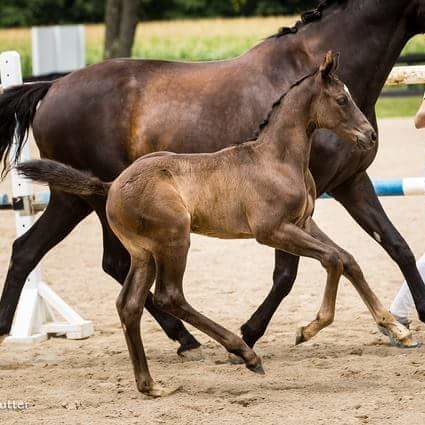 Photo By: Third Shutter from the Sun
Pfirefly (or McFly as we call him for short) is a lovely colt sired by Pikko Del Cerro. McFly was praised for his strong topline, nice hindquarters, and balanced, correct movement at his Hanoverian inspections where he received a callback for being in the top group of foals.
McFly is very balanced with 3 nice gaits and a particularly lovely canter. Pfirefly will make a great dressage partner. McFly has a very sweet, friendly, outgoing personality who is eager to please and learn. Dam is 16.1 and sire is 16.2. All this packaged as a handsome very dark bay with two socks and a star. Price will include boarding until he is weaned and routine care (feet, wormer, daily handling).
Pikko Del Cerro was shown Grand Prix internationally by Lisa Wilcox. Dam Chloe (Contucci x Matcho x Trapper) is sired by Contucci was a FEI level horse while in training at hilltop and Chloe maintains his excellent temperament.
Price:$9,000