2019 Dressage At Devon & Qredit's First CDI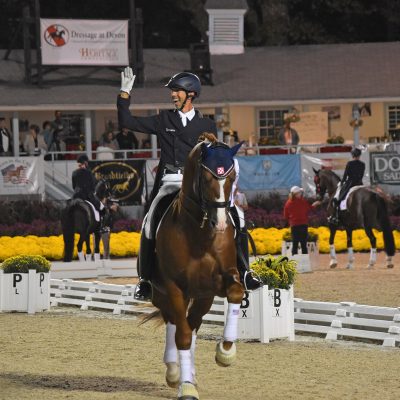 Our Favorite Week the Year – Dressage at Devon! Devon feels like our 'home' show and we love getting to show everything from foals to FEI. This year we did it a bit differently though. Between the busy Regionals show schedule, favorite horses selling, and some youngsters just looking like…well young horses…we decided to enjoy the Breed Show as spectators.  What a treat that was! A beautiful day watching all the fancy young horses.  Congratulations to all the competitors and breeders!
We then ramped up for the Performance show though as we just couldn't resist showing someone at Devon!  Jess took Quinzy out for the FEI Test of Choice class and placed 6th on Sunday with the big red mare.  At only seven years old, she sometimes has some green mistakes but the quality is rewarded.  Even more exciting was Michael and Qredit participating in their first CDI!  Riding at night under the lights in the Dixon Oval gives a feeling like no other and Qredit and Michael seemed to enjoy the spotlight finishing 4th in the Grand Prix and 6th in the Freestyle.  Hard to believe it was 10 years ago that Qredit was named Grand Champion of the Devon Breed Show as a yearling!
2019 USDF Region 8 Championships
What an exceptional horse show for all of Team Hilltop! We couldn't be prouder of our horses or trainers after the wonderful show we had at the USDF Region 8 Championships in Saugerties, NY on September 19th-22nd.  Michael and Sternlicht (Soliman de Hus-Rascalino) proved to be unstoppable taking home the Championship ribbons for Intermediate, Prix St. Georges, and Intermediate Freestyle.  Not to be outdone by his younger stablemate, Qredit (Quaterback-Dream of Glory) put in two very impressive tests in the Grand Prix and Grand Prix Freestyle.  He brought home two Reserve Championship ribbons and a whole new group of fans. Also showing under Michael, were Carol and Scott McPhee's SenSation HW (Sunday-Dancier), Lisa Smith's Frisantos (Franziskus-Espri), and Mitch and Lara Mitchelson's Steinbeck HTF (Sternlicht–Royal Prince). SenSation and Michael continued their winning ways with a 71% in the Third Level Championship.  Frisantos and Michael just missed a ribbon in the First Level Championship. This was Steinbeck's first Regional Championship and extra special for us as he's from Sternlicht's first foal crop so extra fun to have them both at the show! He handily won his Training Level Open class on Friday with a 72% but finished just outside of the ribbons in the Championship class.
From Qredit's first foal crop, Quinzy HTF (Qredit-Cordoba) also joined us at Regionals again this year. Under the guidance of Jess, Quinzy put in a steady test to finish 4th in the Fourth Level Championship with a 68.4%.  Quinzy also showed in the Prix St. George Championship. While she didn't earn a ribbon, we were really happy with the balance and obedience she gives Jess and with some age and strength she will be able to show off even more.  Jess and Natalie DiBerardinis' Cover Girl (Contucci-Prince O'Pilsen) showed in both the Third Level Championship and Third Level Freestyle Championship.  This was Cover Girl's first year doing the Freestyle and she earned a Wild Card score to go to the USDF Finals in November. Last but not least, Witness and Jess showed in the Grand Prix Championship. Witness (Hamlet-Burggraaf) finished 9th in the Championship.
Thanks to the hardworking show management and NEDA volunteers.  This massive show was impressively run and whoever was in charge of the weather got it just perfect!
SenSation HW Defends USEF Title
The USEF Festival of Champions is an amazing show every year. The venue, management, and the caliber of horses makes it incredibly memorable. This year was no exception for us. There is always extra pressure when you are the defending champion, but Michael & SenSation HW (Sunday-Dancier) thrived in that environment and put in two lovely tests to earn the Six-Year Old National Championship! Their overall 8.692 speaks volumes for the quality this horse shows. Congratulations to owner Carol McPhee, breeder Alfons Bergjohann, and all of Sen's supporters.
Congratulations to all the competitors at this prestigious Championship. This year especially the quality was very high. Let's keep raising that bar every year!
2019 Hilltop Farm AHS Inspection
We had an excellent two days during our American Hanoverian Society Inspection in early July.   Thank you to Anna Jungheit, George Walker, and learner judge Sandy Hunt for all your insight over the 2 days and to Dennis Moore – announcer extraordinaire!! Dennis does an amazing amount of pedigree research before each of these events. The overall quality was exceptionally high and we congratulate all the owners/breeders for their successes.  For the offspring of our stallions, there were some especially exciting results.  Savannah HTF (Sternlicht–Royal Prince) earned a 7.83 for her inspection and a 7.91 in her MPT, was High-Score Hanoverian Mare, and is now a Premium Mare Candidate.  Colette HTF (Contucci–Royal Prince) earned a 7.16 at her studbook inspection, which makes her Premium Eligible, and we will look to doing the MPT with her next year.  Sundancer BHF (Sternlicht-Renaissance) was Champion Two-Year Old Filly and Rubinstar AF (Rubinero-Don Schufro) was Reserve Champion Yearling Colt and Reserve Champion Yearling Filly was Starstruck (Sternlicht-Ehrentusch). It was an especially good showing for Sternlicht offspring!
New this year was the addition of the Gold Medal Foal awards to indicate exceptional overall quality.  Qadence HTF (Qredit–Negro), Rigley HTF (Riverman–Royal Prince), Luke Skywalker (Lord Leatherdale-Ehrentusch), and Redford HTF (Royal Prinz–Contucci) all earned these awards and were excellent representatives for their sires.  Qadence HTF was also named Top Filly of the day.
For youngsters developing here on the farm, we also saw super results for their breeders and owners.  In the Yearling Colts/Geldings Champion was Vincenzo (Vitalis-Damon Hill).  Yearling Fillies Champion was Last Hoorah (Last Man Standing-Ginsberg). There were also additional Gold Medal Foal awards to foals Sir Render (Sir Donnerhall-Ramiro's Bube), Ferrari MDH (Franziskus-Prado), and Denmark HTF (Desperado-Negro). Sir Render, bred/owned by Catherine Haddad Staller, was named the Top Colt.
2019 Foaling Season at Hilltop Farm
Foaling season is one of our favorite times of year here at Hilltop Farm and the 2019 season is off to an excellent start!
Our last foal of 2018 was an unusual story, so we're counting him as part of the 2019 foal crop for announcements.  The Oldenburg mare Primavera (by Pandorra) was bred late December in Florida to the PRE stallion Flamenco YM that now stands through Hilltop Farm.  It was an unusual time to breed, but happened to be at the same time they were collecting Flamenco for frozen semen for us and worked well for his owners. So the very first Flamenco foal arrived on November 25th – a handsome, precocious colt named Faccini Negro. 
Then we had a lovely break until March when our foaling season began (again). 
March 6th: Congratulations to Victoria Kolenda!  Her KWPN mare Ariella (Trento B-Zortin) gifted her with a beautiful and very smart filly by Olivi.  This little one is quite chatty and was talking to everyone around her before she was even up.  She is already impressing us with short glimpses of her movement and we love how quickly she learns everything.
March 25th:  It's a colt!  Our second foal by Olivi this season and it's a handsome bay colt out of the Elite Hanoverian Raj Mahal HTF (Royal Prince-Donnerhall).  We're seeing a very strong stamp on the Olivi foals and are impressed with the balance and the movement that he brings.
March 28th: Balissa FINALLY foaled.  After hanging on for many weeks, Balissa finally decided it was time for us to meet her filly by Fürstenball.  She is very tall and long-legged like her momma, but she's us a bit more elegance from her sire's type.  Just what we were wishing for!
April 10th: While many of the mares this year seem to be going over their due dates, Melissa Stubenberg's Thoroughbred mare Kourages Kelly decided to go early and quickly delivery a handsome, strong colt by GK Calucci.  There is going to be a lot of scope with this one!
April 11th: Speaking of holding on, our wonderful recipient mare Bijou held onto the Qredit x Uforia embryo for 363 days!  Finally, on April 11th she decided to give this one up to us and produced a beautiful filly.  We're already seeing very good quality gaits with this one.
April 14th: From the dressage prospect to the purpose-bred eventer, this season is a fun one for us with a lot of diversity.  Melissa Stubenberg's second TB mare, a maiden named Roxstina, delivered a fantastic colt by Vallado.  He has plenty of blood in the pedigree to be an event prospect for Melissa, but he's so pretty he may get snapped up for the hunter ring too.
April 19th: Next up was Lisa Saabye's Ehrentusch mare Ebella.  This is Ebella's first foal, but her first colt and this handsome lad by Lord Leatherdale shows a very noticeable stamp by his sire.  A fantastic pedigree all-around and this one is definitely one to watch.
April 25th: We'll admit it – we were all hoping this next foal would be a colt and we got our wish!  The second Uforia foal of the season was safely delivered by the recipient mare Blessings.  A striking black colt with chrome by the Grand Prix stallion Desperado (Vivaldi).  We couldn't be any happier!
April 27th: It was time for a filly and Gavin Parfit and Isabel Barzun's Elite KWPN mare Romy had a beautiful bay filly by Secret.  This tall, long-legged filly has her dam's elegance and her sire's power in movement.  She's a special one for sure!
May 4th: We had a short break of one week from foalings – which around this time of year seems like an eternity.  But May 4th saw the arrival of another filly, this one by Pikko del Cerro and out of Melissa Stubenberg's mare Wraina.  A full-sibling to a farm favorite from a few years ago, 'Pippa' is full of personality and spunkiness.
May 5th: Just a day later and we were back in the foaling barn with Hilltop's homebred Chiquita.  This is her 5th foal and she has gifted us with another wonderful colt – this time by Royal Prinz.  This is the first of the Royal Prinz's foals since we began managing him and we're very happy with this cross on a Contucci daughter.
May 23rd: It's a good thing we had a few weeks break from foaling, because on the 23rd the last of the mares decided it was time to get things moving along!  Early in the morning hours, Judy Irwin's mare Chellana GZ gave birth to a very regal looking colt by GK Calucci. Then just before midnight of the same day, our own Uforia gave us a fantastic colt by Lord Leatherdale (a full-sibling to Devon Champion Louisville). This has been an especially fun year for Uforia foals as she also had two via ET earlier this spring.
May 24th: Keeping things moving, our 3rd foal in 24-hours arrived early on May 24th.  Congratulations to breeder Susanne Manz on your beautiful, feminine filly by Royal Prinz and out of Valkyrie.  This filly is a lovely combination of both her parents.
May 26th: The Hanoverian mare Raureif has been an outstanding producer and this year's colt by Sir Donnerhall I looks to continue the trend.  Congratulations to breeder Catherine Haddad Staller on this long-legged and strong colt.  We hope he becomes another Grand Prix horse for you!
May 31st: The busy week of foaling concluded with Hilltop's beloved mare Raja HTF producing a tall, handsome colt by Riverman.  A repeat of her first foal, Ripken HTF, we have very high hopes for this colt's future.
June 13th: After a very busy week at the end of May, everything slowed right down in the foaling barn again.  Susanne Manz's SPS mare Pinta (aka Portia) made the wait worthwhile though.  Her colt by Franziskus is a stunning chestnut with just the right amount of bling to him!
June 18th: And then there was one last mare left.  We were all very relieved with the arrival of this extra special foal – a filly by Talisman and out of Arlette Johnson's wonderful Grand Prix jumper Amis de Kannan.  Amis had produced a full-sibling to this filly via embryo transfer when she was still competing, but this is first time with mom duties and she's been perfect!
Thank you to Diana Frederick, our Broodmare Manager, as well as our entire team who helped on foal-watch and all the day-to-day care and time that goes into each mare and foal during this time of year.  Our 2019 foaling season is officially over!
---