---
Introducing the new
www.HilltopFarmInc.com
---
For almost 25 years Hilltop Farm has been an internationally recognized leader in the sporthorse industry and with each passing year we continue to enhance our offerings and provide a unique level of service to breeders and owners of Hilltop sired offspring. 
(scroll down for an interactive tour)
---
---
With our growing online audience and the ever-changing advancements in technology, we partnered with the team of innovators and online engineers at www.EqGraphics.com to bring you what is likely, the most comprehensive stallion website in the industry. 
---
---
With well over 1,000 pages, all designed to display beautifully on any computer or mobile device, our goal of reinventing our website to match the superior quality of our horses and services has become a reality. 
---
---
Every stallion is presented with their own in-depth informational page, featuring a retina-display image gallery, high-definition video, their most notable accomplishments and current news headlines.
---
---
Breeders now have full access to each stallion's availability, downloadable breeding forms, shipping guidelines and important information about breeding your mare and registering your future foal, all in one convenient location...
---
(click the buttons and links below to see it in action)
---
---
---
We are proud of the many achievements Hilltop-sired offspring are accomplishing and one of our goals with the creation of the new website was to develop a special resource to acknowledge the dedicated owners and breeders who provide these horses with incredible opportunities for success in breeding and sport. Our robust new offspring section, now features over 1,000 individual offspring pages, each with their own photo gallery, videos and accomplishments. These extensive offspring pages also serve as an essential tool when considering stallion options for your mare.
---
---
To search and view offspring, simply click on a stallion for an instant overview of his offspring. Each image leads you to a detailed offspring page where you will find additional photos, videos, accomplishments and even testimonials from their breeders, owners and trainers. 
---
(click on "Bugatti" to see what happens)
---
---
We encourage our breeders and owners of Hilltop Offspring to stay in touch and send us updates, photos and share your news so we can follow your journey and cheer you on every step of the way.
---
---
---
At Hilltop Farm, our commitment to breeders extends far beyond the successful arrival of your foal. As part of our Breeder's Support Program, we recognize effective marketing can be one of the greatest challenges a small breeder faces, which is why our new website is now open to both breeders and owners to promote your Hilltop-bred offspring with photos, video and a full description…
...all at no cost.
---
---
2013 chestnut Hanoverian gelding out of the Hanoverian mare Wiesling (Wolkentanz). Qwin is a bold, personable gelding with loads of self-confidence, lovely gaits and excellent manners and should mature to 16.2 hh. Qwin's dam Wiesling (Wolkentanz x MS Dividende) Joan is from a long line of superior sport horses; her dam's sire is the renowned ES Domingo.Her sire is Wolkentanz- one of the successful sons of the legendary sire Weltmeyer. Wolkentanz was the champion stallion at the Verden licensing in 1993 and 1994 won the 3 year old stallion classification at the Federal Championship of German Riding Horses and was runner up in the stallion performance test scoring 140.53 in dressage. At her mare inspection, she received 8′s on head/neck, saddle position, typiness, femininity, and impulsion/elasticity. Entered into the main stud book. Schooled to Third Level, she was shown at Training Level and scored consistently in the high sixties to mid-seventies, with consistent scores of 8 for gaits.
Qwin qualified for 2013 Great American Insurance Group/USDF Breeders' Championship at Dressage at Devon. Judges' comments: "elegant head and neck, good shoulder angle, good bone structure, long legged style, athletic, good back movement, stays uphill, active trot, covers ground." He finished 10 th for the USDF 2013 colts year end standings.
---
With a wide selection of horses ranging from foals to proven champions, the Hilltop Farm Sales Section is the perfect place to find your future star, making it one of the most frequented areas of our website. You do not have to be the original breeder to list your horse for sale in this popular section.
---
---
Much of Hilltop Farm's public presence has been centered on the stallions, but we hope you also enjoy learning more about our 25 year history...
---
Hilltop Archives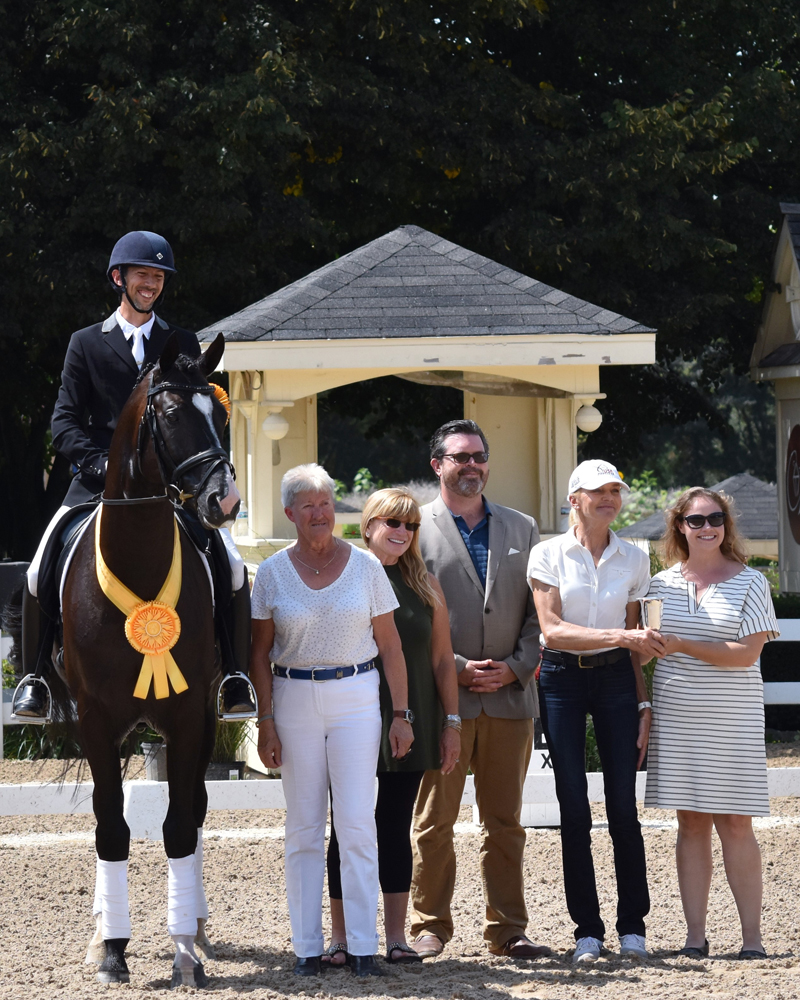 Sep, 2016
Once again we made the long drive out to the beautiful Lamplight Equestrian Center in Wayne, IL for the Markel/USEF Young Horse Championships. Michael qualified two horses for the Championships this year.
Jan, 2016
With each step in their careers, the Riverman offspring continue to impress us with the versatile athleticism that has allowed them to succeed at the highest levels of most every discipline. Over the years we've seen Riverman ranked near the top the USEF Leading Sire rankings in multiple disciplines.
Click Here to View Hilltop Archives
Hilltop Articles & Interviews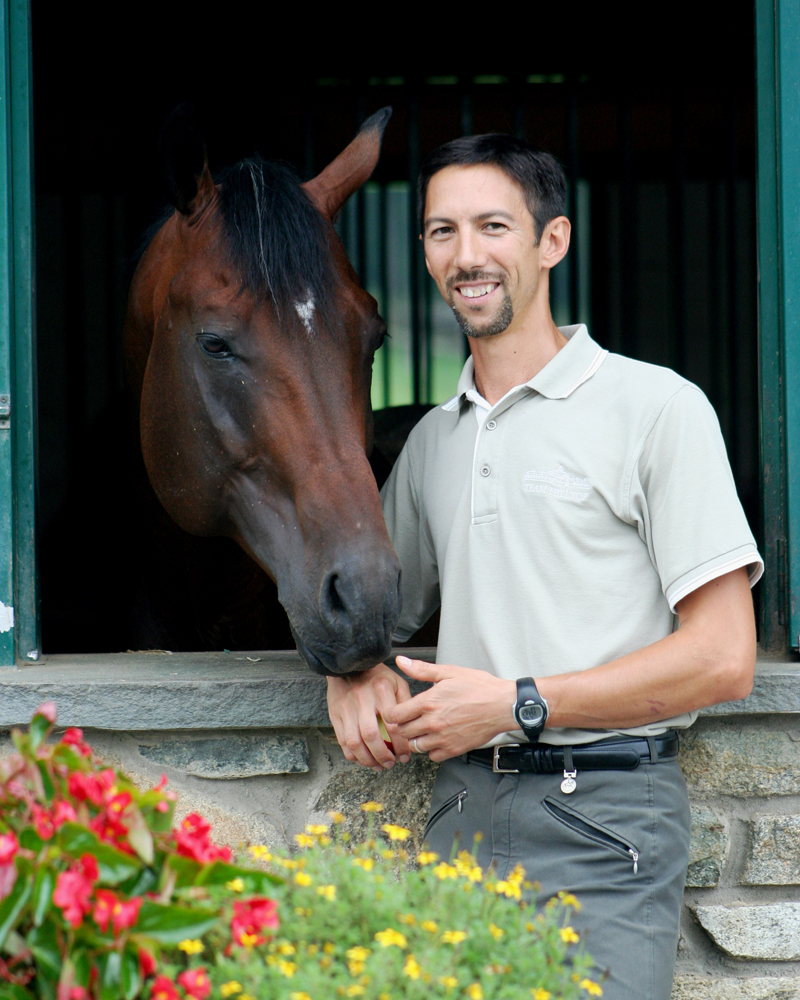 Aug, 2016
Whether you are learning about showing your horse in hand or just looking for some tips, this excerpt from the 2015 USDF Sport Horse Breeders/Handlers Seminar is for you – Showing Sport Horses In Hand with Michael Bragdell.
May, 2013
The dramatic view at Hilltop Farm is as beautiful as its magnificent horses, but the facility's scenic side in a relatively rural section of Maryland is just one of the many things that make it unique, the word most often used by people describing this one-of-a-kind property.
Click Here to View Hilltop Articles & Interviews
---
viewing dozens of photos in the new photo gallery… 
---
---
... and visiting our extensive news sections where we hope to soon congratulate you on the arrival of your new foal, and the many great achievements their future is sure to hold.   We welcome your feedback and look forward to providing you with this excellent new resource.
---